Where the world gathers for
plating, anodizing, & finishing Q&As since 1989
"Carbunitriding at Meshbelt Furnace"
-----
I work at manufacturing company in Indonesia (Jakarta) which produced motorcycle chain. We have 2 furnaces (Meshbelt Furnace) for Carburizing process. In the future we'd like to use this furnace for Carbunitriding process. Since Amoniak Gas (NH3) is quite bad for air emission, is it possible for us to substitute this gas with liquid Nitrogen (N2) ?
Dwiwahjuni Wulandari
PT.FEDERAL SUPERIOR CHAIN MFG. - Jakarta, Jakarta Timur, Indonesia
---
Hello Dwiwahjuni!
The reason people use ammonia rather than the cheaper, easier, less toxic pure nitrogen is because it works. Nitrogen is diatomic- it stays as N2, even at the carbonitriding temperature. Ammonia, on the other hand, dissociates into N (just N- not N2) and H. The N can be absorbed into the steel and contribute to the case hardening.
That said, there are ways of getting the pure nitrogen to dissociate- my friends who have a heat treat shop use only liquid nitrogen. They won't tell me how they "crack" the nitrogen, but I'd guess some firm that supplies industrial gases would sell you the proper equipment.
Good luck!

Lee Gearhart
metallurgist - E. Aurora, New York
---
No, you can't use straight nitrogen - otherwise any air furnace would nitride. You need ammonia because the ammonia molecules supply nitrogen atoms to the metal surface, but nitrogen molecules are too stable to break down to nitrogen atoms.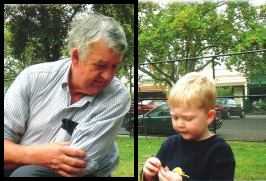 Bill Reynolds
[deceased]
consultant metallurgist - Ballarat, Victoria, Australia
We sadly relate the news that Bill passed away on Jan. 29, 2010.
---
I recommend NH3 in place of liquid nitrogen as it is less time consuming and gives more stable results especially in low carbon steels.
Pankaj Mendiratta
- Faridabad, Haryana, India