Where the world gathers for
plating, anodizing, & finishing Q&As since 1989
-----
Acidic etch of Au without etching Rh
We deposited thick (40 microns) copper contacts by acidic galvanic means in the openings of a dry laminated resist film, which defines the shape of the contacts. We then let deposit thin (about 1 micron) protecting layers of Ni, then Au and finally Rh by acidic galvanic means. It happened that gold infiltrates under the laminated protecting film, very thinly, and short-circuits the contacts. This is visible once one has removed the dry resist film.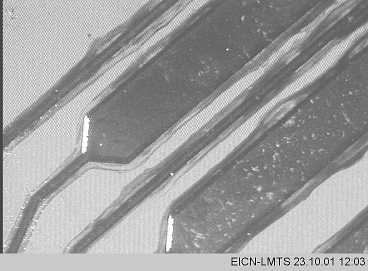 I want to chemically etch away this very thin bleeded gold without etching the Rh, which should protect the Au where I want to keep it, that is to say on the contacts. One further requirement: it must be an acidic medium, as I must use at some places a bit of photoresist.
Who can advise me how to do this?
Many thanks,
Pierre E. JACCARD
EIAJ/HES-SO - Le Locle, NE, Switzerland
---
I answer myself to my own question as I found an answer by trial as I needed to go on! An aqueous solution made out of potassium iodide and iodine etches very well gold and rhodium does not seem to be attacked:
Dissolve 100g of KI in 1000 ml of H2O at room temperature and stir.
Once the KI is completely dissolved, add 25g of I2 continuing to stir for one hour.
Then filter this solution (dark brown) and store it in glass bottle.
The etching is 0.5 to 1 micrometer per minute at room temperature. Produces good control of line edges. One can use photoresist for definition.
Pierre E Jaccard
EIAJ/HES-SO - Le Locle, NE, Switzerland