topic 11303
Remove stains from Granite countertop
---
Candle wax stains - CLR stains - Coffee stains - Green Bloom stains - Heat stains - Oil & butter stains - Red wine stains

Check Porosity - Good & Bad of Granite - Stonetech Stain Remover - page 2

(For stains from acid, please see letter 6901)
---
A discussion started in 2001 but continuing through 2017
2001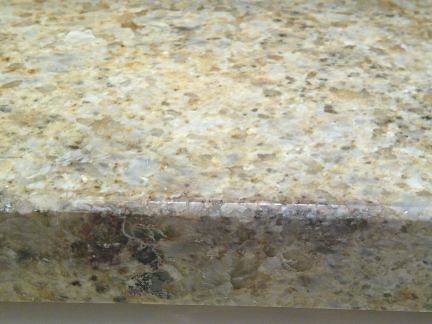 Scorch marks from burning
out "green bloom"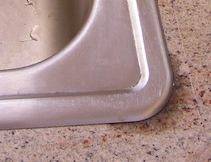 putty stains
Q. How do I remove an olive oil stain from my granite counter top? Please help! I just put them in this week!
Sheryl R
[last name deleted for privacy by Editor]
- Philadelphia, Pennsylvania
---
2002
Q. Hi,
I bumped into your posting by accident and I'm in the exact same situation you are in.
So much for granite being bullet-proof. Thanks,
Daniele R
[last name deleted for privacy by Editor]
- Berkeley, California
---
2003
A. I picked up this solution which worked great! Mix one cup of unbleached flour with three tablespoons of Blue Dawn dish washing liquid (it has grease cutting ability) and water. Add water to consistency of yogurt. Apply as poultice to countertop approximately 1/4 inch. Cover with plastic wrap and allow to sit overnight or longer. Wash off poultice. This removed a large oil stain on a new countertop.
Frank S
[last name deleted for privacy by Editor]
- Oakland, California
---
2004
A. TO REMOVE BUTTER OR OIL STAIN FROM GRANITE COUNTERTOP, USE A PAPER TOWEL FOLDED SEVERAL TIMES AND SOAK WITH Acetone [linked by editor to product info at Amazon]. COVER WITH PLASTIC, THEN TAPE THIS OVER THE STAIN (SO IT DOES NOT DRY OUT) AND LEAVE OVERNIGHT. I HAVE SEARCHED, ASKED AND TRIED EVERYTHING. THIS FINALLY WORKED!
Sadie M
[last name deleted for privacy by Editor]
- Coto de Caza, California
---
December 24, 2012

We installed a new beige-colored granite counter last week and -- yikes! -- stained it on Saturday with a hot oil-covered pot lid. Shout didn't work, so we tried the Acetone patch suggested by Sadie from Coto de Caza. Upon removing the paper towels in the morning I was horrified to see a large, dark area under the patch. but within three hours it had evaporated and the counter back to 100% -- the Acetone worked! Thanks, Sadie!
James C
[last name deleted for privacy by Editor]
- Vancouver, BC, Canada
---
(2005)
A. Hi , I just came to this site with the same problem, and then realized: shout! I got Shout Gel [linked by editor to product info at Amazon] and put some on my massage oil stain with a q-tip. I just wiped it off with a wet towel, and it's gone! Try shout.
Vlada S
[last name deleted for privacy by Editor]
- Nampa, Idaho
---
(2005)

The Shout Fix worked! Be careful to apply with a QTip as discoloration to the surrounding granite can occur.
Seth U
[last name deleted for privacy by Editor]
- Dallas, Texas
---
November 6, 2008
A. My olive oil stain was 4 days old. First I applied Shout and it didn't work. Then I rubbed dry baby powder with a dry dish cloth and it removed 90% of the stain. I will continue to apply the baby powder over the next couple days.
Sharon K
[last name deleted for privacy by Editor]
- Philadelphia, Pennsylvania
---
2006
A. The flour, dish washing liquid and water paste should work for most granite stains but for oil based stains replace the dish washing liquid with 1-2 tablespoons of 12% hydrogen peroxide [linked by editor to product info at Amazon] and let it sit covered in plastic wrap overnight.
Ron P
[last name deleted for privacy by Editor]
- Toronto, Ontario, Canada
---
2006
A. For oil and other stains try placing a hot wet terry cloth towel on the stain with a iron on full steam right on top,then try the common poultice, the steam will help breakdown the residue and the poultice will draw out the stain.
Dan C
[last name deleted for privacy by Editor]
- Suffolk, New York
---
2007
Q. My name is Shirley and I have a problem. I used the Wallflowers plug-in fragrance in my bathroom and accidentally unplugged it and set it on my granite countertop. Now I have a BIG stain. How do I remove this type of stain. The perfumed fragrance feels oily and I am not sure what is in it. Please Help?
Shirley Helton
consumer - Fort Pierce, Florida
---
November 18, 2008
I used the flour and peroxide poultice method to remove a grease stain from my brand new granite counter top. I let it sit over night.. and.. Oh my gosh! There is a newer, bigger stain now from that poultice mixture! What do I do now? Help?
Susan Grattino
- Denver, Colorado
---
2007
A. Granite oil stains sometimes never come out. Sealing will help prevent stains. For most granite stains apply 50% bleach to 50% water in a poultice powder. Diatomaceous Earth powder =>
works great; mix together until it is a damp mud consistency. Set on the stain, cover with plastic. 24 hrs later pull the plastic wipe clean and let dry for a day. Then seal is when dry.
Mark O
[last name deleted for privacy by Editor]
- Anaheim, California
---
October 18, 2009
A. I just want to say, that I have had some bad oil based stains in a brand new kashmir green granite countertop. Apparently my countertop was not adequately sealed at the time of installation, and no one bothered to follow up with us as to what was normal with granite. It has been a huge nightmare, trying poultice after poultice. I ended up trying the Dupont StoneTech Professional Oil Stain Remover [linked by editor to product info at Amazon], it was amazing.
I had pretty much given up and was hating this waste of money on these new countertops......but the stains did vanish with this product. One area did require two applications, but really cannot say [enough about] how good this was. Don't mess around with homemade poultices - I didn't find the ones with acetone or hydrogen peroxide, etc. to work....
Cathaleen Norman
- Vancouver, BC, Canada
---
2007
Q. Dear Readers,
I recently stained my granite counter tops, (the front as well as the bull nosed side)
I have tried hot dish washing liquid but nothing stronger for fear of ruining the finish.
I was transporting hot grease from a metal container to a plastic container. When I tried to lift it the bottom and side melted on the spot and grease spilled everywhere. I did clean it up immediately but the next day two stains appeared. Fearful of using a hard abrasive cleaner I opted to seek advice on the correct approach to take.
If you could help me with this dilemma it would greatly be appreciated.

Sincerely,
Granite Top Blues
Cheryl G
[last name deleted for privacy by Editor]
hobbyist - Lutz, Florida
---
2007
Q. Does anyone know how to get out stain from a granite countertop caused by someone spraying WD-40 [linked by editor to product info at Amazon] up under the countertop to lubricate the kitchen sink faucet. This inadvertently soaked the granite from underneath and a dark stain spread to the top and lip of the countertop overhanging the sink. Any help will be greatly appreciated. This is a brand new, light color granite countertop.
Steve L
[last name deleted for privacy by Editor]
homeowner - Newtown, Pennsylvania
---
August 8, 2008
A. I put in new Paradiso granite tops, and within 24 hours had an olive oil stain. The tops had not been sealed as I proved that sealant prevents this. Using a crème brulé torch [linked by editor to product info at Amazon] I gently played the flame over the stain and Voilá - stain gone in seconds.
Shelley Nelson
- York, North Yorkshire, UK
---
November 11, 2008
Q. My husband dropped and broke a bottle of olive oil on our granite counter while cooking. He wiped it up, and I went over it--over and over. It appeared to be dry, but several days later, I wiped it again with a paper towel and found that there was still oil in the seams (between the counter top and the "rise" (granite backsplash)...I was soaking it up and thought I'd gotten most of it. Several weeks later, I have noticed a huge stain from the rise out about 3 inches...and a little bit going up the rise. I've tried the acetone and paper towels, the baking powder and Windex...several times...are there any other suggestions or is it too late?
Cathy
Cathy Spina
- Marco Island, Florida
---
January 27, 2009
Q. I like the Dupont StoneTech Professional Oil Stain Remover suggestion on these responses, has anyone else tried it? Does it really work? Is there a final solution to getting the oil stains out? Can someone finally send a correct answer that really works?

Help us all please!
Jose Carrero
- San Juan, Puerto Rico
----
Ed. note Nov. 2012: Hi, Jose. By my count we're at 7 thumbs-up and no thumbs-down for the Stonetech. Still, there are light & dark granites; porous & polished granites; unsealed, factory-sealed, & site-sealed granites; and there are stains of a 1001 varieties. People have told us what worked for them, and others have responded that they worked in some cases but not in others. We understand your frustration but please don't demand that someone "finally send a correct answer" as it is can be read as insulting to the folks who have generously spent their time trying to help you. Thanks :-)
---
February 2, 2009
A. Oil stains on sealed granite? Happened to me too... I used a fix for the same problem with oil on my new expensive leather purse... CORNSTARCH! Lifted the oil right out of the leather. So I figured, couldn't hurt...

Sprinkle some cornstarch on the cleaned, dry surface, covering the stain completely. let sit overnight/24 hours. vacuum or wipe off. Stubborn cases (or if the stain is older) may take longer. I was shocked this worked, but it did.
Tina Hess
- Sacramento, California
---
---




2006

Q. In a panic, I placed an overheated pot on my black granite. The pot was stainless steel and had oil stains on the bottom. The hot pot, which was only on the granite for a few seconds, left a white mark. I have tried everything suggested here. When I first remove the treatments, the mark is gone, but after a few hours it returns. Any suggestions anyone?

Bebe S

[last name deleted for privacy by Editor]




- Birmingham, Alabama

---

2006

Q. PLEASE HELP! I think I have the same problem as one of the previous posts - but I am not sure "white"" stain or a fog on my granite counter and I don't know how to get it out. Since I am not sure what the stain is from I am not sure how to treat it. Please help

Linda H

[last name deleted for privacy by Editor]




homeowner - Boston, Massachusetts

---

2006

Q. I have a white stain or a fog on my Gialo Florito granite counter and I don't know how to get it out. Since I am not sure what the stain is from I am not sure how to treat it. Please help. Same problem as Linda H posted.

Jose A

[last name deleted for privacy by Editor]




- Bronx, New York

---

(2008)

Q. There does not seem to be an answer to this type of stain request.

We have now experienced the same stain and am wondering what to do?

John Smith




- Sydney, Australia

---

August 4, 2011

Q. Hi,
I am staying in a rented apartment and now about to end my tenancy. In our kitchen, there are some patched created on the black granite because of hot pots put on it. Now my owner is asking to replace the whole kitchen top.
Can anyone suggest some quick solution to get rid of the white patches?

Need quick help, thanks in advance.

Rahul

Rahul Naik




- Singapore



---
---
2006

Q. Does anyone know how to remove embedded coffee stains on granite?

Patti S

[last name deleted for privacy by Editor]




Consumer - Vernon, Wisconsin

---

May 2, 2008

My coffee pot sat on the counter overnight and leaked coffee and has stained the counter top granite which is light. I tried the flour and dawn solution and it did not work.. any other solutions

Teri Aceves




- Simi Valley, California

---

November 16, 2012

Q. Can anyone tell me how to get coffee stains out of a new, light-colored granite counter? I put my small coffee grinder by the sink, not realizing that the counter must have been damp. Now I have a thin ring there, but I'm afraid to try anything like acetone or ammonia because I don't want to make it bigger! Does anyone have experience with this kind of stain? Thanks.

Marilyn Zimmer




- Chelmsford, Massachusetts, USA





---

November 28, 2012

A. Coffee stains contain tannin... tannin can be removed from your granite counter tops by applying wads of white kitchen paper towels soaked in a solution of 50% water and 50% chlorine... leave for an hour or two, check and if it is gone, rinse the area thoroughly with water For particularly entrenched stains, increase the chlorine. Precautions must be taken with chlorine as it has powerful bleaching effects and it must not come in contact with any acids. Wear protective clothing, gloves and glasses... and remember... always test first in an inconspicuous area. Good luck

Olav Raneng

stone restorer - Gold Coast, Queensland, Australia
---
---




2007

Q. We had granite installed last week and it is already stained. It was sealed, I watched the men do it after they installed the top. Just about everything stains it, even if you try like mad to keep it spotless.

The granite shop isn't returning my phone calls after we had words over the quality of the seam and polishing. They came well recommended and were not even close to the cheapest bid. I tried to support a local business and this is what I get in return.

Rebeccah H

[last name deleted for privacy by Editor]




- Chiefland, Florida

---

October 9, 2008

Q. Just Like Rebecca H., we also just had an install performed by a local company. Attempting to see if she has had difficulty finding resolution through said company?

John Cain




- Chiefland, Florida

---

2007

A. One thing to always remember is that every granite is different based on country, color, grade, & pattern. One stain removal, sealant, refinish, etc...method may work on one and not another.One may react to the slightest water ring from a sweating glass, where the other will practically be shot by a bullet and you could never tell.

I have dealt with owning White and Black Granites, and each is considerably different to how good it has to be sealed after installation, how carefully it has to be used, how hard it is to clean (regular maintenance or stains), as well as how often it has to be maintained (strip, reseal, new impregnator and/or polish).

I have personally used the poultices (many recipes - some from historic times taken off the web), Acetone, Shout, and weird concoctions made from somebody's numerous laboratory experiments. Some including items like; laundry soap - the granular w/bleach and color brighteners kind, ammonia, vinegar, salts, etc...

One thing I do know for sure, do not get discouraged about some stains ... keep trying. But a must is: DO YOUR RESEARCH BEFORE BUYING A STONE. KNOW MORE THAN THE SALESMAN.

B Wolkan

- Livonia, Michigan

---

March 1, 2008

Q. I used Windex on the olive oil stain and it's getting lighter I keep working on it I only had my counter tops for 2 weeks and I was willing to call them in to replace one side but they said impossible with the glue on the counter tops they would have to tear up everything and that's too costly good luck with the Windex

Tawana

[last name deleted for privacy by Editor]




- Los Angeles, California

---

May 3, 2008

Q. We've been in our new renovated kitchen for six months now. we chose a kashmir granite, brushed. And we have two toddlers. The granite was sealed three times before delivery and once afterwards. Our table in the kitchen, connected to island is the same brushed granite. The entire end area where my son eats is a darker, dull color now, and same situation around the cooktop. I'm guessing it's a combination of use and oil stains. How do I remove these stains? And if that's successful, how do I prevent them in the future? Is there some spray cleaner or something to use after my son eats or after I cook? I'm meticulous and always wipe down the area but I know now that's not enough. By the way, the granite shop and dealer told me it was no more porous than if I bought it polished. I disagree. Thanks for any advice.

Jennifer Hamilton




- Atlanta, Georgia

---

January 25, 2009

A. Alas, the black granite power kitchens of the late 80's, early 90's got us to love granite but not the black color. So we choose light & colored granites, etc., and then are so surprised, disappointed and unhappy when they stain up so badly with food, oil, felt markers, crayons, candles, etc.
What do to after the fact? Be very very careful to not spill anything on them. Otherwise, just live with it. All these poultice ideas I will try out. My light granite counters are a mess with oil stains -- I rented out my fab house for 3 years and the granite kitchen counters are ruined by the tenants: oil rings, rust stains, 18" on both sides of the stove are solid dark oil stains. I did know that granite is porous, so I put coat after coat of sealer; and I did know that the 'shiny' finish is just a mechanical polish subject to being etched by acids and alkalis.

I think if I ever get to do it over, I will choose something different -- something that is a rapidly renewable resource, or easily recyclable. If I tear this out I have no idea how it could be recycled, so this expensive and non-renewable will just go in the landfill.
How sad. I bought into the power kitchen look, and now I get to live with the reality of it's high staining properties. Maybe I will be lucky, and one of the poultices mentioned in this thread will work, and that would be real nice!

Lani Allen

- Oakland, California

---

July 20, 2010

I've had black granite in my kitchen for 15 years. I have never resealed it or taken any precautions. We put any and everything on it. Looks as new as the day it was laid. I think the new granites must be lower grade and not properly sealed to have all the problems described here. So sad.

Louise Scott

- Baton Rouge, Louisiana, USA

---

August 6, 2010

Q. I put some blue dawn on an oil spot and left it accidentally overnight and now I have a bigger stain from the blue dawn! any suggestions? Had I known granite was so wimpy I would NEVER have bought it.

shannon dammed




- san francisco, California USA




---

April 1, 2011

I just had a granite countertop installed yesterday. It's a light color. I wasn't told anything about care, but was told it would be sealed at the factory then sealed when installed. They didn't seal it when they installed it. Said it wasn't necessary. It water-marks in, like, 10 minutes then takes 2 hours to dry. I woke up this morning and there is a stain next to the stove. I have absolutely no idea what caused it. If it WAS wet, it was dry by the time I saw it, but it looks like something was set on it. And it wasn't. I am praying this fades. As far as I'm concerned this was a big mistake. I would never have put in granite had I known it wasn't functional.

A kitchen countertop is supposed to be durable. Granite sounds durable. It's not. I hope you'll leave this post in even though it doesn't ask for a solution. If you're considering a granite countertop, at the very least, test a sample piece. I can't imagine anyone being happy with granite, so unless my granite is defective, I think it's so much over-rated as to be a fraud.

Midge Dana




- Wood Dale, Illinois, USA



---
---
---
2007

Q. Does anyone know how to remove a red wine stain from granite counter tops without damaging the finish of the granite?

Colette S

[last name deleted for privacy by Editor]




homeowner - Braintree, Massachusetts

---

March 10, 2008

A. I had a red wine stain on my granite counter top that we had managed to overlook for two weeks. Using dish washing liquid and brushing it out did nothing to the purple stain that was left behind. I mixed OxiClean [linked by editor to product info at Amazon] and a little bit of water, brushed it with a toothbrush onto the counter top and left it to dry for several hours. After 2 applications, the OxiClean took the entire red wine stain out!

Melissa F

[last name deleted for privacy by Editor]

- San Marcos, California

---

December 7, 2010

I tried a generic version of oxiclean to remove a red wine ring on my granite countertop...and it Worked! Thanks for the suggestion.

Sharon F

[last name deleted for privacy by Editor]

- Chicago Illinois USA
---
---
April 13, 2008

Q. I set a bottle of CLR [linked by editor to product info at Amazon] on my white granite counter top for a minute and it now has a foggy stain. I haven't tried anything yet. Any suggestions?

Barb Haselhorst




- Aviston, Illinois

---

September 29, 2009

Q. I was trying to clean the hard water off of our faucet in the bathroom and set a plastic bowl (old margarine tub) with some CLR in it on the counter. Well I guess the CLR had dribbled over the edge of the tub because when I removed the bowl I was left with nice rings of CLR stains! Does anyone know how to remove a stain remover! :) Thanks for your help.

Kelly Oliver




- Burlington, Ontario, Canada

---

August 8, 2008

Q. Recently my boyfriend and I purchased a granite counter top for my bathroom. Apparently I spilled some Ivory hand soap on its surface and it remained there for two months when we were in Florida working. He has used CLR and I tried lots of water to possibly dilute the soap stain but those efforts haven't worked. Any one ever had this type of problem and possibly a solution? Thanks!

Judy Grant




homeowner - Bailey, Colorado

---

January 19, 2009

Q. We just got done remodeling our bathroom with a beautiful new black granite vanity top. When cleaning the toilet, I set the bottle on the granite not thinking about it. Now I have white stain which looks like it took the shiny finish off of it! I am just sick about it...can anyone help?

Thanks

Donna Hart




- Mukwonago,Wisconsin
---
---
CHECK POROSITY
June 4, 2008
A. After the installation of my (light-coloured) granite I took a spare piece and left oil, vinegar, lemon juice and a very popular soft drink on it and let them soak in. After 24 hours I wiped the granite: nothing left a mark apart from the oil, which gradually faded. If you can do this you will be able to check how porous your granite is (they vary widely) and know the degree of care you should take. Any oily substance I religiously put on a coaster. However, if occasionally something does get spilled and I prefer not to wait a couple of weeks for the stain to gradually fade & disappear, then I soak the spot with water before applying a poultice of baking powder and water. This should be mixed to a thick paste and put on top of the stain, before being covered with cling-film cellotaped down at the sides. Leave for 48 hours, remove and wipe down and that should help with the removal/fading process nicely. I also actually cover the counter top at the side of the stove I'm using with a tea towel before cooking anything using oil, to avoid spits. It only takes a minute, but I can't afford to replace my granite if it gets screwed up.
Helen Carter
- Guadalajara, Jalisco, Mexico.
---
---
August 24, 2008

Q. I have a question. A candle melted on our granite outdoor table top. There is a huge stain now and I have tried poultices,acetone,shout,dawn soap. I'm now trying lacquer thinner but to no avail. Is there anything that will work? Help!
Deb Kassner

Deborah Kassner




- Elk Grove Village, Illinois

---

January 19, 2009

Q. A red Christmas candle melted in the sun on my outside patio furniture, which is a coarse marble from Mexico. My husband scraped away most of the melted candle wax with a razor blade. However a red stain was left on the marble. Any ideas for how to remove?

LB Sullivan




- San Diego, California

---

June 4, 2011

A. I found something that works!! We put brand new granite in our bathroom and while we were remodeling an unlit, small candle was placed on the granite overnight, I came in and it had left a dark brown stain the diameter of the candle. I almost died!! They hadn't even been in two days. I found this forum and tried all the homemade poultices and they lightened it, but it was still there. THEN I tried Dupont StoneTech Professional Oil Stain Remover [linked by editor to product info at Amazon]. I bought it on Amazon and followed the directions, left it on for just over 48 hours and WALA, TOTALLY GONE!! I was so happy I could've cried! This stuff is worth it's weight in gold!! A 3 oz. can only cost 5.49. Amazing product!!

Sheila Brush

- Sacramento, California

---

November 30, 2011

-- this entry appended to this thread by editor in lieu of spawning a duplicative thread

Q. Help! My cashmere white granite is less than a month old. While I was unpacking in my new house, I started laying the items I was unpacking onto my granite countertop. Amongst those items, where 4 unlit candles which were left on the countertop overnight. The next morning as I was putting the stuff away, I noticed 4 very distinct stains, one reddish, and 3 brown/greyish stains in the shape of the bottom of the candles. What would be the best type of poultice to use on these types of stains and should this have happened? They had just been sealed! Is there anything I CAN put on my countertop?

Tami Grant




- London, Ontario, Canada





----
Ed. note: This is a long thread, Tami, so we posted your question right below a possible answer. Good luck!



---
---




July 12, 2008

Q. We just had a new granite counter top installed and today my wife noticed that the seems, on either side of the back splash, are turning green. The granite has a stain guard on the surface that is supposedly guaranteed for 15 years. Some of these seems have never even been wet and are not close to any heat. Has anyone encountered this before? I just was looking for some opinions before I call the company.

James Gilchrist




- Lincoln, California




---

December 10, 2008

I too have questions about new white granite turning green, but what good is a web site that is nothing more than questions?

belle sandwith




- calpine, California

---

December 11, 2008

Hi, Belle. Sorry, but it's human nature that more people are interested in asking for free help from others than in offering help to others, but please view the thread a little more slowly: dozens of the postings are answers to previous questions!

But your question is not clear to me. You are considering white granite counters but have heard that they turn green, so you're leery? Or they are turning green? Do you think they are becoming stained with green from mold, cutting vegetables and what? Please clarify. Thanks!

Regards,




Ted Mooney, P.E.




finishing.com




Pine Beach, New Jersey





---

September 1, 2009

A. The green stains you see in lighter granite is a chemical reaction between a accelerant used to dry a adhesive (similar to super glue) and feldspar, a common mineral in lighter granite. An oil removing poultice will remove it in 2-3 applications. Sometimes there will be a darker area where the poultice was but will fade in a day or two.

Bobby chambers

- grandview, Missouri

---

February 27, 2012

Q. I too had Green Bloom! The granite company fixed a hole in the face of a white-ish section at the sink cut with epoxy and it bloomed green within a couple of months. They came back and burned it with a blowtorch to remove the green (saying this has worked before) and now there is a grey scorch mark. They tried a commercial poultice which worked out the rest of the green, but it only lightened the grey mark, not remove it. It now shows a bit of red on the grey mark's edges. Anyone clue how to turn the grey 'burnt' area back to white? The granite company has run out of ideas!



A Ackerman




- Pittsburgh, Pennsylvania, USA





---

January 16, 2013

Q. I have this problem also with Green Bloom after two weeks of putting my granite in. I called the fabricators and they never came to look at it for over a week..Than they put Blue begone on it for 4 hours washed off than put bleach on it to set for 24 hours came back next day still green and now some of my granite has darken around the green and also my backsplash... WHAT TO DO?

Lynda Emerson




- Columbia City Oregon




---
---
STONETECH STAIN REMOVER
January 9, 2009
A. I had an oil stain on my new whitish granite counter top. I used Dupont StoneTech Professional Oil Stain Remover [linked by editor to product info at Amazon]. It works and was very easy to use. It comes in a can.

You spread it 1/4 inch thick on top of the stain and extend the application another 1/4 inch around the stain. Leave it on 24 to 48 hours. Do not cover it. The paste will dry hard and white. You then whisk the dry paste away and the stain is gone.

The white mixture comes suspended in a lemon/orangey smelling solvent. The solvent spreads out around the patch and it had me worried, but the solvent evaporates and disappears after a day or two and will not change the color of the granite.
It works and it gave me peace of mind.
You can get it at some granite stores I guess. I bought it on Amazon =>
Demeter Charmant
- Fairfax, Virginia
---
February 17, 2009
I went to Amazon and was shocked by how much their STONETECH Oil Stain Remover was, but I found a great price at Tri-Point Marble & Granite Restoration, $6.95 for the 3 oz size. Here is the link: www.tripointpro.com/servlet/the-Stonetech/Categories

I'm in the middle of trying the cornstarch, bought baby powder, Shout, and ammonia just in case, and am ordering the Stone Tech for future problems. Good luck everyone!
Laurie Macfee
- Reno, Nevada
---
March 7, 2009

It's good to shop around, Laurie; thanks for finding that price. But Amazon is the world's most respected mail-order vendor, not an overpriced boutique ... so the situation will likely be the reverse when a future reader checks this. Thanks again!
Update Nov. 2013: Amazon is offering the 3-oz size for $4.29; and the 16-oz for $22.29 with free shipping.
Ted Mooney, P.E.
finishing.com
Pine Beach, New Jersey
---
February 3, 2009
A. Two months ago when my new kitchen was finished I discovered I had not done my homework and my new granite counters were subject to oil staining. Something as simple as oil on the bottom of my olive oil bottle leaves a ring. I tried the dawn, flour, water combination, and it made the stains lighter but they did not go away. Then I got the StoneTech Professional Oil Stain Remover [linked by editor to product info at Amazon], just a 3 oz can to try it out on my stains. WOW, it really works, the stains are gone! While I do intend to continue being careful, I no longer think something as simple as letting others (like my kids) cook or clean up in my kitchen will end up ruining my counters.
Suzanne Glade
- Evanston, Illinois
---
1 2
---


This public forum has 60,000 threads. If you have a question in mind which seems off topic to this thread, you might prefer to Search the Site