Where the world gathers for
plating, anodizing, & finishing Q&As since 1989
-----
Remove stains from Granite countertop
An ongoing discussion beginning back in 2001 ...
---
Candle wax stains - CLR stains - Coffee stains - Green Bloom stains - Heat stains - Oil & butter stains - Red wine stains

- Check Porosity - Good & Bad of Granite - Stonetech Stain Remover (For stains from acid, please see letter 6901)
---
2001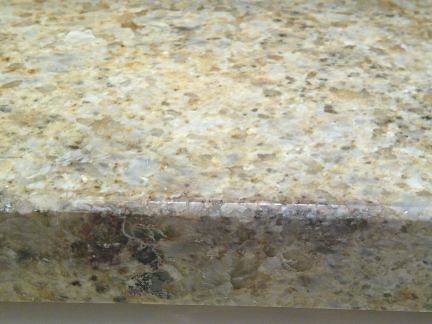 Scorch marks from burning
out "green bloom"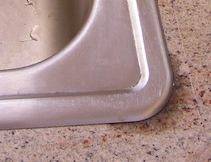 putty stains
Q. How do I remove an olive oil stain from my granite counter top? Please help! I just put them in this week!
Sheryl R
[last name deleted for privacy by Editor]
- Philadelphia, Pennsylvania
---
2002
Q. Hi,
I bumped into your posting by accident and I'm in the exact same situation you are in.
So much for granite being bullet-proof. Thanks,
Daniele R
[last name deleted for privacy by Editor]
- Berkeley, California
---
2003
A. I picked up this solution which worked great! Mix one cup of unbleached flour with three tablespoons of Blue Dawn dish washing liquid (it has grease cutting ability) and water. Add water to consistency of yogurt. Apply as poultice to countertop approximately 1/4 inch. Cover with plastic wrap and allow to sit overnight or longer. Wash off poultice. This removed a large oil stain on a new countertop.
Frank S
[last name deleted for privacy by Editor]
- Oakland, California
---
2004
A. TO REMOVE BUTTER OR OIL STAIN FROM GRANITE COUNTERTOP, USE A PAPER TOWEL FOLDED SEVERAL TIMES AND SOAK WITH acetone Acetone [affil link]. COVER WITH PLASTIC, THEN TAPE THIS OVER THE STAIN (SO IT DOES NOT DRY OUT) AND LEAVE OVERNIGHT. I HAVE SEARCHED, ASKED AND TRIED EVERYTHING. THIS FINALLY WORKED!
Sadie M
[last name deleted for privacy by Editor]
- Coto de Caza, California
---
December 24, 2012

We installed a new beige-colored granite counter last week and -- yikes! -- stained it on Saturday with a hot oil-covered pot lid. Shout didn't work, so we tried the Acetone patch suggested by Sadie from Coto de Caza. Upon removing the paper towels in the morning I was horrified to see a large, dark area under the patch. but within three hours it had evaporated and the counter back to 100% -- the Acetone worked! Thanks, Sadie!
James C
[last name deleted for privacy by Editor]
- Vancouver, BC, Canada
---
2005
A. Hi , I just came to this site with the same problem, and then realized: shout! I got Shout Gel [affil link] and put some on my massage oil stain with a q-tip. I just wiped it off with a wet towel, and it's gone! Try shout.
Vlada S
[last name deleted for privacy by Editor]
- Nampa, Idaho
---
2005

The Shout Fix worked! Be careful to apply with a QTip as discoloration to the surrounding granite can occur.
Seth U
[last name deleted for privacy by Editor]
- Dallas, Texas
---
November 6, 2008
A. My olive oil stain was 4 days old. First I applied Shout and it didn't work. Then I rubbed dry baby powder with a dry dish cloth and it removed 90% of the stain. I will continue to apply the baby powder over the next couple days.
Sharon K
[last name deleted for privacy by Editor]
- Philadelphia, Pennsylvania
---
2006
A. The flour, dish washing liquid and water paste should work for most granite stains but for oil based stains replace the dish washing liquid with 1-2 tablespoons of 12% Hydrogen Peroxide [affil link] and let it sit covered in plastic wrap overnight.
Ron P
[last name deleted for privacy by Editor]
- Toronto, Ontario, Canada
---
2006
A. For oil and other stains try placing a hot wet terry cloth towel on the stain with a iron on full steam right on top,then try the common poultice, the steam will help breakdown the residue and the poultice will draw out the stain.
Dan C
[last name deleted for privacy by Editor]
- Suffolk, New York
---
2007
Q. My name is Shirley and I have a problem. I used the Wallflowers plug-in fragrance in my bathroom and accidentally unplugged it and set it on my granite countertop. Now I have a BIG stain. How do I remove this type of stain. The perfumed fragrance feels oily and I am not sure what is in it. Please Help?
Shirley Helton
consumer - Fort Pierce, Florida
---
November 18, 2008

I used the flour and peroxide poultice method to remove a grease stain from my brand new granite counter top. I let it sit over night.. and.. Oh my gosh! There is a newer, bigger stain now from that poultice mixture! What do I do now? Help?
Susan Grattino
- Denver, Colorado
---
2007
A. Granite oil stains sometimes never come out. Sealing will help prevent stains. For most granite stains apply 50% bleach to 50% water in a poultice powder. Diatomaceous Earth powder.
works great; mix together until it is a damp mud consistency. Set on the stain, cover with plastic. 24 hrs later pull the plastic wipe clean and let dry for a day. Then seal is when dry.
Mark O
[last name deleted for privacy by Editor]
- Anaheim, California
---
October 18, 2009
A. I just want to say, that I have had some bad oil based stains in a brand new kashmir green granite countertop. Apparently my countertop was not adequately sealed at the time of installation, and no one bothered to follow up with us as to what was normal with granite. It has been a huge nightmare, trying poultice after poultice. I ended up trying the Dupont StoneTech Professional Oil Stain Remover [affil link], it was amazing.
I had pretty much given up and was hating this waste of money on these new countertops......but the stains did vanish with this product. One area did require two applications, but really cannot say [enough about] how good this was. Don't mess around with homemade poultices - I didn't find the ones with acetone or hydrogen peroxide, etc. to work....
Cathaleen Norman
- Vancouver, BC, Canada
---
2007
Q. Dear Readers,
I recently stained my granite counter tops, (the front as well as the bull nosed side)
I have tried hot dish washing liquid but nothing stronger for fear of ruining the finish.
I was transporting hot grease from a metal container to a plastic container. When I tried to lift it the bottom and side melted on the spot and grease spilled everywhere. I did clean it up immediately but the next day two stains appeared. Fearful of using a hard abrasive cleaner I opted to seek advice on the correct approach to take.
If you could help me with this dilemma it would greatly be appreciated.

Sincerely,
Granite Top Blues
Cheryl G
[last name deleted for privacy by Editor]
hobbyist - Lutz, Florida
---
2007
Q. Does anyone know how to get out stain from a granite countertop caused by someone spraying WD-40 [affil link] up under the countertop to lubricate the kitchen sink faucet. This inadvertently soaked the granite from underneath and a dark stain spread to the top and lip of the countertop overhanging the sink. Any help will be greatly appreciated. This is a brand new, light color granite countertop.
Steve L
[last name deleted for privacy by Editor]
homeowner - Newtown, Pennsylvania
---
August 8, 2008
A. I put in new Paradiso granite tops, and within 24 hours had an olive oil stain. The tops had not been sealed as I proved that sealant prevents this. Using a crème brulé torch [affil link to info/product at Amazon] I gently played the flame over the stain and Voilá - stain gone in seconds.
Shelley Nelson
- York, North Yorkshire, UK
---
November 11, 2008
Q. My husband dropped and broke a bottle of olive oil on our granite counter while cooking. He wiped it up, and I went over it--over and over. It appeared to be dry, but several days later, I wiped it again with a paper towel and found that there was still oil in the seams (between the counter top and the "rise" (granite backsplash)...I was soaking it up and thought I'd gotten most of it. Several weeks later, I have noticed a huge stain from the rise out about 3 inches...and a little bit going up the rise. I've tried the acetone and paper towels, the baking powder and Windex [affil link]...several times...are there any other suggestions or is it too late?
Cathy
Cathy Spina
- Marco Island, Florida
---
January 27, 2009
Q. I like the Dupont StoneTech Professional Oil Stain Remover suggestion on these responses, has anyone else tried it? Does it really work? Is there a final solution to getting the oil stains out? Can someone finally send a correct answer that really works?

Help us all please!
Jose Carrero
- San Juan, Puerto Rico
----
Ed. note Nov. 2012: Hi, Jose. By my count we're at 7 thumbs-up and no thumbs-down for the Stonetech. Still, there are light & dark granites; porous & polished granites; unsealed, factory-sealed, & site-sealed granites; and there are stains of a 1001 varieties. People have told us what worked for them, and others have responded that they worked in some cases but not in others. We understand your frustration but please don't demand that someone "finally send a correct answer" as it is can be read as insulting to the folks who have generously spent their time trying to help you. Thanks :-)
---
February 2, 2009
A. Oil stains on sealed granite? Happened to me too... I used a fix for the same problem with oil on my new expensive leather purse... CORNSTARCH! Lifted the oil right out of the leather. So I figured, couldn't hurt...

Sprinkle some cornstarch on the cleaned, dry surface, covering the stain completely. let sit overnight/24 hours. vacuum or wipe off. Stubborn cases (or if the stain is older) may take longer. I was shocked this worked, but it did.
Tina Hess
- Sacramento, California
---
---




2006




Q. In a panic, I placed an overheated pot on my black granite. The pot was stainless steel and had oil stains on the bottom. The hot pot, which was only on the granite for a few seconds, left a white mark. I have tried everything suggested here. When I first remove the treatments, the mark is gone, but after a few hours it returns. Any suggestions anyone?

Bebe S

[last name deleted for privacy by Editor]




- Birmingham, Alabama





---

2006




Q. PLEASE HELP! I think I have the same problem as one of the previous posts - but I am not sure "white"" stain or a fog on my granite counter and I don't know how to get it out. Since I am not sure what the stain is from I am not sure how to treat it. Please help

Linda H

[last name deleted for privacy by Editor]




homeowner - Boston, Massachusetts





---

2006




Q. I have a white stain or a fog on my Gialo Florito granite counter and I don't know how to get it out. Since I am not sure what the stain is from I am not sure how to treat it. Please help. Same problem as Linda H posted.

Jose A

[last name deleted for privacy by Editor]




- Bronx, New York






---

(2008)




Q. There does not seem to be an answer to this type of stain request.

We have now experienced the same stain and am wondering what to do?

John Smith




- Sydney, Australia





---

August 4, 2011




Q. Hi,
I am staying in a rented apartment and now about to end my tenancy. In our kitchen, there are some patched created on the black granite because of hot pots put on it. Now my owner is asking to replace the whole kitchen top.
Can anyone suggest some quick solution to get rid of the white patches?

Need quick help, thanks in advance.

Rahul

Rahul Naik




- Singapore





---
---
2006




Q. Does anyone know how to remove embedded coffee stains on granite?

Patti S

[last name deleted for privacy by Editor]




Consumer - Vernon, Wisconsin





---

May 2, 2008




My coffee pot sat on the counter overnight and leaked coffee and has stained the counter top granite which is light. I tried the flour and dawn solution and it did not work.. any other solutions

Teri Aceves




- Simi Valley, California






---

November 16, 2012




Q. Can anyone tell me how to get coffee stains out of a new, light-colored granite counter? I put my small coffee grinder by the sink, not realizing that the counter must have been damp. Now I have a thin ring there, but I'm afraid to try anything like acetone or ammonia because I don't want to make it bigger! Does anyone have experience with this kind of stain? Thanks.

Marilyn Zimmer




- Chelmsford, Massachusetts, USA






---

November 28, 2012

A. Coffee stains contain tannin... tannin can be removed from your granite counter tops by applying wads of white kitchen paper towels soaked in a solution of 50% water and 50% chlorine... leave for an hour or two, check and if it is gone, rinse the area thoroughly with water For particularly entrenched stains, increase the chlorine. Precautions must be taken with chlorine as it has powerful bleaching effects and it must not come in contact with any acids. Wear protective clothing, gloves and glasses... and remember... always test first in an inconspicuous area. Good luck

Olav Raneng

stone restorer - Gold Coast, Queensland, Australia
---
(you are on the 1st page of the thread) Next page >
---