Where the world gathers for
plating, anodizing, & finishing Q&As since 1989
-----
How to produce a rust finish on custom iron furniture
An ongoing discussion beginning back in 2001 ...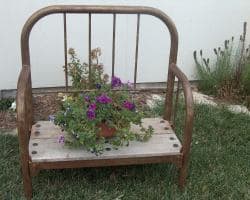 (courtesy of Steve K. -- see entry of 12/14/08)
2001
Q. I've recently begun to produce custom iron furniture. Though I'm familiar with welding, using a forge, etc., I'm lost when it comes to finishes. My question is how do I produce the popular "rust finish" that so many people are requesting. I tried using Muriatic Acid [affil link] to accelerate the rusting process then coated a piece with Tung Oil [affil link] but later discovered that though the look was great, the finish was not durable, I noticed cracks in the rust coating that easily break off. Help!
Michael S
[last name deleted for privacy by Editor]
- San Antonio, Texas
---
2001
A. I doubt the "rust finish" you are looking for is actually rust. As you have discovered, iron oxide is not a durable material and will break off. It will also be very rough - not at all nice to sit down on. Perhaps they are looking for rust-colored paint?

Tim Neveau
Rochester Hills, Michigan
---
2001
A. Hello Michael,
I think what you might be looking for is a ferric nitrate patina. Indeed, it wouldn't be very durable, but after you knock off the loose scale and seal the patina with a clear coat, you shouldn't have too many problems with your customers. Besides, they're the ones who that are buying rusty furniture, I'd guess it would be their own fault if they get rust on their pant bottoms! Good luck finding a rust colored paint, look in finishing.com's literature section for the patina books.
Sincerely,
Jake Koch
G. J. Nikolas &Co.,Inc.

Bellwood, Illinois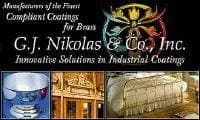 ---
2001
A. Hello,
I would try a diluted FeCl3 rinse after degreasing (no solvent). Let it rest (rust) for some time, then rinse with demineralised water and apply a topcoat (varnish).
Best regards,
Piessens P
[last name deleted for privacy by Editor]
- Bertem, Belgium
---
2001
! I hate rust! It never sleeps. Why anyone would want rusty furniture is beyond my understanding. However, I like the reply from G.J. Nikolas [a finishing.com supporting advertiser] (my favorite lacquer company): "Seal it up". Years ago I used to sell antiques. A finish I used for iron which was well received was to apply black shoe polish with a tooth brush and then buff it. After this I would "seal it up" with a coat or two or lacquer. G.J. Nikolas 2105 Clear Nitrocellulose Lacquer. Damn good stuff. It can even be applied when it is raining without fear of whiteout.
If you are stuck on the rust look, gut feel tells me to make a vapor cabinet where your articles are exposed to the vapors of HCl rather than brushing it on, they will form the seeds of rust in a day time provided your metal is clean. Sandblasting is an excellent prep.
Jon Quirt
- Fridley, Minnesota
---
2003




I don't know if anyone looks at this site anymore but I have found a way to produce rust on metal and so far has been working.

Perry S

[last name deleted for privacy by Editor]




- Scranton, Pennsylvania






---

2003




Hi, Perry. If you have a method you would like to post, people are waiting to hear it (several hundred people visit this specific page every month).




Ted Mooney

, P.E.




Striving to live Aloha




finishing.com - Pine Beach, New Jersey





---
2005
Q. Paint that looks like a rusted finish? I'm wanting to paint a 6 foot metal pool fence that has a gloss black painted finish to look like rust. I have two custom made iron gates that have a rust finish and are clear coated. The pool fence would look great if I can paint it to look like it's rusted. Can someone assist?
Jim A
[last name deleted for privacy by Editor]
Consumer - Lakeway, Texas
---
2007
A. Hello -
Do not, I repeat, do not 'rust' your furniture. Not only is playing with acids dangerous, but so is rusty furniture. as mentioned above, rust is a very brittle substance, and would not do very well.

Corrosion (rusting, oxidation) is an electrochemical process. by applying acid (liquid with a charge), you're increasing the natural voltage of the iron, and are encouraging the Fe2+ cation to mingle with dissolved oxygen. this will degrade your furniture by pitting, cracking, etc. the first place that will go are at inconsistent material joints. for example, if you have anything containing copper, zinc, aluminum, etc. you won't for long...


---
A. I would highly suggest using a sub-base with very small amounts of iron. if you want 'actual' rust, you want as little as possible (<1-5%). when iron corrodes, the rust is about 100x bigger than the iron particle, so you'll see it. run a fine grit Sandpaper [affil link] over the sub-base, and apply an ANTI CORROSION clear coat (always with iron).
Chris C
[last name deleted for privacy by Editor]
- State College, Pennsylvania
---
2007
Q. I was told there is a paint that simulated the look of rusted metal. One individual called it rust paint and said she purchased it on line many years ago. I think that may be what the original questions was referring to. I too am trying to find a way to create that finish on an already painted metal park bench. I know something exits as I see many primitive crafts made with this finish. Does anyone know how to create that rusted look through a paint process?
Cindy P
[last name deleted for privacy by Editor]
- Granville, Ohio
---
January 21, 2008
Q. Thank you for the instant rust referral. I'm thinking about trying to "rust" up a black metal chandelier. My question is if I want it to be a worn out white look, should I paint it white first and then use the modern options antiquing solution?
Julie Graham
- Nashville, Tennessee
---
June 28, 2008
A. Maybe what everyone wants is the brown iron look. They use this finish on western spurs and bit. I was looking on this site for information on how to do that patina. It makes the metal brown without causing any structural weakening.
Shelley Shepherd
- Riverside California
---
October 30, 2008
A. Being a landscaper I use liquid iron/instant rust on concrete and fibreglass statues because its doesn't alter the structure and you can have it as rusty as you want.
Dale Eisele
- North Yunderup, WA , Australia
---
December 14, 2008
! I am doing some metal crafting, making decorative benches from old metal bed frames. I usually like to leave them in whatever finish I find them in-either rusty, or some level of old paint. The last two I made were for a family for Christmas presents for their two married daughters, and they wanted a protected rust-look finish. I had the parts sand-blasted, and experimented with this finish process:
1- Brushed a solution of 2 parts white vinegar mixed with 1 part liquid bleach. I did this outside and highly recommend doing it outdoors, as it is quite odorous.
2- Leave outside to let the rusting process begin.
3- Several days later, I experimented again, brushing on decaffeinated coffee, as I have heard that in the processing of it, the natural coffee color is removed, and they have to put ARTIFICIAL coloring back in to have a coffee appearance. (That is also why decaffeinated coffee stains are harder to remove from fabrics, etc!) The coffee "stain" did not significantly add or change the rusty appearance.
4- After several more days, I finished the process, wiping down the rusted metal with paint thinner, and then applied 2-3 aerosol coats Clear, Satin Premium Decorator Enamel.
I did NOT get the appearance that I intended to get- it made it much darker than I desired, but I do like it. (Actually looked more like coffee than rust!) My client has not seen them, so I hope they are not disappointed.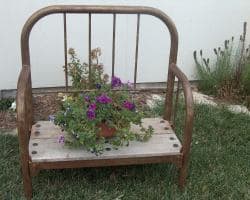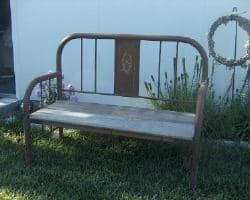 Some readers may not recommend the vinegar/bleach solution, but it is effective in starting formation of rust.
Steve Kesler
- Sabetha, Kansas
---
March 24, 2009
Q. I just had a bunk bed welded out of raw steel. How do I go about black oxidizing the raw steel. Right now it is pretty shiny silver and I would like a darker look. Thanks in advance!
Lynette Ellis
hobbyist - Pleasant Grove, Utah
---
December 30, 2009
A. Real rust paint is available and there are good pages on how to apply this process. Just search under rusting paint.
Adrian Singor
- Perth, Australia
---
October 2, 2011
A. I came up with this method when I needed to match some old nails on a crate. Soaked them in vinegar (or a stronger acid) to remove galvanizing. Then dropped them into a jar of Hydrogen Peroxide (3%) and added an equal amount of Regular old Laundry Bleach and agitated. The nails looked 100 years old within 10 seconds (really). I guess the combination of an oxidizer (the bleach) and a source of Oxygen (the peroxide) sped up the rusting process drastically.
Dave Bruce
- West Covina, California
---
January 6, 2012
A. I have experimented with good results following the process below on my Toyota Hilux pickup to achieve a 'rusted and aged' look

- key the painted panel by sanding with typically 180 grit paper
- spray on a clear matte lacquer
- dust/cover the lacquer - whilst the lacquer is still wet, with iron powder
- once the lacquer has dried mix a blend of vinegar and bleach and then brush this over the iron powder which is now 'stuck' on the dried surface of the lacquer
- apply heat via heat lamp or low temp oven and rust will appear.

The beauty of this is that you are rusting an additional coating on top of the already coated metal thus you are not degrading the structural integrity of the panel

I have successfully done this this to truck panels, plastic wing mirror casings and fiberglass panels

Hope this helps
Paul Wilbs
- Farnham, Surrey, UK
---
February 6, 2012

Check out the products that are sold by Modern Masters.
They have some rust oxidizing paint and rust activators, also many different blue and green patinas. I think a place called hardware world sell the stuff for a reasonable price
It goes a long ways.
George Renfro
- El Segundo, California USA
---
February 19, 2012
You could also try "Brutal Rust". It rusted my projects within one hour.
Paula Ellisor
- Houston, Texas USA
---
Thanks George, Paula. But readers: to the maximum extent practical, please share ideas, technical tips & generic solutions, and enjoy the camaraderie of your peers, rather than recommending particular brands or sources. Free sites like this one can't exist unless supported by advertisers, and "testimonials" chase them away; they also encourage "comment spam" (people posting for the sake of commissions), and they encourage shills to pose as satisfied customers and post fictitious glowing reviews of their own products :-)

Regards,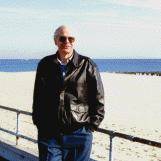 Ted Mooney
, P.E.
Striving to live Aloha
finishing.com - Pine Beach, New Jersey
---
September 23, 2016
Hi,

You can also use Rust-Oleum Stops Rust Multi-Color Textured Rustic Umber Spray Paint. It gives rust like finish. This paint can be applied on wood, metal, concrete, masonry and more.

Praveen Soni
- Rajasthan, India