Where the world gathers for
plating, anodizing, & finishing Q&As since 1989
"Musty smell in house"
-----
How do you get rid of a musty/mildew smell from and basement and house? The basement was recently emptied of everything after many years but a smell exists in the basement and house.
Joanne Fox
- Toms River, New Jersey
---
First of two simultaneous responses --
Joanne,
Re your musty smell, firstly you could perhaps phone up the local fumigators for advice.
Secondly, if you have a hot air ventilation system, maybe there is something you can spray into it to reduce the odour. Certainly with cars having air conditioners they can, after some time, stink somewhat. The local car stores sell a spray can to alleviate this. Sure worked l00% with a Probe after just one application ... my daughter was happy
Thirdly, ... and this is a pain in the neck ... you can swab all the floors with bleach to kill off those odour producing mites.
Fourthly, go to the Web ... and you'll find better advice, I'm sure.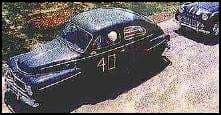 Freeman Newton
[deceased]
(It is our sad duty to advise that Freeman passed away
April 21, 2012. R.I.P. old friend).
---
Second of two simultaneous responses --
1)Remove all sources of moisture and any damp, mildewed materials if possible(carpet is the usual suspect). Treat all exposed and mildewed surfaces with a strong bleach/water solution. Then dehumidify the air as much as possible.
2) Buy a marine-grade ozone generator. (Do not use it while the basement is occupied)
3)Re-Paint the walls, floors and ceiling.
Bob Zonis
- Bohemia, NY