60,000 Q&A topics -- Education, Aloha, & Fun
topic 11151p2
Moonshine Aluminum Polish (very strong)
---
< Prev. page (You're on the last page of the thread)
---
A discussion started in 2001 but continuing through 2020
2007
Q. I have been working on an aluminum polish for a few weeks now. The ingredients that I have been working with are producing a good smooth high gloss finish; however, I am still unable to produce the black residue during the hand polish process with my formulation. This black residue should also help remove scratches during the polish of the metal. Can anyone help me with the name of the ingredient needed to produce this characteristic to the polish.
Richard R
[last name deleted for privacy by Editor]
chemical blending - Carrollton, Georgia
---
2007
A. I just stumbled on to this site and enjoyed reading about the polish in its various forms.

To clear up what seems to be some confusion, mineral spirits is paint thinner, sometimes with an additive or refining difference to reduce the odor. In the painting business the two are interchangeable, and should be interchangeable in the polish formulas as well. Any paint supply store or home improvement center will have one or the other, probably both.

Heating either one on an electric stove or any other heat source is begging for a serious fire. It is not as volatile as gasoline, but is not something you want to heat, unless you are addicted to games like Russian Roulette.

The various items listed in the various formulas will all dissolve in the spirits or thinner over night. Do not get in a big hurry and kill yourself either by starting a fire or by breathing the fumes given off by the heat.
Bob P
[last name deleted for privacy by Editor]
- Long Beach, California
---
2007
A. This is A the best site I have found about making metal polish. This is what I found out so far about metal polish.
You can by the brick of buffing compound at all the T/A truck stops in my area they have Flomax brand for $7 Or $8
the Peterbilt deal have Zephyr Pro 40 brand just a little higher $10 to $13 and smaller Brinks Home Depot has small 4 oz
tubes of Ryobi.) These are the places I get my stuff from. I mix
5 Oz. of the white Flomax
4 Oz. of the white plastic Ryobi
2 Oz. Maxx red Zephyr
1 Oz. of Fruit Fresh found at Wal-Mart in canning stuff. all it is powdered citric acid.
12 Oz. of mineral spirits
Heat in old pan on electric burner outside just in case of fire, stirring at all times. Bring to boil- it's really fast at boiling; take off heat, let it cool. Now stir in 2.oz. of stop wax bought at Home Depot. Split it in three 25 oz. empty, rinsed, dish washing liquid bottles. Top off with mineral spirits and this makes a mirror shine. Average cost of bottle
$5.00
If heavy oxidation I use the green and white Flomax mix then go over it with this mix for mirror shine.
Dave M
[last name deleted for privacy by Editor]
- St.Louis, Missouri
---
2007
A. I got a bottle of "green stuff" and it worked o.k. but, I tried one that's called Britemax polish that has 2 types for the highly oxidized tanks. Diamond plate comes clean, the product comes with directions for use and its consistent because its professionally made. Cooking flammable mineral spirits on my stove top sounds a little risky.
bob m
[last name deleted for privacy by Editor]
- Brooklyn, New York
---
2007
Q. I have been using a mix I got from a friend and it has turned my wheels brown in color. Is that from the ammonia. I don't know what is in it but it works very well. but in a few weeks it turns my wheels a brass or a brownish color. Any idea why?
How do I get the jewelers rouge to melt or dissolve? I melted the jeweler's rouge on the stove. I tried to let it dissolve but it would not work.
Michael S
[last name deleted for privacy by Editor]
hobbyist - West Virginia
---
2007
A. I Have Switched to the Blue Moon made by Flomax brand now it works great finished shine cleans well with a fine 0000 steel wool [affil. link to Rockler] pad. yes the brown is from the ammonia try my new recipe for your self.

3 oz Blue Moon
1 oz of Stearic Acid
16 oz mineral spirits
heated in pot on a elec burner out side just in case of fire
put all ingredients in the pot and heat to around 175 °F
stir until all is dissolved that's it let it cool works good
makes 20 oz bottle
Dave M
[last name deleted for privacy by Editor]
- St.Louis, Missouri
---
February 25, 2008
Q. I have read a lot about making my own polish. I used to have a polish that you would use a buffer the first time on rims and then when you needed to shine up you just wiped it on and off and it looked just like the buffed job. I would like to make my own because I can't find it anymore need specific recipe or close to try.
Jeff Harley
DRIVER - Wooster, Ohio
---
March 29, 2008
A. I'm back. ok this is my new recipe for polish home brew.

2 Oz crushed formax blue moon compound found at I80 truck stop, effingham,il

2 Oz stearic acid found at hobby lobby its also used to make candles so any candle supply hobby shop should have it.

1 Oz WD-40 yes WD-40 helps clean the metal and also protect it
after all the WD stands for Water Displacement.

15 Oz odorless mineral spirits found at Wal-Mart

heat to 150 degrees Fahrenheit ( Do not heat too high, this is Flammable ) heat outside away for your house just in case. Use elec not gas to heat

I use a cooking thermometer and a presto deep fryer that I turned it to a melting pot you can find out how to make one by doing a google search for it look for this
6 Quart presto candle & soap melting pot.
This is a Free Recipe Use At Your Own Risk.
You don't what to have to tell your wife you blew up the house.
I like Free Things.
David M
[returning]
driver - St. Louis, Missouri
---
April 16, 2008
Q. I want to produce green compound but I don't know which wax I can use or other binding agent please advice me
VIJAY SATPUTE
owner - Nashik, India
---
April 20, 2008
A. If you want to make green polish you can get Formax green Chrome Rouge at most TA truck stops in USA. The green is good to start with but really needs to be followed up with the white or even the blue which is real fine. Here are some web sites for compound.

www.formaxmfg.com/compounds/compounds.html
www.zephyrpro40.com/s2/Scripts/default.asp

and most Sears have compound too, hope this helps.
follow up for my last post I added 1 to 2 ounces of any good liquid car wax I use mothers Carnuba Liquid Cleaner Wax [affiliate link to product info on Amazon]. My blue mix works great for my big rig when it rains I just have to wipe it of and just wipe a thin layer on and wipe it off and the shine is on.

One other thing I do when I shine my truck is when I get done with it I take baking soda [affiliate link to product info on Amazon] on a clean soft cloth just poor it on the cloth and go over polished metal to help wipe off any polish that is left behind. May be next time I'll have some pic of fuel tank or wheels
David M
[returning]
- St. Louis, Missouri
---
May 3, 2008

Me and my dad made some polish about a year or so ago. sounds similar to what your talking bout. We made about 2 gallons of it. It is good. I can't remember exactly what ingredients we used, I'll have to find the recipe. I know we used lighter fluid, mineral spirits, a couple different bars of rouge. We also used a pressure cooker to get if to mix. I'm bout to make some more and start selling it. We gave the biggest part of what we made away. It didn't take long for word to get around that it was good polish, then everybody was wanting it. When I find the recipe I'll post it.
Clint Halcomb
- Connersville, Indiana
---
May 23, 2008
I've been in the truck polishing business for 30 years and have never made my own polish. I let the professionals do that. Some of those mixtures could really harm you PLEASE BE CAREFUL!
Vic Caliva
truckwash and polishing co. - Montebello, California
---
September 12, 2008
A. I have made some of the polish myself, you can get a better mixture if you melt down the bars of jewelers rouge. Careful when heating it, can be flammable when using the mineral spirits and add a little alcohol to help it dry quicker.
Michael Glidewell
transportation - Stoutland, Missouri
---
September 21, 2008
A. I have been making and selling polishes and machine polishing trucks for 20 years now and the base for making your own polishes is 1 bar of rouge(i use white and blue)1 gallon 100% mineral spirits(paint thinner) and 1/4 pint Carnuba Wax [affiliate link to product info on Amazon] break the bar in half and put in a 2 qt microwave-safe bowl add 2 cups mineral spirits microwave on high for 8 mins (1000 watt microwave) or 13 mins (600 watt microwave) I have been doing this for a long time without burning anything (remember a microwave creates heat by vibrating molecules therefore there is no fire or spark to ignite the fumes) stir well put paste wax into hot mix stir well again pour hot mix back into gallon jug of spirits (you will have to remove about 3/4 pint from jug or it will over flow shake well. there you go guys now you know how top make it so get to polishing.
Todd Coriell
- Chesapeake Virginia
Ed. note: It still strikes us as horribly dangerous, and doing it in a kitchen unthinkable. Maybe if you take your microwave out into the woods and wear a fireman's suit . . . :-)
---
October 22, 2008
A. Just a quick note. Paint thinner is 100% mineral spirits
Danny B
[last name deleted for privacy by Editor]
- Astoria, Oregon
---
January 26, 2009
A. Hello everyone. I feel lucky I have one of those moonshine polishes in the garage. I must say that the stuff really works. I got it from a driver in Albany New York. I have no idea of the name of the products in it however I can tell you what's in it. One red and green bar of something from the Petro melted down an mixed with mineral spirit 1/2 gal. This stuff really works.
Tonio Folk
- Suffolk, Virginia
---
March 13, 2009
Q. Can you mix the two different colors together or two different bottles
Lee Roberts
dump trucks - Columbia, Missouri
---
March 13, 2009
A. I must have met the same guy at the truck stop, told me his buddy made it in Quebec. It was green in color, sediment in the bottom and smelled like turpentine. I purchased a Quart for 20 bucks. Great stuff and used it all. 5 years later I found the same stuff at a Harley shop in Ottawa and bought some more.
Went back for more and they told me they can't sell it any more because the manufacturer does not have a government M.S.D. sheet and they can't or won't tell me who the manufacturer is . Still looking, but I know it comes out of Quebec, and the name on the label is "magic mix".
Jeff Boyd
- Ottawa, Ontario, Canada
---
May 30, 2009

I am going to try your home brew recommendations, thanks to all on this list. Today, since my old Freightliner fairing steps were badly oxidized and had never been polished from 1990 I would guess, I used turpentine and black wet-or-dry 1000 grit Sandpaper [affil. link to product info at Rockler] first. I hit it with the buff using green rouge stick and the area I tried ended up looking like chrome! Turpentine does not evaporate very fast so it is good for a base. Wet sanding like this first on severely dull aluminum works great.
Lance Fontanne
auto & truck restoration - Rockford, Illinois
---
May 7, 2010
A. This is My Top recipe I use to polish trucks with. I have even sold this stuff it so good but I'm not in it to get rich so here we go.

3 to 4 oz of crushed blue moon buffing compound made by Formax

16 oz of Wal-Mart brand Charcoal lighter fluid

10 ml of boiled linseed found at Wal-Mart in paint section

Here the tricky part I personally use a deep fryer I customized with a spout on the side closed to the bottom. You will need a thermometer. Heat the charcoal lighter fluid and the buffing compound to 150 F degrees let buffing compound melt completely. Stirring it as it melts. Then turn off heat and let it cool. Now put the boiled linseed oil in the bottom of a 20 0z soda bottle when the other mix is cool stir it up real good then pour it in on top of the linseed oil I put two or three pennies in there to to help shake it up when I use it. thats all. I use on my stuff; works great
Pat. is Pending but if you want to make it for your own use you can. Let those trucks shine From Dave at blue moon metal polish
David Martin
- Addieville, Illinois
---
November 16, 2010
Q. Hi folks, been researching diamond plate polish and didn't realize how difficult it was to find such a product that would work well. I am a Fireman in L.A and am trying to polish the diamond plate on the fire engine. The difficult part is the tailboard and running boards that get constant traffic from work boots. I came across some of these recipes but don't know how to make the product thick for application. Any help would be much appreciated. Thnx, Mike
Mike Mc
fireman - Thousand Oaks, California USA
---
November 18, 2010
A. Chad I do believe from your description of the product it was Gords Aluminum Polish, www.gordsaluminumpolish.com.
I have used this product in the salty area of the Caribbean islands and the shine was great and it lasts under our severe conditions especially for aluminum tanks and items.
Richard Spencer
- Bridgetown, Barbados, West Indies
---
November 22, 2010
Hello fellow polishers, I run my own mobile polishing business called X-TREME POLISHING, I have read all the postings on how to make aluminum polish. I make my own polish too I use odorless mineral spirits paint thinner from Walmart a gallon is around 12 bucks and I buy the Zephyr green bar at the local TA or Petro truck stop and I take the green bar and put in a old pot and add about 3 to 4 inches deep of mineral spirit, I bring it to a boil on a electric stove outside of my home because the fumes are strong and well I wouldn't recommend breathing it plus I don't want to take the chance of burning my house down but after the mineral spirit comes to a boil I turn the heat down just enough that it doesn't boil anymore and then I stir it until the whole bar has melted down then I let it cool down until it isn't steaming anymore then I pour about a inch of the mixture into a 20oz bottle normal I can make about 5 to six bottles using this method after pouring the inch worth of the mixture into the bottle then I add more of the mineral spirits to fill the bottle the rest of the way up leaving just a little space so that when you shake the bottle it has space to shake up then I drop a old nut or anything round that is small enough to fit into the opening of the bottle so that it will help shake up the mix just like the little ball bearing that you normally hear moving around in a spray paint can.

And thats it, you will have one of the best polish for aluminum that you can find it does just as good as Zephyr Pro 40 metal polishing that you can normally find in a TA or Petro truck stop. It also is great to polish chrome,silver,copper,diamond plate,stainless steel. If you want to see the magic of how good this formula polishes metal take a old black tarnished penny and use some of this mixture on the penny and I guarantee you that it will polish that penny to where it looks like it just come out the mint.

As for adding waxes, rain-x,WD-40,etc etc, Just food for thought the black,brown,green,white,blue,red rouge bars are compounds in which are made of wax/compounds so natural wax is going to displace water. About the only liquid wax that I myself would add to my mix would be Meguiar's Cleaner Wax [affiliate link to product info on Amazon]. I myself prefer to stay away from Turtle wax of any form. if I was to add Meguiars to my mix I would add about 2 caps full into a 20oz bottle, that should put sufficient enough wax/sealant into your metal.

Some people say use the Formax brown,green,white,red rouge bars but I find that the Zephyr rouge bars are better and it seems to be 10x easier to whip the mix off of the metal surface.

Now with all that being said this mixture is good to remove tar, road grime,grease,rust,and brake dust off of your metal, now the trick with aluminum is that if the aluminum is smooth not scratched or pitted real bad then with this mixture you will definitely get a mirror shine, it is also good to clean your aluminum with 50% aluminum brite acid cleaner mixed with 50% water spray on your aluminum and let it set for about 5 to 10 minutes to allow the acid/water solution to pull the dirt out of the pores of the aluminum, DON'T SPRAY pure aluminum acid cleaner on your aluminum because trust me it will acid burn the aluminum and turn it white and it tends to make it a whole lot harder to polish out.

Now the reason you clean the aluminum with 50% acid 50% water is to pull the dirt out of the pores of the aluminum and it also makes the aluminum soft in which makes it easier to polish.

Now if your aluminum is badly pitted then the hand polishing method isn't going to bring the mirror shine, it will somewhat clean it up and it will look cleaner but it will not be a mirror shine reflection in the aluminum, now what I do is I sand the aluminum by hand or orbital sander in stages of 240 grit, 400, 800, 1000 then I use a angle grinder with a 6 inche yellow firm buffing wheel you can get from Lowe's and the brown rouge bar and I buff the aluminum, I myself also use high speed grinder/buffers with airway buffing pads they come in several colors red,yellow,blue,green,white it depends on the stages of cutting you need to decide which pads or methods to use.

But as your aluminum is smooth and it is just oxidized or looks hazy then this mix of polish will bring it to a mirror shine the best advice I can give you if you really want to know the stages of polishing aluminum is to goto youtube and I find that DCSUPERSHINE is the best instructor on how to polishing aluminum but watch all the videos on polishing aluminum and the go find you some aluminum and practice trust me practice makes perfect and trial-and-error is the best teacher. That's what I did before I decided to go into my own business in polishing wheels and tanks on commercial trucks because I sure don't want make someone mad by messing something up...

Be safe and have fun polishing because you have to love it to do it because it is a dirty job.
Chad Sarver
- Salisbury, North Carolina
---
February 20, 2011
Q. Wow! Amazing, didn't even know this can be made at home. Just a ?: I recently sanded my aluminum rims down to a 1000 grit. Now I'm ready to polish them up can I use these recipes to polish them to a mirror shine? or are these recipes for rims that have already previously been polished and just need restoration?

Thanks in Advance
Tee Pate
- Toronto, Ontario, Canada
---
February 20, 2011
A. Making Metal Polish is Highly Dangerous so if you want to make your own you do this at your own risk. I am not Responsible for any thing .........

Here we go this is how I make my polish. First thing you' ll need to do is to get all the thing you will need together. One Bar of buffing compound I use the blue but white will work I get mine from www.formaxmfg.com but you can find the white at most TA truck stops. Three 32 oz bottles of charcoal lighter fluid one gallon odorless mineral spirits. One thing of boiled linseed oil and one can of tung oil finish. Presto deep fryer and a cooking thermometer that is the list of things you will need next we will start the mixing part. Here we go put two bottles of charcoal lighter fluid in the deep fryer and one bar of blue or white of Formax buffing compound heat to 150F degrees us the cooking thermometer to keep a eye on it ( DO NOT HEAT OVER 150F ) Stir this until the bar is completely dissolved then let cool. Then get a big 2 gallon pot you will put the rest of the ingredients in it you will put one bottle of charcoal lighter fluid and 64 OZ of odorless mineral spirits and 100ML of boiled linseed oil and 50ML of tung oil finish when the melted bar mix cools 75F stir it up and then poor it in the pot and stir until it is mix up completely. That is it you now have kick ass metal polish like Dave's Blue Moon Metal Polish. Here is why the oil's or used linseed oil does not dry completely for a long time so it let the polish come off easy the tung oil finish dry to a water proof finish it is the best oil to us on out door wooded thing keeping the water from getting to them. This will make 1 1/2 Gallons of polish.
Dave Martin
- Addieville, Illinois
---
August 2, 2011
Q. I have noticed that a lot of the metal polish that I made is watery when finished. What would you have to add to make it more of a paste?
Tom stone
hobbyist - philadelphia, Pennsylvania, united states
---
November 3, 2011
A. You can use corn starch to thicken your polish. It works just fine. Add an eighth of a bar of black emery to remove scratches from stainless aluminum.
Scotty Medlin
- Cayce, South Carolina
---
March 26, 2012
A. Instead of melting the green bar, use an electric drill with a wire brush and use the brush to erode the bar into a powder and do it over a box with a garbage bag liner, Make sure the brush is steel and afterward use a magnet to catch any brush "hairs" that break loose so they don't scratch your wheels. You can also order other grits but only nonferrous compounds. then use a Carnuba wax for protection
Harry Baker
- Rhinelander, Wisconsin
---
May 19, 2012
The white rouge contains sodium tallowate (animal fat based soap) and white calcined alumina (aluminum oxide) powder, the 1200 grit or 3-5um size.

The green rouge contains sodium tallowate (animal fat based soap) and chromium oxide (for stainless steel, chrome polishing)

The red is ferrous oxide powder based.

Coconut soap is high in lauric acid and is an amazing cleaner.
Darren Olson
- Toronto Canada
---
December 13, 2013
Q. I was excited to read about the formulas but I must have missed how the formula is applied to aluminum fuel tanks.

Does it require the use of a buffer and if so what type of buffing wheel?

I read someone just puts it on by hand and them wipes of the excess.

Is it necessary to sand the tank or perform other cleaning operations prior to applying the formulas?
Thanks
Donald Gryder
- Johnson City, Tennessee
---
May 6, 2016
Q. So where would I find all the items listed in this moonshine aluminum polish formula? Can they all be purchased at the Home Depot? Has anybody had any luck creating the moonshine formula so that it is wipe on and off to leave a shine like those homeless (usually) people do at the truck stops for $5 a wheel?
Brandon Dunn
- Gainesville, Texas USA
---
May 2016
A. Hi Brandon. We tried to link to offer Amazon links to all of the materials mentioned, except kerosene which you get at a gas station. I think some of the products are offered in auto stores and some in hardware stores. But again, just because an indigent person risks their health for $5 doesn't mean you should. Some terribly dangerous materials and methods have been mentioned on these pages.
Regards,
Ted Mooney, P.E. RET
finishing.com - Pine Beach, New Jersey
Aloha -- an idea worth spreading
---
---
October 2, 2016
Q. Hi, we have been polishing aluminum on semi trucks now for almost 10 years. My Ole man Randy had a thriving polishing business in Corning Calif about 6 or 7 years ago. He has made his own polish now about 29 years, we now live in San Francisco CA, and have begun building another polishing business here. He wants me to patent his polish ... can you or someone start me in the right direction? Thank you.
Randy Dunn
- San francisco, California
---
A. Hi Randy. You can read websites or books about patents, or you answer one of those radio ads for "an inventor kit", but if you're serious enough to be having a "thriving" business and to be opening a second location, you should immediately retain a patent attorney. S/he can probably tell you in a few minutes whether you have a patent case that would be worth pursuing, or whether retaining your knowledge as a trade secret would be a better idea. But if you just want free internet advice, mine would be to keep your formulation secret because if you are successful in patenting it, your formula will be right there on the web for people to read. And with thousands of truck stops and small-time entrepreneurs, how would you reasonably stop them from using your formula? But you might be able to license it after having buyers sign confidentiality agreements.
Regards,
Ted Mooney, P.E. RET
finishing.com - Pine Beach, New Jersey
Aloha -- an idea worth spreading
---
November 1, 2019
A. 1 gallon mineral spirits, one bar of Matchless purple rouge, 1/2 bar of Matchless white rouge, one bottle of fuel injection cleaner, 1/2 a bottle of rubbing alcohol. Crush rouge into a fine powder put mineral spirits and rouge I to a large sauce pot cook on low heat and stir when you can pull the stirring spoon out of mixture without any clumps of rouge stuck to it add fuel injection cleaner let cook for another 10 to 20 mins take off heat and let cool then add the rubbing alcohol then bottle it up you will have the best hand polish you ever used
Donavan Goodman
Best N Show - Leicester North Carolina USA
---
January 30, 2020
A. Okay, what you guys use is okay but I will give a secret to my polish ... I use the green and white rouge bars 1/2 to 3/4 of the green bar, that's to help cut through the oxidation ... 1 whole bar of the white for the ultimate shine ... and now octane booster ammonia and mineral will leave a residue and after you use that it may look good at first then give it a few days and you will see a yellowish film.

That's why I use the booster ... shave the bars into a Gatorade bottle then slowly add the octane booster a lol at a time -- you don't want it too thin or too thick. Then after that's done, then set it out in the sun or around a good hot heat source but not over a flame for it may catch fire ... and let it cook for a bit. The heat will help break all the components down but after every so often you will need to burp the bottle (because of it being in the heat it will expand).

Cooking time will vary so whenever you think it may be ready then it just may be. Then for storage, store in a cool dry place. One bottle will do about 10 or so trucks if used wisely. All I need is about some on a cotton cloth the size of a half dollar but, to make it go even further, after the first use keep the cloth in a ziplock bag and it can be reused time after time. The polish will get stronger as it sits but I will have no need for elbow scrubbing at all and myself I don't use a polisher it's all by hand and it takes me about 1 1/2 hrs to do 2 trucks. It will clean eat the oxidation and bring it to a wonderful shine.

Use a micro fiber for the final buffing. When I start just rub in until a black residue sets, then let it haze over for about 2 to 3 mins depending on the weather. And now after it's all done you will be shocked of the work you have, and so will the driver; you will have a customer for life. Caution NO SMOKING WHILE POLISHING OR MAKING THE MIXTURE.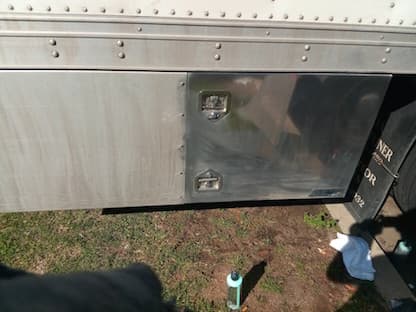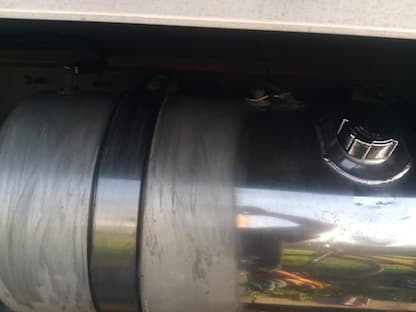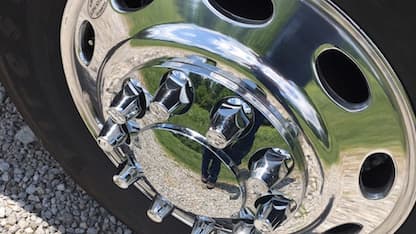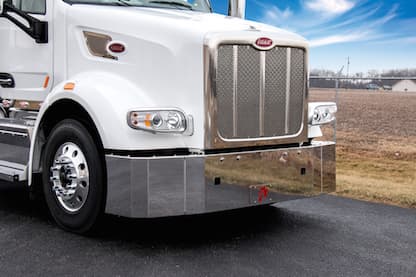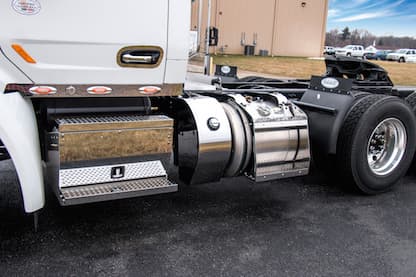 Kenneth Carroll
- Ontario, California USA