Where the world gathers for
plating, anodizing, & finishing Q&As since 1989
-----
PVD Cracks
We are currently experiencing cracks in our PVD coating. We PVD over chrome. What are the possible causes?
Brian Gerhardt
plumbing supply mfgr. - Pacoima, California
---
What is the highest temperature you use in this PVD-process and how fast is the heating velocity?
If a chrome plating, which is not specially relaxed, gets a temperature shock, you receive macro cracks in the layer.
Reason: thermo tensions (the expanse of length due to temperature of steel is 50% larger than of chrome.)
Michael Hekli
Switzerland
---
The PVD coatings are tensile stressed. The chrome is usually tensiled stress but cracks to relive the tension. How thick is your Cr? Anything over 25 millionths could show cracking.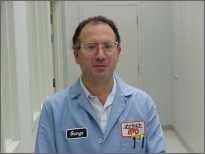 George Shahin
Atotech - Rock Hill, South Carolina
---
Brian,
You do not state the type of chrome electroplate-decorative or hardchrome. If decorative conventional chrome then the cracks may already be present, as apparent after PVD by large plate-like cracks. Check the product before PVD under10X-100X magnification. If the cracks are concentrated at thin edges then this is a cr thickness/stress problem which must be solved by changing bath charecteristics and racking to lower tensile stress. If the components are hardchrome previously finished by lapping or grinding then microcracking may be reduced by less abusive abrasive machining.
The effect of the PVD thermal cycle may be aggravating the tensile stress in Cr plate. Most engineering substrates have higher thermal expansion rates than the Cr layer. Heating will tend to grow tensile cracks. You may try using lower temperature for PVD-we coat at 150C-250 on brassware in cathodic arc process. We also find plate-like cracks 1-4mm length and that it is a variable problem. Each supplier of Cr plated components has its own charateristics.
Tony Pilkington
plating shop - Burnley, Lancashire, UK
---
Brian,
If you work for decorative proposals and the thick of chromium plate is more than 0.75 micrometers you can have macro cracks on the chromium plate. Try to have chromium plate less thicker.
José Francisco Costa
- Portugal