Where the world gathers for
plating, anodizing, & finishing Q&As since 1989
-----
Internal Stresses in Plastic Products
Dear Sirs,
I am working in one of the biggest manufacturer of Plastic products in Saudi Arabia. In our factory we are encountering a lot of problems, especially wobbling and concentricity on producing Blower wheels and Slingerfans. These engineering items are made of ABS and PP resins with or without glass fiber. The problems with glass fiber as a reinforcing filler is becoming more after 24 hours.
My questions are:
1) How the internal stresses occur in plastic products?
2) What are the main reasons of creating Internal Stresses?
3) How to completely avoid or reduce the effect of internal stresses on the above mentioned defects?
4) How to measure the internal stresses imposed in the plastic products directly after processing?
5) What are the injection processing parameters affecting the internal stresses?
Mohamed Ibrahim Mohamed Ali
plastic factory - Riyadh, Saudi Arabia
---
Hi Mohamed!
I'm not really too qualified in answering your questions although in 'plastics' (heavy fabrication for 40 odd years) but may I make some comments.
l. Having used and bought VERY, VERY OFTEN injection moulded centrifugal fan impellers (Brinkmann, GmbH in Frankfurt) in natural PP, they never distorted, they never became eccentric but, to obtain perfect balance, now & then a very small piece of PP was fused/welded onto the wheel by the manufacturer for a perfect harmonic balance...
2. I have the feeling, if I may say this, that you do not have highly trained injection moulders, ie. people who know about injection temperatures & cooling cycles and, of course, about the very important and accurate tooling necessary to make these impellers.
3. Have you not contacted your resin suppliers? Surely they should offer some words of wisdom?
4. Try approaching a local but friendly injection moulding Company for some advice
You should not be having these problems. Try Hoechst Chemicals (Germany) for advice on the PP resins or Union Carbide for data, if they will impart it, on their excellent ABS resins.
I hope that you will succeed. Best of luck.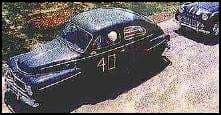 Freeman Newton
[deceased]
(It is our sad duty to advise that Freeman passed away
April 21, 2012. R.I.P. old friend).
---
August 13, 2008
The glass filled material is always a problem in post moulded components.
Simple example is explained below to understand the effect of GF. when you burn a paper, it shrinks. why? Bcos the (bamboo)pulp, which are like lines in structure, tend to converge or contract. Hence the paper shrinks or frills. The same tendency with the glass fibres. It cools by the time and tends to contract. This will give you the distortion in the component. To avoid that, proper mould cooling to be provided so that the resin is well set in the mould itself and the cooling time also. The ejection of the component to be even and then handling and packing of the items are also critical. Try a aging process before assembly. you can see some result.
bhoopathy
- Chennai, India