Where the world gathers for
plating, anodizing, & finishing Q&As since 1989
-----
Embrittlement of Ni electroform after heating
Q. What mechanism would be responsible for embrittlement of Watt's Ni electroform after heating 230C for 30 minutes? If tramp elements are responsible, what chemical analysis can be done to identify species?
Kristen Gratalo
- Boise, Idaho
---
A. If you have brighteners in your bath they are causing the problem. Get the concentration as low as possible to attain the results you require.
Russell Richter
- Danbury, Connecticut, USA
---
A. I'm not experienced with electroforming, but I wonder why you would use a Wood's bath for this purpose; the sulfamate bath is much better suited, I think.
Michael Brewington
plating shop - Salisbury, Maryland
---
A. Usually it is Sulfur that co-deposits with the Nickel and when heated can cause the nickel to become brittle. But usually the temperature and time are usually higher to cause this problem. Make a foil from the solution and send it out for sulfur analysis. Also you should make a foil from the Watts solution, brand new, as a reference.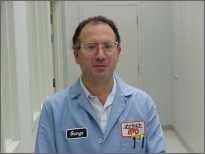 George Shahin
Atotech - Rock Hill, South Carolina
---
A. The embrittlement is due to mainly Sulphur. One can have sulphur from the brightener. If your application is high temperature, there are other ways and other chemistries.
Payal Mag
- Charlotte, North Carolina
---
A. Kristen:
Just to name the most common, lead in excess of 0.01%, copper in excess of 0.01% and chromium above 0.003% cause a reduction of ductility to the nickel plate at room or below 260C. I agree with George that sulfur in excess of 0.002% gives annealing problems but it is generally known that it comes from brighteners and begins above 260, not 230 °C. You're not using sulfur brighteners for electroforming, or are you? Have you checked your boric acid lately? If it falls below 20-25 g/L it can also cause internal stress. Also there are numerous organic materials (electroforming practices unfortunately live with them in the bath) that will be difficult to trace by chemical labs and also affect either at elevated or room temperature. Find a good lab and go back to basics (dummying and activated carbon treating).
Good luck.
Guillermo Marrufo
Monterrey, NL, Mexico