World's #1 finishing resource since 1989
No login needed: Chime right in
topic 1119
Long term corrosion resistance of aluminum
1998
I have been unable to locate any hard data on the long term resistance of certain aluminum alloys in a salt fog environment. We need a low cost finish such as Iridite, but able to withstand up to 5 years in a warm, salty environment. Painting is expensive. Anodize is OK, but is there a cheaper alternative?
The alloys I am interested in are 2014-T6, 6061-T6, and 7075-T6. I would like to see evidence of the corrosion resistance of these alloys after 5 years or more in a salt environment when coated with Iridite, or anodize, or any other low-cost suggestion. I have an immediate need.
Bruce Chisholm
Lockheed Martin
---
1998
Bruce:
One possibility is plating the aluminum alloy with high purity aluminum. This plating acts as a sacrificial anode to any Al alloy because there are no galvanic sites to initiate corrosion - similar to the ALCOA Alclad material used in aircraft skins. The plating takes Alodine or Iridite or other aluminum conversion coatings and a bolt manufacturer in MI has tested aluminum plated and chromated steel bolts for over 6,300 hrs in ASTM B117 [affil. link to spec at Techstreet] salt spray. Price may be competitive or not depending on the size/geometry of the parts and the thickness required, but I thought you should know that plating With aluminum is available.
F.A. Sandy Donaldson
- Minnesota
---
1998
I would be reluctant to use either 7075 or 2014 in a seacoast environment even with a protective coating due to the risk of exfoliation corrosion. 6061 is not susceptible to this type of attack, but may sustain some minor pitting and surface deposits even with anodizing.
Look in the literature for references to experiments at Kure Beach. There has been tons of work there on long-term exposure of steels with various compositions and coatings to sea coast environment. There may also be experiments there with aluminum.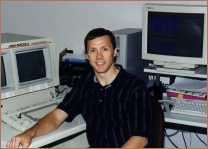 Larry Hanke
Minneapolis, Minnesota
---
1998
ASM International has a good handbook which addresses corrosion behavior of aluminum. It is the ASM Specialty Handbook "Aluminum and Aluminum Alloys" [affil. link to book on Amazon], and they are located at Materials Park, OH. The ISBN is 0-87170-496-X.
Lee C. Branch
---
1998
Thank you all so much for your valuable information. I appreciate the time you took to respond to my needs.
Of particular help was the ASM International Handbook on Aluminum. This book has literally everything you need on aluminum, including the long-term data I was looking for. I highly recommend the book to anyone with a question about aluminum.
Thank you again.
Bruce Chisholm
Lockheed Martin