topic 10952
White spots on derusted iron
I have made a liquid acidous cleaner with phosphate acid and a litlle bit sulfuric acid. I have made it for cleaning aluminum, and it works very good. But when it comes in contact with iron, aspecially rusted iron, the iron gets white after rinsing with water, not where the rust is gone, but just in borderline between the cleaned spot and the area which is not yet derusted, so it is like a narrow borderline of white, I suppose some kind of phosphate, remains.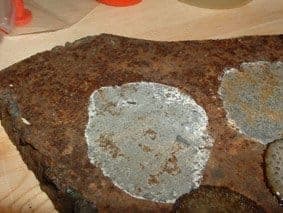 How do I do to get rid of it? Could I mix something in the cleaner to avoid it? I have tried with phosphate esters, but it didn't work out well.
Christer Borg
- Sweden
---
It could be a number of or even a mixture of compounds including ferric pyrophosphate, ferric sulfate or phosphate et al. See if the white residues are soluble in acids. To prevent this from happening, common sense might be to try to limit the contact time of the acids on the iron and remember to rinse & neutralize as soon as possible.
Dale Woika
Surface Conversion Sciences - Bellefonte, Pennsylvania, USA
---
It may not represent any problem at all, except for perhaps your demo case where you want to show what the rust used to look like. Two theories that immediately strike me are that these are salt stains from the drying of the product, or they are an intermediate species that occur when the rust has not yet seen enough of your product, as would happen at the interface between a rusted area and a drop of the solution.
Ted Mooney, P.E.
finishing.com
Pine Beach, New Jersey


This public forum has 60,000 threads. If you have a question in mind which seems off topic to this thread, you might prefer to Search the Site