topic 10948
Coating stainless steel to inhibit heat treat scale growth
I am experiencing difficulty in removing heat treat scale from some of our stainless steel product (forgings). If particular concern are the austenitic (3xx) and precipitation hardening (15-5PH, 17-4PH, PH13-8MO) stainless steels. Our current method of removal is wheelabration and it takes so long that the raised part numbers are also removed in the process. We have tried pickling and re-wheelabrating, but this adds time and cost to the process.
Would there be a coating on the market which I could apply to the forgings prior to heat treatment to prevent the growth of oxide? This product needs to function at 1900 F for about 4 hours maximum.
Any help in this matter is greatly appreciated.
Thanks,
Ian Mitchell
- Cheshire, Connecticut
---
Foseco used to have a paint called Aniscol 11 (that's the number 11) that protected from scaling and decarburisation at austenitising temperatures. Maybe they can still supply it.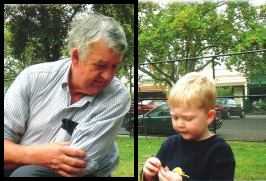 Bill Reynolds
consultant metallurgist
Ballarat, Victoria, Australia
We sadly relate the news that Bill passed away on Jan. 29, 2010.
---
Thank you. To add, I did find a water based product called Ceram-Guard by AOSmith and a MEK/Toluene based product called Turco Pretreat by ELF Atochem. Anybody know of any others?
Ian Mitchell,
again
- Cheshire, Connecticut
---
Ian Mitchell,
Were you able to use any of the products with success? I am considering to try out the Ceram-Guard to coat precipitation hardening and martensitic steels before heat treatment. Please post your comment.
I have been using Ceram Guard CG-11 coating for martensitic and PH steels with very good results. I have noticed that scaling is almost negligible for the PH steels which scale the most during the solution anneal heat treatment. The name of the company is "A O Smith Protective coatings".

Thank you
Anirudha Mahajan
Foundry - Port Arthur, Texas
---
April 10, 2009
Does anyone know where to find any of these items? I did finally find ordering info for the Turco pretreat at $500 a 5 gallon can but can't find anything for Ceram Guard or Aniscol 11
Help?!?
jeff KNOX
KNIFE MAKER - ST LOUIS, Missouri
---
---
December 13, 2011
Q. Annealing stainless 300 400 15-5 630 s; unable to read bar ids after multiple cycles; have purchased our first trial bucket of Ceram Guard CG-11. How thick, do I need to use multiple coats, does the material need to dry before going into a furnace? Thank you.
Michael Davisson
annealer/supervisor - Columbia City, Indiana


If you have a question in mind which seems off topic, please Search the Site