topic 10903
Trouble activating aluminum for zinc phosphate
I am having trouble activating a 6061T6 series of aluminum for Zinc Phosphate. I have used a non-etch cleaner, etch cleaner, 50% nitric, double zincate process, but when I went into the bath there was no reaction. The bath was to temp. and analyzed before hand. Any other ways to do this?
Maureen Hilgert
- PA
---
Could your phosphate be contaminated with too much aluminum from past processing?
Tom Pullizzi
Falls Township, Pennsylvania
---
I think you have problem in the Zinc Phosphate solution formula. The solution might contain fluorides, if it does not contains fluorides no activation of the aluminum will happen. By the way, no need for zincate stage before phosphating, it might disturb the process.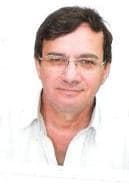 Yehuda Blau
YB Plating Engineering and Quality - Haifa Israel
---
You need to use the following procedure:
1. Soak cleaner
2. Acid etching
3. Zinc-phosphate which includes fluorides
After every step you should rinse the parts whith water. Good luck
Efim Ruchman
- Israel
---
Hi Maureen,
ZnPhos by dip is a very difficult process on Al. Spray processing if feasible is much easier. As stated fluoride is essential to react and complex with the Al. Usually nitrite accelerator is alslo necessary. Titanium acitivator predip is essential. Check the free acid of the bath (try 10-15% at 60-65 deg C), add o.4 g/lt sodium nitrite and if neccessary 1-2 g/lt KF or ammon bifluoride. Most baths are nickel containing R.
Roger Bridger
Walterisation UK Ltd - Croydon, UK


If you have a question in mind which seems off topic, please Search the Site