60,000 Q&A topics -- Education, Aloha, & Fun
topic 10893
Why No Rinse Needed for Alodine 1132 Touch Up Pen
A discussion started in 2001 but continuing through 2019
2001
Q. I would like to know why rinsing is not required for Alodine 1132 as against the Alodine 600. I understand the reaction that takes place is different and I would like to know what fundamentals distinguish between the two kinds of chemical conversion coating materials.
Payal Tandon
- Phoenix, Arizona
---
2001
A. Since we are talking about a proprietary process, do you have information about the two processes from a technical bulletin?
Without knowledge from the manufacturer, I would guess that the no-rinse formula does not have salts which would precipitate on the surface of the drying or dried gel formed during the conversion. That is, you would not get a white dust leftover on the surface after drying.
Tom Pullizzi
Falls Township, Pennsylvania
---
2001
A. I helped research and test the formulations for this concept. The coating is significantly different from a typical conversion coating and was specifically developed for this type of application (dry-in-place). It performs very well and will be included in a soon to be released Mil-DTL-81706 [link is to free spec at Defense Logistics Agency, dla.mil] revision. The chemistry is patented, so the type of chemistry is public. I was pleased to have a part in developing such a well received new product.
David R. McCormick




Clawson, Michigan



---
2002
Q. Thanks David and Tom for your responses.
We are already using this material in our facility and results have been greatly satisfactory. I understand that this material has been included in Mil-DTL-81706 [link is to free spec at Defense Logistics Agency, dla.mil] Class 1A coatings. Could you please explain the manner in which Alodine 1132 is different from the usual conversion coatings. Apart from this information, I wanted to ensure if it was ok to pour out some solution from the touch-up-pen in a plastic cup and use a swab to apply it on parts where it may be cumbersome to use the tip of the applicator pen.
Payal Tandon
[returning]
- Phoenix, Arizona
---
2002
A. Payal,
I just noticed your questions. You could remove the felt tip and push a plastic rod into the valve to activate and dispense a few milliliters at a time and use a swab. Or, you could use the swab to activate the valve. I wouldn't cut or break the tube since this protects the solution from contamination. If you saved some for later use outside the tube you'd have to test the solution per 81706 requirements (another advantage of the system). remember, you now have a chromate contaminated swab that will need disposal. The felt tip can also be trimmed if required/ adequate.
Don't use too much. The solution should not puddle or tend to run if the surface is held vertical. A little goes a long way. As long as the surface is wet (even if it flashes away in a few seconds because of a warm surface) it will have more than the minimum required coating weight. Some wet adhesion failure may result when using water based primer if too much Alodine 1132 is applied.
Do use a plastic beaker rather than glass because the solution contains a very small fluoride content.
Alodine 1132 was recently approved for 81706 class 3A as well as 1A after resistivity was determined to be acceptable.
This differs from a conventional coating in that it leaves no "bad acting" salts that need to be rinsed away after the coating forms.
The chemistry is disclosed in U.S. patent 6,361,622 Hope this answers your questions.
Regards,
David R. McCormick




Clawson, Michigan



---
2002
A. Payal-
Don't defeat the purpose of the pen, and don't remove any to a separate container if you're doing MIL-SPEC work.
I'd suggest temporarily pulling the moist felt tip out with plastic tongs and using that alone to reach the difficult areas. Return the tip for normal storage or to recharge the tip. Remember, a cotton swab will be attacked by chromate and affect the chemical composition. Also remember that the container box comes with a return label for the vendor to properly dispose of the empty/used pens- I don't know if they want to deal with your swabs and rags for free.
I hope this helps, best regards,
David R. McCormick




Clawson, Michigan



---
2004
Q. Does anyone have any specific information on the drying times for 1132? I find the supporting rather vague (it mentions using a hair dryer but also warns against excessive air flow across the surface?)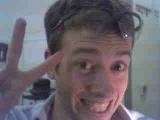 Andrew Petrow
- Perth, Western Australia
---
2005
A. Hi Andrew,

A hair drier has two safeties built in that prevent temperatures > about 140 °F. This is an excellent drying temp. A hair drier also has a built-in ground fault, are very cheap and readily available. Air dry works fine. Excess air flow can make the wet film flow and cause uneven coating- possibly creating excess coating in spots.
I actually prefer to prewarm the surface and allow the heated metal to flash off the coating. This also gives the most pleasing appearance.

I agree the drying time is odd. It is related to the MIL-SPEC wording. I believe it ended up that way due to some late testing with water-based epoxy. If the surface is painted (water based only) right away over a heavy A1132 coating, minor wet adhesion failure was noted. If the conversion coating sat 3 days, as instructed in the original MIL-SPEC procedure, no failures were seen. Obviously, the workers in the field don't want to wait 3 days to paint. The military answer was to wait 3 days AFTER painting before performing the adhesion test. This way the immediately painted surface never failed.

Best Regards
David R. McCormick




Clawson, Michigan



---
2006
Q. I sometimes work as a field engineer and the Alodine pen is the best, it saves time in touching up scratches and has been more than environmental friendly. I read, in your answers above, how David McCormick helped to develop the pen. I had also read a Boeing article, a few months ago, they have taken credit for this pen. What's the real story on this pen? Was it developed for and by aerospace?
Dorrance Hubbell
supplier quality - Long Beach, California
---
2006
A. Repair pens have been around for a while; I think what David was making reference to is a formulation that is suitable for dried-in-place (no rinsing required) coatings.
Ted Mooney, P.E.
finishing.com - Pine Beach, New Jersey
Striving to live Aloha
---
2006
A. Actually, Hughes developed the pen and filled it with Alodine 1200- which needs to be rinsed. Henkel bought the rights to the pen, then we developed the no rinse coating.

We now have a trichrome (Cr+6 free) pen too.
David R. McCormick




Clawson, Michigan



---
July 14, 2008
Q. Hello David,

found this while searching for Cr+6 free aerospace chemicals conversion methods. Could you provide more information on the trichrome (Cr+6 free) pen, that you talked about?
Product designation/availability ? Is it approved for aerospace use in the meantime (since 2006)?
Peter Belloth
- Gauting, Germany
---
July 15, 2008
A. Peter,

Henkel's new non-hexavalent chromium pen is commercial and is designated Alodine 871 Touch-N-Prep Coating. The technology is based on trivalent chromium and is applied and performs similarly to Alodine 1132 Touch-N-Prep coating. Alodine 871 is approved to Mil-DTL-81706 [link is to free spec at Defense Logistics Agency, dla.mil]B (Type 2, Class 1A, Form VI, Method D & Type 2, Class 3, Form VI, Method D).

Best Regards
Kirk Kramer,
Sr. Research Chemist, Aerospace Group
- Madison Heights, Michigan
---
March 26, 2009
Q. Dear All,

Back in 2007 I bought 12 Alodine 1132 pens as a minimum order. Since then I have only used one pen & the shelf life has expired.

Can I get the pens re-validated & have the shelf life extended?

All the pens have the same lot number PB71203955.
Could I have one of these pens tested & have the results authorize the use of the other pens?

If so where do I send the pen to have the test done?

Very best regards
Brad
Brad clinch
- Sydney Australia
---
May 7, 2009
Q. I have been experimenting with the Alodine 871 pen for a few weeks now and testing salt spray corrosion resistance and electrical resistance (Mil-C-81706). No problem passing the salt spray using the application method in the technical data sheet (using 2024T3 bare alum-not the best need 6061 but waiting on samples of it) but the electrical test is more difficult to get.
I have had no problems with Alodine 1132 even with 2042-T3 alum. Is there a different application method for this (i.e a lighter coating, only one pass with the pen and don't overlap?)
Pauline McCann
- Belfast, Ireland
---
June 29, 2010
A. The pen does not have to be rinsed off, I need to do larger areas than the pen will cover can we get it in a larger quanity or can I us MIL-DTL-81706 with out rinsing.
Mike Hough
acft inspector - Ft Bragg, North Carolina
---
February 11, 2011
-- this entry appended to this thread by editor in lieu of spawning a duplicative thread
Q. We have small areas on our products that require slight touch up of the gold chem film. Has anyone found a successful touch up material and process for touching up the chem film?
Roger Briere
process engineer - San Dimas, California, USA
----
Ed. note: As you see, we appended your inquiry to a thread which may already answer it for you, Roger. But follow up if you have remaining questions.
---
---
April 6, 2017
Q. If I wanted to cut the pen tip down to a smaller size what tool should I use? I tried using scissors but it wasn't a clean cut. There were a lot of fibers which concerned me.
Mark Desoto
- Tacoma, Washington, United States
---
August 18, 2017
A. Hi.

I used a sharp razor blade.
I'm no longer obliged to my past employer.
I owe them nothing.

Just in case anyone else wants help using my inventions.
https://www.linkedin.com/in/david-r-mccormick-ba24a4114
David R. McCormick
Clawson, Michigan
---
August 2017

opinion! Hi David. There are countless people to whom I owe a lifelong debt! ...but corporations aren't people, and I agree 100% that we owe corporations nothing.

Our government lets the mega-corps play pea & walnut shell games on us, buying & selling as long as necessary until they win and the citizens lose. My first job was with a subsidiary of American Can Co., where I earned a small pension to be paid when I reached 65; at 71 I've yet to see a penny of it, but some lobbyist from Greenwich has perhaps been enjoying an extra jar of caviar each month :-)

Regards,




Ted Mooney, P.E. RET




finishing.com - Pine Beach, New Jersey




Striving to live Aloha





---

September 29, 2017

Well, we owe a lot to you Ted.

Obviously, my past employer and I burned bridges on both sides. So, you worked at Alcan. That's interesting.
Aren't they part of Alcoa, or were?

Did you work with the vpa treatments?

That's getting some use in automotive now.

Thanks for not censoring.

My inventions stay published for all mankind.

Thanks Ben Franklin.




David R. McCormick




Clawson, Michigan





---

October 2017

Hi again. It wasn't Alcan that I worked for but M&T Chemicals, which was owned by American Can Company at that time. Sorry, I'm not knowledgable of vpa treatment.

We try not to do no censoring except ad-hominem, slams, and spam.

Regards,




Ted Mooney, P.E. RET




finishing.com - Pine Beach, New Jersey




Striving to live Aloha




---
---
November 11, 2019
Q. We will be needing to do a small amount of touch up on conversion coated surfaces. We are planning to use the Alodine 871 pen but were wondering what the shelf life of the pen is after it is opened?
Ruth Neal
CTI International - Great Neck, New York USA
---
November 11, 2019
I do not want to infringe on a proprietary sale but I just advised one of my clients to touch up with a beaker of tank solution and a cotton swab, and/or to double the concentration of the tank solution in the beaker.

Robert H Probert
Robert H Probert Technical Services

Garner, North Carolina
---
November 11, 2019

Thanks Robert, I would like to have that ability but, we unfortunately do not have any tanks here as all of our coatings are done by our suppliers.
Ruth Neal
[returning]
Computech Intl. - Great neck, New York USA
finishing.com is possible thanks to our supporting advertisers, including this shop: