Where the world gathers for
plating, anodizing, & finishing Q&As since 1989
Salt spray test for anodized aluminum
-----
Current question and answers:
February 25, 2021
Q. White Rust and red rust on anodising finish.
HAVE A PROBLEM WITH WHITE CORROSION AFTER SALT SPRAY TEST IN ANODISED JOB. THIS IS AN ON GOING PROBLEM.
HAS ANYONE ELSE HAD THIS AND SOLVED IT PLEASE?
PRAKKASH Venu
- Chennai Tamilnadu
---

Aluminum How-To
"Chromating - Anodizing - Hardcoating"
by Robert Probert

Will you like it?
-- We've sold 800+ copies without even a single return request :-)
February 2021
A. Hi cousin Prakkash. In short, your parts or panels failed the salt spray test :-(
The many reasons they may have is the subject of dozens of long highly detailed threads here :-)
The only way to start is either to retain an anodizing consultant or to investigate with full particulars. Are you testing parts or test panels, what spec are you anodizing to and to what thickness, how many hours of salt spray, what is the alloy, what is the cleaning, etching, de-smutting, anodizing, dyeing, and sealing process, etc?
Luck & Regards,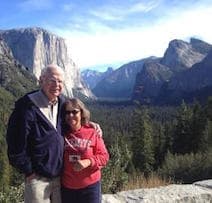 Ted Mooney
, P.E. RET
Striving to live Aloha
finishing.com - Pine Beach, New Jersey
---
June 4, 2022
Q. How much salt spray are recommended for Aluminium 6063-T6 grade with black anodizing done having 15 micron thickness radially.
Ajeet Ambade
Quality head - Nagpur Maharashtra
---
June 2022
A. Hi Ajeet. A better way to answer your question may be to say that you should be anodizing to some specification, and that specification will tell you how many salt spray hours are required. For example if you are anodizing to MIL-A-8625 it requires 336 hours.
Luck & Regards,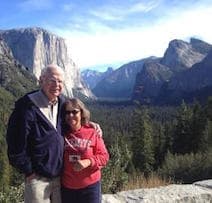 Ted Mooney
, P.E. RET
Striving to live Aloha
finishing.com - Pine Beach, New Jersey
---
---
---
Previous closely related Q&A's, oldest first:
2001
Q. Dear Sirs:
I am searching for standards requirements of aluminum anodized parts on salt spray fog testing.
Thanks in advance,
Leonardo Della Mea
Instituto de Ensayo de Materiales - Facultad de Ingenieria - Universidad de la Republica - Montevideo,Uruguay
---
2001
A. Leonardo,
MIL-A-8625 [link is to free spec spec at Defense Logistics Agency, dla.mil] specifications refer to ASTM B117 [Techstreet affil. link] for the salt spray requirements. The test is specified at 336 hrs with the 3"x10" test specimens. This is a very standard testing application.
Best of Luck.
Ira Donovan, M.S.F.
Kansas City, Missouri
---
---
"Surface Treatment & Finishing of Aluminium and Its Alloys"
Wernick, Pinner & Sheasby
from Abe Books
or

Affiliate Link
(your purchases make finishing.com possible)
2005
Q. We are anodizing 6063 aluminum section up to 15 microns now our customer want us to inform how many hours of salt spray will this section withstand. We want to know how many hours of salt spray test this kind of section (6063) with 15 micron can withstand in normal conditions or what is the hours of salt spray test that anodized aluminum can withstand.
Satish Shah
chemicals - Anand, Gujarat, India
---
2005
A. Anodizing and its thickness is only part of the equation. The largest determinant in corrosion resistance of an anodic coating, regardless of electrolyte type, thickness, etc. is the SEAL. While HEXAVALENT CHROMIUM historically has performed best for this purpose, the EU is legislating this practice out of existence! Hot DI or nickel acetate seals can meet the standard requirement of 336 hours of salt spray BUT the quality of the seal, temperature and time are CRITICAL.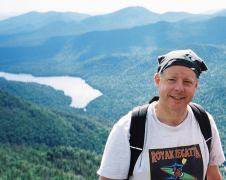 Milt Stevenson, Jr.
Anoplate Corporation

Syracuse, New York
---
---
2006
Q. We have a cast aluminum assembly that is currently powder coated (phosphated first). The coating is failing particularly gravel tests. It is an automotive part. Is anodizing an option and how well does it stand up to salt spray tests (1000 hours). These parts need to be black. I think the anodizing will survive but will the color?
Peter Elford
Pangeo - Windsor, Ontario, Canada
---
2006
A. Hello Sir

It all depends on the cast-alloy you're dealing with. High silicon content will result in thin anodizing layer, and poor coloring.
Peter Maas
- Eindhoven, Netherlands
---
A. Hi Peter E.
In addition to what Peter M. advised, anodizing probably is more gravel-resistant than powder coating. But anodizing (and most inorganic coatings) will not pass a 1000-hour salt spray test designed for organic coatings. One third of that, 336 hours, is a fairly standard test for anodized coatings on test coupons. This is not a statement that anodizing is less corrosion resistant, but about the fact that salt spray test results are not a prediction of real life beyond their use as an early warning that a process is getting out of control. Good luck!
Regards,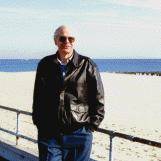 Ted Mooney
, P.E.
Striving to live Aloha
finishing.com - Pine Beach, New Jersey
---
---
April 30, 2008
Q. What are some of the failure modes relating to the anodizing in relationship to sealing with nickel acetate?
Cal Ronald
Quality - Detroit
---
May 1, 2008
A. "Aluminum How-To" lists the following impurity levels in ppm's: Phosphates 5, Silicates 10, Heavy Metal (Cu,Zn,Fe) 10, Sulfates 100. Chlorides 50, Fluorides 5. Look out for galvanic voltage between titanium and stainless steel tank.
Keep pH as high as possible but under 6.0 where the nickel flocks out. Zero on Calcium and Magnesium. Understand that the seal is the weakest solution in your line THEREFORE it is the easiest to contaminate. One ounce of junk in the anodizing tank is 1/22 contamination. One ounce of junk in the seal is 1/1 contamination. Anything that makes the pore large interferes with complete sealing: high anodizing temp, high anodizing acid, low anodizing current density.

Robert H Probert
Robert H Probert Technical Services

Garner, North Carolina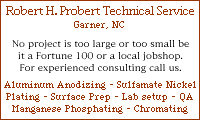 ---
May 1, 2008
A. Cal

1] Too low of nickel (acetate) content
2] Too low of temperature
3] Too short of immersion time

I am sure there are more.
Willie Alexander
- Colorado Springs, Colorado
---
---
April 25, 2013
Q. How long should black anodized (Type II, Class II) last in a medical environment, where the product could come into contact with Saline solution on a daily basis. If the product was tested and approved to ASTM B117 [Techstreet affil. link] standards how long should the product last, i.e., days, months, years?

Thanks.
Kevin Donahue
- Oceanside, California, USA
---
April 29, 2013




A. The chloride in the saline solution will attack the seal, then the oxide, then the aluminum. The time to noticeable attack is a function of the strength of the saline, the temperature, and the pH -- but days, not weeks. The aluminum people have been trying for years to sell aluminum anodized trays for autoclaving and sterilizing medical instruments but, again, the temperature and high pH destroys the anodic coating.




Robert H Probert




Robert H Probert Technical Services





Garner, North Carolina






---

April 30, 2013




A. Hi Kevin,

One of the mistakes many people make is to think that passing an ASTM B117 salt spray test represents some sort of real time life for the parts, unfortunately it is never that simple. The salt spray is a quality control test that tells you that the anodising is functioning as it is expected to do under controlled conditions.

The only real way to know how long anodised parts will last in a real time situation is to expose the parts to those situations, simulating the exact conditions that they will see. For your particular conditions of use it looks like some sort of cyclic test will be necessary, exposing the parts to the saline concentrations seen in use and any cleaning process the parts may go through for cleaning.

Brian Terry




Aerospace - Yeovil, Somerset, UK




---
---
March 31, 2018
Q. Hi,

We are doing Anodizing on aluminium extrusion, material is 6063-t6, used as exterior panel. I would like to know about SST life (white rust).

Regards,
Nitin
Nitin Wadivkar
R V Components - Mumbai, Maharashtra, India
---
March 2018
A. Hi Nitin. We appended your inquiry to a thread which notes that 336 hours is a widely accepted standard.
However, industries like architecture often have specific standards. For example, "architectural anodizing" is usually 0.007" thick rather than the lesser thicknesses often used in other applications, and some sort of inorganic dyeing (two-step, integral color, or overdyeing) rather than the common organic dyeing is usually required. Whether architectural standards would apply to RV exterior panels, or whether there are other standards expected in your industry, sorry, I don't know.
Regards,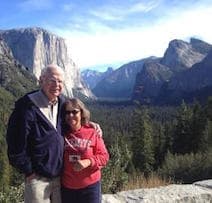 Ted Mooney
, P.E. RET
Striving to live Aloha
finishing.com - Pine Beach, New Jersey
---
Salt spray test failed on anodized 6061-T6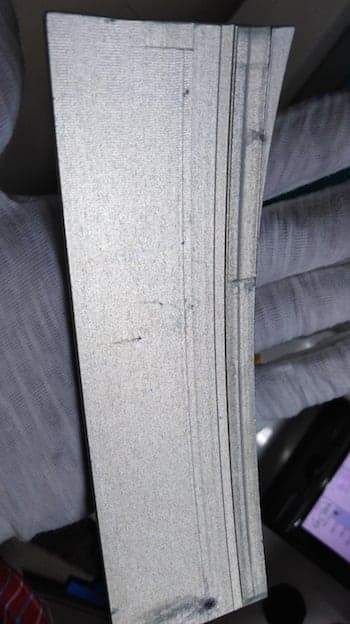 June 7, 2019
Q. I have done sulphuric acid anodizing with TCP sealing process the part material is 6061-T6 and Panel material is 2024-T3.
Two different types of material process have been completed.

After the process has completed we have kept both panel and part in salt spray chamber. Since 48 hours pit marks observed on the parts, but panels are good -- salt spray passed 336 hours.

Before we started the process I had checked bath concentration and sealing concentration within limit. And water quality is good.

Kindly advise how to proceed further process?
Karthick. V
- Bangalore, India
---
June 2019
A. Hi Karthick. To me the abbreviation 'TCP' means Navair's 'Trivalent Chromium Process' as a replacement for MIL-DTL-5541 [Techstreet affil. link or from DLA] Chromate Conversion Coating. I don't know quite what TCP means to you ... some proprietary sealing process for anodized aluminum based on trivalent chromate? Sorry, not being familiar with it, I don't know whether you should expect 336 hours of salt spray resistance or not.
I am not highly experienced in salt spray testing, but why are you using 2024-T3 panels if the parts are 6061-T6? It is a surprise to me that 2024-T3 panels can survive 336 hours while 6061-T6 parts last only 48 hours, especially when you anodized the two different alloys simultaneously -- but it does seem like something is defective in your 6061-T6 material. Are you sure the panels stayed with your work pieces through cleaning, etching, de-smutting, anodizing, and sealing?
Regards,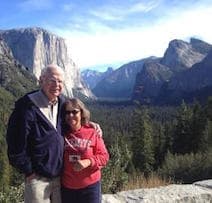 Ted Mooney
, P.E. RET
Striving to live Aloha
finishing.com - Pine Beach, New Jersey