60,000 Q&A topics -- Education, Aloha, & Fun
topic 10757
Type 304 Stainless steel grill rusts
2001
This is not about finishing, but IS about stainless, 304 stainless steel-- on a grill. I couldn't find anyplace else to get information on this. This should be an easy one for the experts. I have had a stainless steel grill since about May and I leave it out in the weather, and I live near the coast. It's a tough environment for grills. Fortunately this grill is (supposed to be) fully 304 stainless steel (except for the wheels and the burners). I was told by the manufacturer that this grill should never rust or corrode. I have never put any chemicals on the grill except for some barbecue sauce! I have recently noticed what looks like rust on the drip pan and the grill grates themselves. I had others look at it and they agreed that it looked like rust. I took it to the maker (who is local) for a closer inspection. He said that he didn't believe that it was rust and that it was definitely stainless because a magnet wouldn't stick to it. Am I crazy or could this really be rust? I just want to make sure that I know the facts, because I assumed that it should never rust too.
I would appreciate any information.
Jon Leeds
- Wilmington, North Carolina
---
2001

Hi Jon!

Yes, it is certainly possible that the red color you see is rust. Stainless steels are corrosion RESISTANT, not corrosion proof. Chlorides and fluorides and other substances can, and do, attack stainless steels. I wouldn't call it often, but occasionally I get stainless steel parts (made of 440C, 304, 17-4, etc) crossing my desk showing rust. Among the things that would make it more susceptible would be if you had cleaned the parts with steel wool, thereby imbedding some iron filings into the surface: or if the manufacturer failed to passivate the stainless steel parts, and especially the welds, properly.

If you're looking for what to do next, you can clean the rust off with any commercial rust remover like Naval Jelly [affiliate link to product info at Amazon]. Then you'd want to make sure you clean and rinse it well, for the Naval Jelly is rather nasty stuff, and if possible get it passivated. "Passivation" of stainless steel means dipping it in a nitric or citric acid formulation to dissolve any of those stray iron filings and to enhance the formation of the chromium oxide layer- that which makes stainless steel "stainless".

Regarding the effect of the rust: it's going to be mainly aesthetic. Unlike carbon steels, which can rust away, the stainless parts which show rust USUALLY are only surface affected, so a flash rust is all you're going to get. It'll look bad, but should stay structurally sound.

Finally, a good forum for metallurgy type questions is the sci.engr.metallurgy newsgroup. There are a lot of experts lurking there, and I highly recommend their expertise. Yet even there, take what is said with caution.

Good luck!

Lee Gearhart




metallurgist - E. Aurora, New York





---

2001

Type 304 stainless steel is corrosion resistant but metals are not corrosion-proof. Type 304 stainless steel contains nickel and chromium and some other elements, but the principal ingredient is still iron, and what you are seeing is probably rust.




Ted Mooney, P.E.




finishing.com - Pine Beach, New Jersey




Striving to live Aloha




---
2001
Remember the ill-fated Delorean sportscar in the 80's (and in back to the future)? Owners spent most of their time with fine 0000 steel wool [linked by editor to product info at Rockler] chasing rusty "fingerprints". Face it, all metals corrode over time, and stainless steel will rust. Fortunately, though, it should last a bit longer than regular steel (with the proper care). The curious part is why people pay big bucks for stainless barbecue grills when a run-of-the-mill aluminum unit lasts almost as long with virtually no maintenance ;)
George Brackett III
- Utica, New York
---
2002
I am an artist and I use a lot of stainless steel. The other responses you have received are accurate but there is another reason why your stainless might be corroding. When stainless is heated, there is a range if temperature within which the anti-corrosiveness of stainless is compromised. When working with this material, I ensure that my work is rapidly quenched to avoid the slow cooling of the metal through this temperature range. It sounds like the metal in your case was welded and allowed to cool slowly, which will give the result you have experienced
Nancy Ripley-Hood
- Halifax, Nova Scotia, Canada
---
August 14, 2009
If stainless does rust, using a car exhaust as an example, would aluminized steel be more practical?
Jim Rea
- Medicine Hat, Alberta
---
September 17, 2009
Hey Jon,
Yes the red orange color could be rust. Corrosion..ly speaking the bbq would have stood up better if the s/s was passivated or electropolished before assembly. A lot of manufacturers do not want the added cost of passivating or electropolishing their products before service so they play the odds that "most" units they sell will not fail, and the warranties will have expired before corrosion starts.

On another note to remove the rust you can use a scotch-brite pad and some elbow grease. Rub with the grain of the metal (if it has a brushed stainless finish
Alternatively you can have the Q electropolished which will completely remove all the rust and brighten the s/s at the same time. The corrosion resistance will also be increased to a better condition than new.
I have a s/s marine bbq on the boat and electropolished it 3 years ago. The boat is moored in salt water year round and my Q still looks as it did in the beginning.
Cliff Kusch
electropolishing shop - North Vancouver, British Columbia, Canada
---
January 6, 2010
my house is near sea, so salt air will destroy my staircase railing. which type of steel can I use for the railing. Which number stainless steel can be used
Rajeevan Nelliyil
house - kerala, India
---
January 6, 2010
Hi, Rajeevan. Type 316 stainless steel should be okay as long as you don't object to slight browning discoloration.
Regards,
Ted Mooney, P.E.
finishing.com - Pine Beach, New Jersey
Striving to live Aloha
---
October 6, 2010
Stainless grill owners: rust and heat discoloration are common to stainless grills. Stainless is more resistant to harsh elements and corrosive chemicals BUT NOT impervious. Rust and heat scorching is not only detrimental to the metal but unsightly. SCRATCH-B-GONE Will remove and restore these surfaces and remove the rust and surface discoloration from these appliances.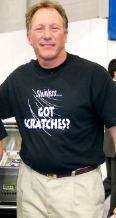 Barry Feinman
BarrysRestoreItAll

Carlsbad, California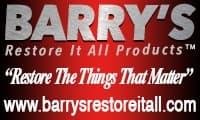 ---
July 24, 2012
Q. Hello, PLEASE HELP, ASAP.

SUBJECT: Grades of Stainless Steel

I am Dr. Green, live on the ocean and purchasing a Built-in GAS GRILL for an outdoor kitchen. Please advise as to the best construction: 430 Grade Stainless Steel Construction or 304 Grade 14 Gauge Stainless Steel Construction.

Thank for a prompt reply.
Betty Green
- Palm Coast, Florida USA
---
July 24, 2012
A. Hi, Dr. Green. Type 304 stainless steel is more expensive and corrosion resistant that type 430, but that's not an ironclad guarantee that it's a better grill.
Regards,
Ted Mooney, P.E.
finishing.com - Pine Beach, New Jersey
Striving to live Aloha
adv.