topic 10756
Tinplate: Why it doesn't rust
Can someone tell me why doesn't tinplate rust? My son is doing an assignment on this.
Rosie Robins
- Australia
---
Rust is iron oxide, the corrosion product of iron when exposed to the oxygen in the air. Tin is not iron, so you cannot produce iron oxide from the corrosion of tin.
Ted Mooney, P.E.
finishing.com
Pine Beach, New Jersey
---
Because the layer of tin on the surface of the steel prevents atmospheric oxygen and moisture from contacting the steel. Scratch the layer of tin so that the steel is exposed to oxygen and moisture, and the steel so exposed will quickly rust.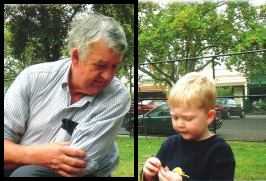 Bill Reynolds
consultant metallurgist
Ballarat, Victoria, Australia
We sadly relate the news that Bill passed away on Jan. 29, 2010.


If you have a question in mind which seems off topic, please Search the Site