topic 10664
Touching up powder coated aluminum outdoor furniture (Tropitone)
Q. I would like to change the color on my outdoor furniture. I would like to know if I can Spray paint Tropitone furniture that is powder coated on aluminum frames. This furniture sits in the sun all day. The original finish is a baby blue colored powder coat. We would like to change the color to brown. My concern is whether it can be done and how long it will last. And, what kind of paint would be required.
Ted Thomas
- Scottsdale, Arizona, USA
---
2007
Q. I have the same question as the writer above but I cannot find the answer. Thank you for your help.
Patty Ott
Consumer - Rancho Palos Verdes, California, USA
---
2007
A. Sorry that no one who has that brand of furniture has done this, seen your letters, and chosen to reply yet. In general, though, it is okay to spray paint a powder coated finish. I would add the usual warning to try it in an inconspicuous area first, and then suggest that conventional outdoor enamel for metal, like Rustoleum or Krylon, will probably be fine, after scrub brushing with detergent and light sanding. But if you want to be super safe, try to order the spray paint from Tropitone in a color you like to ensure compatibility; their website has repainting instructions. Good luck.
Ted Mooney, P.E.
finishing.com
Pine Beach, New Jersey
---
July 22, 2008
Q. I saw your info about painting Tropitone frames. I've been trying to find out if the whole chair could be painted without removing the vinyl strapping. The strapping is in fine condition except for discoloration from weathering. This set is from 1980 but still so sturdy I hate to get rid of it. Thanks for your help.
Kris Weinberg
homeowner - Penn Valley, California USA
---
A. Hi Kris. It certainly can't be painted properly with the strapping still in place. I'm not familiar with your furniture and am not really clear on why you can't remove the vinyl strapping. Sorry.
Regards,
Ted Mooney, P.E.
finishing.com
Pine Beach, New Jersey
---
---
Patio furniture manufacturer won't sell me repainting supplies
November 29, 2014
Q. I have tried to contact Tropitone directly but they only communicate through their distributors. Tropitone only sells small quantities of touch-up paint, which is totally ineffective if you need to paint whole arms or legs of sun-damaged aluminum patio furniture. It's only (just) good enough for minor scratches.

I am still trying to find a way to purchase matching spray paint from Tropitone so I do not have to trash my expensive patio set. Does anyone know how to do this or to get a constructive response directly from Tropitone?
Emma docking
- Livermore, California, usa
---
November 2014
A. Hi Emma. Yes, customer service is a serious issue with many companies today, I share your frustration, and understand that your posting represents venting to an extent. But it is not invalid for a company to only work through distributors (as Tropitone is apparently telling you they do).
This site is about metal finishing, and those of us with decades of metal finishing experience realize it can be very problematic to apply finishes properly ... the fact that there are a quarter million Q&A's on this site is testament to it. So if a company doesn't want to sell repainting supplies with their name on them directly to consumers of unknown experience and handiness, and then be subject to those consumers displaying possibly blistering and peeling pieces, telling friends & neighbors this is representative of that company's furniture, nagging them with how to get the overspray off their automobiles, and about what to do if the dog licked the paint, etc., it is understandable. GM and Toyota won't sell you paint directly either.
You insist on buying paint directly from Tropitone, apparently so you can hold them responsible if your repainting isn't satisfactory, and they don't want to. I don't think other patio furniture manufacturers are willing to either. They do offer paint through their distributors and tell you how to repaint at www.tropitone.com/sites/default/files/page_files/touch_up_paint_aluminum_surfaces_031110.pdf
I'd suggest that you please either do go through their distributors as they request, or buy paint from one of the countless companies whose business model is to sell paint to consumers, rather than insist that, if a patio furniture supplier won't change their business model and sell you their paint directly, that you must throw the furniture away. Best of luck.
Regards,
Ted Mooney, P.E.
finishing.com
Pine Beach, New Jersey
---
May 7, 2016
A. I am wondering whether a car paint organization (Like Maaco) would be answer to this issue. Thoughts?
diana plumis
- edmonds, Washington
---
May 2016

Hi. I don't know about chain organizations, but I know that many small local auto painters will paint or powder coat patio furniture.
Regards,
Ted Mooney, P.E. RET
finishing.com
Pine Beach, New Jersey
Striving to live "Aloha"
---
August 20, 2016
A. I have Tropitone furniture & we spray painted our furniture using rust oleum multi colored textured spray paint. We wiped a liquid sanding mixture on them first. They look good so far, how they will hold up over the winter I don't know. If this might help you!
Dari Rhein
- Fallsington Pennsylvania
---
---
Blistering on aluminum outdoor furniture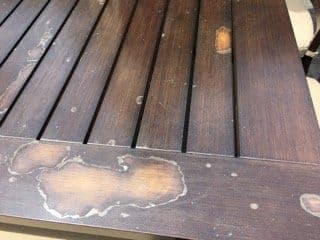 July 10, 2016
Q. I have an aluminum outdoor table (and chairs and 2 side tables), purchased in 2010 - the varnish has blistered on all the pieces. The tables look like wood. I'm not sure how to repair the blistering. I was considering (a) cleaning each piece thoroughly; (b) sanding with very fine sandpaper; (c) washing again to remove all dust and (d) using varathane or varnish to refinish. Any help you might be able to give to me would be greatly appreciated.
Linda Feldman
- Toronto, Ontario, Canada
---
July 2016
A. Hi Linda. Pictures can be deceptive, but it looks to me like once the varnish is gone, the wood graining is gone? Perhaps the aluminum was anodized in a tan color, and followed up with a streaky dark varnish stain to give the wood grain look?
If so, it's not going to look good when you sand it and polyurethane it. It might be a good time to substitute paint for the clear coat. Steps (a) through (c) sound fine though.
Regards,
Ted Mooney, P.E. RET
finishing.com
Pine Beach, New Jersey
Striving to live "Aloha"


This public forum has 60,000 threads. If you have a question in mind which seems off topic to this thread, you might prefer to Search the Site