topic 10556
Iridite finish spec for aluminum
2001
My company has inherited a design including aluminum parts which are specified to be finished according to "IRIDITE 14-2". The shop that is now making the parts doesn't recognize this spec, and I have been unable to find it on the web or in any of the reference books I looked at.
Can someone enlighten me as to what this spec is?
Thomas McCarty
- Lake Forest, California, USA
---
First of two simultaneous responses 2001
Iridite is a Macdermid trade name for chromate conversion coatings, Thomas. Note that it has a single 'r', which is probably why you had difficulty with your search.
Ted Mooney, P.E.
finishing.com
Pine Beach, New Jersey
---
Second of two simultaneous responses 2001
Tom,
14-2 is not a spec it is a product, originally from Allied Kelite. It is a gold chromate on Aluminum. The spec is Mil-C-5541 [link is to free spec at Defense Logistics Agency, dla.mil]. And 14-2 meets it . There are non-chrome substitutes for 14-2 such as Sanchem 3500.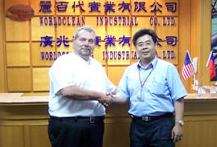 Drew Nosti, CEF
Ladson, South Carolina
---
First of two simultaneous responses 2001
Iridite 14-2 is a trade name for a chem film process like Alodine 1200.
What you could do is to change the spec to AMS C5541 [withdrawn / link is to spec at TechStreet] class 1A (replaced Mil-C-5541 class 1A).
This will get you from a trade name to an internationally recognised standard.
Martin Trigg-Hogarth
surface treatment shop - Stroud, Glos, England
---
Second of two simultaneous responses2001
Iridite 14-2 is a product.
There are many products used for chromate conversion aka chem film aka chemical conversion coatings.
Iridite 14-2 is just one of many products used to produce these coatings.
This happens to be the product we use here.
David A. Kraft
- Long Island City, New York


If you have a question in mind which seems off topic, please Search the Site