topic 10523
Need MARINE GRADE CHROME PLATING for motor yacht
Have cast bronze hardware from my 32 year old 42' motor yacht to re-chrome.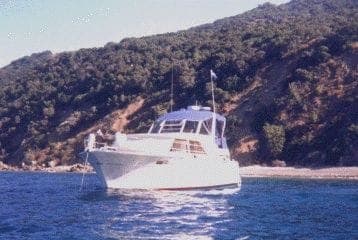 Unsure of quality of work now available due to United States EPA regulations.
A bidder has told me they can no longer give me the quality equal to the original - will only guarantee 1 year. A friend has re-plating work, now 2 years old that is already going bad in salt air. Can I get better better work done in Mexico? Can you recommend someone there? I could ship UPS.
WHAT SPECIFICATIONS SHOULD I REQUIRE?
Is 4 tenths of copper, buff, then, 5 tenths of semi-bright, 1 mil of bright nickel, then 3 millionths of chrome adequate? WHAT WOULD BE BEST?
Gayland Isley
- Orange, California
---
That spec sounds sort of right and sort of wrong, Gayland. The copper, semi-bright, and bright sound fine. But I think chrome thicknesses are more commonly actually 10-40 millionths, but usually left unspecified because the thickness isn't as important as some other parameters.
It is true that EPA regulations have been a giant aggravation to many plating shops, but it is absolutely not true that this mandates, justifies, or excuses poor plating quality. Whatever shop you and your friend are using out there in Orange County, find another :-)
Ted Mooney, P.E.
finishing.com
Pine Beach, New Jersey


If you have a question in mind which seems off topic, please Search the Site