topic 10418
Gold plating on stainless steel to pass nitric acid test
I have a stainless steel tube (#304) with a OD of .021 and an ID of .015. I would like to gold plate the inside and outside of this tube with a 10 to 20 mil gold layer without a base nickel layer. The nickel used in the past will not hold up to an 40 second submersion in nitric acid that I need to pass. Any suggestions?
Lenny Davis
- Kansas City, Kansas
---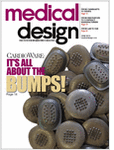 Provides design and manufacturing professionals in the Medical Device Industry with cutting edge technical and market information they need to develop, manufacture, and bring to market finished devices in today's fast paced and cost conscious medical device market.
Subscribe FREE
(USA & Canada)
Have you tried using an acid gold strike?
Neil Bell
Red Sky Plating
Albuquerque, New Mexico
---
Is your gold suffering from porosity? Try a mild steel panel and test with a ferricyanide / sodium chloride solution for porosity. This could by why the nitric is eating the nickel.
Martin Trigg-Hogarth
surface treatment shop - Stroud, Glos, England
---
Have you tried using an electroless nickel process with a high phosphorous content. These processes can withstand nitric acid better than nickel on its own.
Sharon Banner
- England
---
As recommended before a Hi-Phosphorous coating is a good resolution, The amount of gold you require is significant, if I am reading correctly, shouldn't the gold be enough? Anyway there are more than one solution, duplex coatings, etc
Richard Webb
- Toccoa, Georgia
---
We are trying to accomplish a similar requirement, plating the exterior of a .043 OD 304 stainless steel tube. It will be used as a short term implanted medical device. Have you found a solution? Nickel is not desirable due to it's poor compatibility with the body.
Thomas Youd
- SLC, Utah


This public forum has 60,000 threads. If you have a question in mind which seems off topic to this thread, you might prefer to Search the Site