topic 10352
Black Copper Coating for Camera Baffle
Q. I have a requirement for black coating of Thin vanes of Nickel used in a camera baffle used to avoid stray light. The coating should have reflectivity less than 1.5 % in visible light. Base coating of different material is allowed.
Suggest a good coating method. Copper black on Nickel is known as a possible candidate? What is the process for such a coating? Is it to be done by chemical methods, electro-chemical method or vacuum evaporation?
Dr.T.k.ALEX
- Bangalore, Karnataka, INDIA
---
A. Hot black oxide on copper is very common and should meet your requirements. Many internal camera parts are black oxide finished steel also. Hope this gets you going in the right direction.
Dan Brewer
chemical process supplier - Gurnee, Illinois
---
A. The baffles would need to be plated with copper approx..0005 inches thick and then oxidized with a proprietary oxidizer.
Russell Richter
- Danbury, Connecticut, USA
---
A. I worked on exactly such a job a few years ago. The parts were brass apertures for video cameras. We cyanide copper plated them and used a copper blackener. There's also a proprietary blackener for nickel. The job was difficult because the blackening process left a rather powdery deposit that the customers complained about. So, we had to lacquer the parts too.
Mike Brewington
- Salisbury, Maryland, USA
---
Q. I am a student doing a literature review on black copper coating. I need to contact some companies but unfortunately I haven't been able to find one in Europe that do black copper coating. Could you give some names or references of companies?
Vincent Arnaud
- Compiegne, France
---
June 14, 2012
A. I recommend you try Acktar Magic Black TM -- this coating has total reflectance of less than 0.8 % at VIS wavelength.
It can be done on copper and other materials.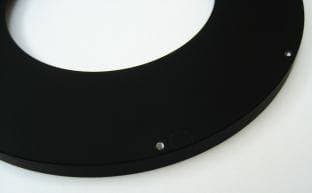 Dina Katsir
Acktar - Kiryat Gat, Israel


If you have a question in mind which seems off topic, please Search the Site