topic 10217
Aluminum-Steel Wear Information
Need information about the electrolysis effects of joining aluminum with steel. If I have an application where I have an aluminum plate and a steel bolt which should be tapped to the plate, what do I need to do to avoid premature and/or permanent wear?
Jorge L. Banuelos
- Junction City, Oregon
---
Hello Jorge!
If you are concerned about galvanic corrosion effects accelerating the corrosion potential of your joint, then you want to peruse Mil-STD-889 [link is to free spec at Defense Logistics Agency, dla.mil] for a start. Surf over to astimage.daps.dla.mil/quicksearch/ and type in Mil-Std-889 in the box.
If you are concerned about the bolt pulling out of the aluminum plate (a valid concern) you want to investigate using an insert. Search on "fastener inserts" and you'll likely find worthwhile results.
Good luck!

Lee Gearhart
metallurgist
----
Ed. note 5/23/13: Make that quicksearch.dla.mil/
---
Cadmium plate and chromate the bolt and nut.
James Watts
- Navarre, Florida
---
In the presence of moisture, the aluminum plate will corrode rapidly in the vicinity of the non-stainless-steel bolt because of electrochemical action.
In theory, coating the bolt with an electrically insulating layer so there is no electrically conductive contact between the steel of the bolt and the aluminum plate, will work, but the problem of getting such a coating to persist during installation of the bolts really makes the procedure impractical.
In practice, austenitic stainless are regularly used to fasten aluminum, without the use of any insulating paints, and neither the aluminum nor the stainless steel suffers.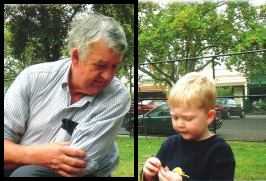 Bill Reynolds
consultant metallurgist
Ballarat, Victoria, Australia
We sadly relate the news that Bill passed away on Jan. 29, 2010.


This public forum has 60,000 threads. If you have a question in mind which seems off topic to this thread, you might prefer to Search the Site