topic 10204
Film Formation on Lead Cathodes for Sulfuric Acid Anodizing
I am seeing a pink colored, almost copper looking film forming on lead cathodes in my sulfuric acid anodize tank. I use titanium cooling coils in the tank. The film seems to form on the cathodes when I am not using the tank for production. When I start to anodize, the film gradually comes off the lead cathodes and you can see gassing around the cathodes after the film dissappears. I have problems with the anodize coating absorbing a dichromate seal and am wandering if it might be caused by an improper film formation on the anodized surface due to the film I can see on the lead cathodes. The bath concentrations and temperatures of the anodize solution and dichromate seal are within the operating parameters.
Randy Bland
metal finishing - Rockford, Illinois, USA
---
You are very probably anodizing at least some high copper alloy aluminum. Copper forms a copper sulfate. Your tank probably has a light blue tint to it. The copper is immersion plating on the lead. It is a nonadherent film and appears to "burn off" when current is applied. I always thought that since the lead is negative, that it would plate off. Evidently the hydrogen liberated at the cathode is reacting with it and dissolving it.
James Watts
- Navarre, Florida
---
I concur with the diagnosis of copper but I'll bet my standard coffee and donut that the majority of copper is coming from your bussing! Change all cathodes and bussing at the tank to aluminum 6063T6. Easy and inexpensive update of an operation.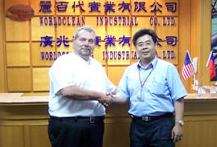 Drew Nosti, CEF
Ladson, South Carolina
---
I agree the film is copper.
You can either remove the cathodes when they have the film on it and scrub them clean.
Or throw the anodise solution away.
Just a thought but do you check the 'aluminium' content of the anodise solution as this will show some copper content.
Martin Trigg-Hogarth
surface treatment shop - Stroud, Glos, England


This public forum has 60,000 threads. If you have a question in mind which seems off topic to this thread, you might prefer to Search the Site