topic 1020
Avoiding Stainless Steel Galling
I am in the process of developing a reusable, medical stainless steel components utilizing (MIM) metal injection molding. The two threaded mating parts will be sterilized by ETO, autoclave or radiation repeatably after use. The material is currently 17-4. The problem is galling.
Q. Would I be better off working with 316 L, and is there a surface treatment that can be used that will be acceptable to medical standards and hold up to continual re-sterilization?
Lee Robinson
- Atlanta, Georgia
---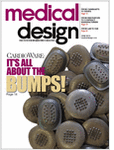 Provides design and manufacturing professionals in the Medical Device Industry with cutting edge technical and market information they need to develop, manufacture, and bring to market finished devices in today's fast paced and cost conscious medical device market.
Subscribe FREE
(USA & Canada)
A. No. The answer is to use a something other than a SS bolt. If you must, one way would be to harden the 17-4 and use a soft 18-8 or 304 bolt. I would try titanium bolts. They do not cost all that much.
James Watts
- Navarre, Florida
---
A. Hello Lee!
316L will gall easier than 17-4, mainly due to the lower strength allowing the surface layer to be disrupted easier. Combinations of 316L and 17-4 still gall pretty easily. Trouble is you can't really use the rule of thumb that different hardnesses won't gall, because it is too simplistic. Realize that galling is caused by surface welding, so it is similar surface chemistry, rather than similar hardnesses, that promote galling.
That said, there are stainless steels that resist galling. Nitronic 60 of Armco and Gall-Tough of CarTech are two that come to mind. I don't know if powder is available for MIM, but it might be worth a few phone calls: there's got to be a market for anti-galling stainless made by MIM, and I'd expect that your MIM supplier might be able to work with you on obtaining the powder.
Regarding coating, I'm woefully ignorant of what has been approved for medical devices. I'm certain that Ion Implantation has been, but there goes your profit margin. The coatings I'd research include thin dense chromium and electroless nickel, especially the Teflon co-deposited version.
Good luck!

Lee Gearhart
metallurgist
---
---
(2003)
-- this entry appended to this thread by editor in lieu of spawning a duplicative thread
Q. I am working "fixing" a medical instrument made of 17-4 SST (H900), in which two parts which work against each other have been galling. As this is a current corrective measure for a small number of instruments needed as soon as possible (we're actually to the point where we've had to send galling instruments into surgery because last minute emergency situations have cropped up where we can't get them another instrument), a coating seems to be the best option.
The two parts slide against each other for a short period of time, and are autoclaved between uses. As the instrument is used in the body itself to insert an implant, the coating has to be approved for medical use. I can't use any oils or instrument milk in the instrument. Any advice anyone can give me would be very much appreciated.
Thank you.
Carla Bandeira
- Bloomingdale, New Jersey, U.S.A.
---
(2003)
A. You might try Kolsterising (from Bodycote), which is a nitriding treatment often used for austenitic stainless steels (300 series). I am not sure how well it works with PH.
Otherwise, the latest generation of tool coatings (TiAlN, AlTiN, diamond like coatings, etc.) may offer the increased wear resistance and reduced coefficient required for your application.
Toby Padfield
- Michigan
---
(2003)
A. Three thoughts:
1) a coating called Me92,
2) a coating called Medcoat 2000,
3) a hard Chrome flash (which I think 1 & 2 are but they have some medical usage data, the chrome coat will not gall).
Jon Quirt
- Minneapolis, Minnesota


This public forum has 60,000 threads. If you have a question in mind which seems off topic to this thread, you might prefer to Search the Site