topic 10195
REMOVING LEAD FROM BRASS
2001
DO YOU KNOW ANY METHOD FOR REMOVING OR DECREASING THE LEAD CONTENT FROM BRASS CASTED MATERIAL BEFORE OR AFTER CASTING OR PLATING?
KEREM TOPCU
- TURKEY
---
2001
I believe it cannot be done. Lead is a deliberate addition to some brasses. Other brasses are specified with very low lead contents. If you don't want lead, order castings in a lead-free grade or (if you make your own castings) buy ingots in a lead-free grade. Once lead is in the alloy, it can't practically be removed.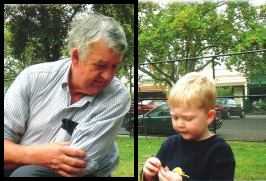 Bill Reynolds
consultant metallurgist
Ballarat, Victoria, Australia
We sadly relate the news that Bill passed away on Jan. 29, 2010.
---
2007
There is a method used by some small-scale beer brewers to reduce the amount of lead salts on the surface of fittings that come into contact with the beer using mild acid passivation . One simple method is to mix 2 parts common vinegar (5% acetic acid) with 1 part hydrogen peroxide (3%), then soak the object in the solution for 5-10 minutes. The brass should turn a pale, dull yellow color; if it darkens, then the immersion was too long so the part should be cleaned and re-done in a new batch of the solution. There are also some commercial solutions designed for passivation of lead on brass fittings and fixtures. Do an Internet search on "brass passivation" to locate additional resources.
Dan Richards
- Phoenix, Arizona, USA
^-- this reader rates this thread:


If you have a question in mind which seems off topic, please Search the Site