topic 10144
Q&A's on Brass Crib restoration
A discussion started in 2001 but continuing through 2017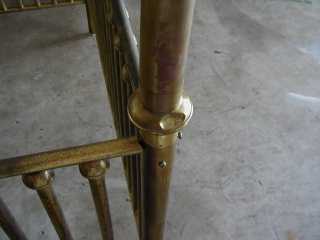 Click image to enlarge
2001
Q. I am thinking of purchasing an antique brass crib. This crib appears to be very tarnished. Brasso polish does not appear to easily remove the discoloration.
Is there a dip that can be used? Also since this is quite tarnished..is it possible that the shine would not return?
Merrill Gottlieb
- West Palm Beach, Florida
---
2001
A. Hi Merrill. Thanks for sending us the picture -- which prompts this question: have you tried a magnet on the bed? It sure looks to me like a brass plated steel bed with much of the brass plating worn off. What's gone is gone, and if's it's a steel bed with the brass plating gone, the only resolution is replating.
Ted Mooney, P.E.
finishing.com
Pine Beach, New Jersey
---
---
(2005)
Q. I have used paint remover on a (I think) brass doorbell and am struggling to get a shine on the bell. I'm using brass polish but wondered if there is something else I should try?
Pauline Rogers
home owner - Edinburgh, Scotland, Britain
---
September 2014
A. Hi Pauline. Mineral spirits or turpentine shouldn't hurt brass, and some very powerful paint removers like Aircraft Stripper [linked by editor to product info at Amazon] won't hurt metal either (but these are methylene chloride based and very toxic to people). But alkaline paint strippers will attack brass. So it's possible that you etched the brass.
You need to use a magnet and find out whether the doorbell is solid brass or brass plated steel because if it is brass plated steel there is probably no restoring it except sending it out for replating. If it's solid brass you can use a more aggressive abrasive, and a power tool like a buffing wheel in your battery operated drill. Good luck.
Regards,
Ted Mooney, P.E.
finishing.com
Pine Beach, New Jersey
---
---
September 28, 2014
Q. I have a similar situation I have a brass plated crib over 30 years old (Used by my own children) and now ready for the next generation.

My questions are:

Who can do replating in NJ

Is it paintable, can I paint it white?

Nancy Tesalona
- Manalapan, New Jersey USA
---
September 2014
A. Hi Nancy. You can look in our Directory of Jobshops for a plating shop, but after decades of intense harassment by the NJ DEP, there are virtually no electroplating businesses left in New Jersey. Only after the regulatory apparatus in charge of protecting the planet for the future shuts down all the businesses that were focused on sustainability like refinishing shops, will it be time to re-examine the wisdom of mining, smelting, fabricating, and finishing replacement items while letting the old ones rot away :-) I think you'll either have to replace your heirloom with a Chinese import or just paint it.
If the plating is really bad and there is a lot of rust, use rust converter before your white spray paint. If there is a lot of brass still showing, use a self-etching primer rather than the rust converter before the white paint. Best of luck.
Regards,
Ted Mooney, P.E.
finishing.com
Pine Beach, New Jersey
---
September 2, 2016
Q. I have a baby crib that I thought was brass plated, however upon using a magnet, I found out it is brass and not brass plated. Can I still use the self etching primer and then paint a high gloss white on this baby crib?
Christina DeVicchio
- Youngstown Ohio
---
A. Hi Christina. Yes, same deal.
Regards,
Ted Mooney, P.E.
finishing.com
Pine Beach, New Jersey
---
---
August 21, 2017
Q. I have a 35 year old brass plated crib. There are numerous cracks that need soldering before I can use it. Who/how can these be repaired?
Penny Moore
- Uniontown, Ohio


This public forum has 60,000 threads. If you have a question in mind which seems off topic to this thread, you might prefer to Search the Site