topic 10119
Artwork made from strips of steel needs rust-proof coating
Q. Hi -- we purchased a large statue in Mexico made of strips of what looks like cold rolled steel, with a lot of impurities. It had an oiled coating, but it rusted. We sent it to an autobody shop -- they stripped it and painted it -- and then it rusted even worse. It's being stripped again now.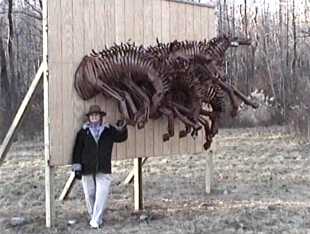 The entire piece measures roughly 3' x 10' x 6', but it breaks apart into five smaller pieces.
What kind of coating could be placed on the statue to keep it from rusting? It really needs to be dipped -- painting it will not reach everywhere. Are these coatings very expensive?
Jane Holdren
- Boonton, New Jersey
---
A. Hi Jane!
I'd probably suggest a black oxide coating, for the first attempt. Essentially a controlled rusting of the steel, followed by a oil coating that often gets baked on, it will give good protection (if done properly) for an indoor or backyard environment, although it won't be enough to withstand a seacoast or industrial environment. Salt and sulfur can be quite corrosive to steel. Black oxide is done in a immersion bath. Checking the directory here at finishing.com will give you either people who do it or people who sell the chemicals to do it, and if you call the suppliers they are usually happy to direct you to one of their customers- it's only good business.
Painting again might be another alternative, although this time you'll make sure that you get it phosphate coated first- the phosphate coating, applied by dipping into a bath, serves as an excellent paint base. You'll then want a chromate primer followed by a weather resistant topcoat.
Good luck!

Lee Gearhart
metallurgist
---
September 4, 2012
A. Hi.
If you can find a shop which offers "e-coating" (also called e-painting, electrocoating, CED coating), that is a dip process that is done on automobiles to cover everything. You would get 100% coverage with paint that way. Good luck.
Regards,
Ted Mooney, P.E.
finishing.com
Pine Beach, New Jersey


If you have a question in mind which seems off topic, please Search the Site