topic 10111
Chromium on stainless steel
I have a technical question for you. We presently have a stainless steel tube that we use as a reactor body. It is stainless steel 310. We heat up this body to fairly high temperatures (1000 °C) and are concerned with the scales formed due to oxidation. We are thinking about having the exterior of the tube electroplated with chromium (0.002 ª thickness) to prevent the formation of scales. The tube in question is fairly large (10 ª O.D. X 90 ª long).
1.- Is it possible to electroplate Stainless Steel 310 with chromium?
2.- Will the chromium have good cohesion with the stainless steel tube?
3.- Will cohesion be maintained when heat forces the reactor body to expand?
Thank you in advance,
Jeff Masson
- Montreal, Canada
---
Not normal for type 310 heat-resistant steel to scale at 1000 degrees in air (I assume an air environment from your reference to the outside of the vessel). Discolor, yes, due to the tightly-adhering sub-microscopic oxide film that forms on the surface, but not scale.
Are you sure it's 310, and not a grade for lower temperatures, or a corrosion-resistant grade? Grades such as 309, 321, 316, 304 don't much like 1000 degrees.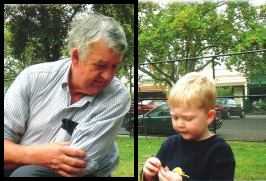 Bill Reynolds
consultant metallurgist
Ballarat, Victoria, Australia
We sadly relate the news that Bill passed away on Jan. 29, 2010.
---
What do you think of plating with Nickel instead?
Payal Mag
- Charlotte, North Carolina
---
It would be very hard to maintain the adhesion at that high temperature. Make sure you have very good cleaning done for the tube prior to any kind of plating.
Hemant Gupta
- New Jersey
---
If scaling is your only concern, a very thin layer of the least expensive of the noble metals will do. This can be achieved by brush plating first with a layer of acid nickel followed by a very thin layer of 0.0001" of palladium (melting point 1550C).
Regards,
Guillermo Marrufo
Monterrey, NL, Mexico


This public forum has 60,000 threads. If you have a question in mind which seems off topic to this thread, you might prefer to Search the Site