topic 10110
Tarnishing Problem on Copper
We manufacture copper health jewelry and have for some time been experiencing a "spotty" tarnishing problem. Any help would be most welcome.
The copper items are polished/burnished in a self-made rubber lined tumble barrel polisher, which is filled with mixed stainless steel shot. We are using Dreher DR001 polishing powder. After 30 min. tumbling the items have an extremely bright polish.
Our problem now is that sometimes within 30 to 60 minutes the items will develop tarnished spots. We have tried all kind of drying techniques and bought a drying cabinet filled with Dreher NG30 corn-type drying media. The results are inconsistent. Mostly we end up with the spots again (they may come through a week later) and are having to re-tumble.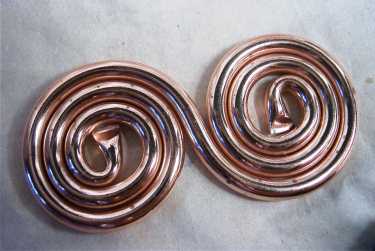 Many thanks for your help.
Regards,
Dolly K and Jonathan S
[last name deleted for privacy by Editor]
- Plymouth
---
Dear Dolly and Jonathan,
I don't know if it would impede your research on implosion, but have you considered a clear lacquer to prevent oxidation?
Sincerely,
Jake Koch
G. J. Nikolas & Co., Inc.
Bellwood, Illinois
---
The spots may be from a residue left from tumbling media or from the rinse water used after tumbling. Going to a clean final rinse and then a copper tarnish inhibitor will help. The inhibitor is used in the final rinse at very low concentrations and helps seal the part to prevent if from oxidizing too quickly. Cheap and very effective!
Jim Conner
Anoplex - Dallas, Texas USA
---
Thank you for your responses. We have used clear lacquer successfully in the past. However we would prefer to find another solution to the spotting which appears within hours after polishing. We do realise that the copper will tarnish eventually.
The suggestion of a tarnish inhibitor added to the final rinse sounds like a good idea, especially if it is non toxic. Could anyone recommend a product and where it could be purchased (preferably in England).
Thank you once again,
Jonathan S
[last name deleted for privacy by Editor]
- Plymouth, Devon, UK
---
Most supply houses can supply anti-tarnish processes for copper usually based on benzotriazole.
Geoffrey Whitelaw
- Port Melbourne, Australia
Editor's note: See our Chemicals Directory for suppliers.


This public forum has 60,000 threads. If you have a question in mind which seems off topic to this thread, you might prefer to Search the Site