topic 10040
Aluminum Etch, Need Satin Finish
Can someone tell me what is the formula to reach a satin finish for aluminum parts? I have been trying caustic soda but the final appearance is not what I need, I need a very thin etching.
If any one can help me I would appreciate very much!
Richard Brakarz
metalforming - Brazil
---
To achieve satin finish, the caustic solution must have build up certain amount of dissolved aluminum in it. You will also need additive to prevent the deposition of the metal and keep it in the solution.
Dado Macapagal
anodizing - Toronto, Ontario, Canada
---
You can try this formula:
NaOH: 80-100 gpl (grams per liter)
Na Heptonate : 2 gpl
Al(+3): 20-70 gpl
temperature: 62 ± 2 °C
Time: 10 minutes (depends on the degree of etch you require)
Timur Ulucak
aluminum extrusions & finishing - Istanbul, Turkey
---
Try ammonium bi fluoride at 1 oz per gal for a very fine etch.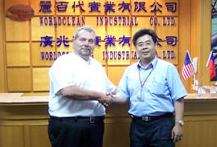 Drew Nosti, CEF
Ladson, South Carolina
---
Thank you Mr.Macapagal, Mr.Ulucak and Mr.Nosti for your help. Ammonium bi fluoride was what I was looking for. Can you tell me what temperature should I use and if I need to use any additive. I notice that after some use the solution gets weak and some crystals appear at the bottom. How can I avoid it?
Regards,
Ricardo Brakarz
- Rio, Brazil


If you have a question in mind which seems off topic, please Search the Site