60,000 Q&A topics -- Education, Aloha, & Fun
topic 10015
Restore Mattel Sizzlers battery corrosion/tarnish
A discussion started in 2001 but continuing through 2020
2001
Q. Years ago, Mattel made little toy cars that had rechargeable batteries in them called Sizzlers. I have recently discovered mine, and would like to refurbish them. As the years have passed the batteries have discharged, corroding the contacts, etc within the chassis. After disassembly of the toy, and removal of the battery, there is green/blue corrosion on the metal pieces needed to complete the electrical circuit to run the car.
Is there a chemical process that a hobbyist can make that, for lack of better wording, I could put these plastic chassis in the solution, and the solution would remove the corrosion/tarnish left behind? Also, am I correct that once the battery has been removed, the corrosion will get no worse?!
Any replies would be greatly appreciated, and thank you in advance!
Bob W
[last name deleted for privacy by Editor]
- Darien, Illinois
---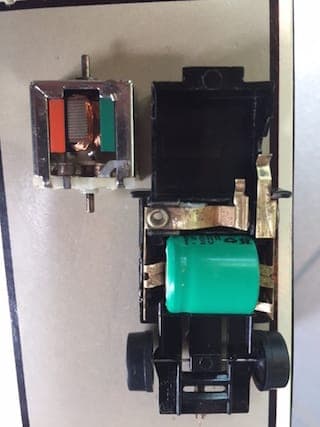 2002
A. You can useTarn-X [affil. link to product info on Amazon] to remove the corrosion. I have rebuilt thousands of Sizzlers over the years, and this is the quickest and easiest way to remove the tarnish and corrosion without damaging the chassis. Many times you will have to leave it in the solution for more than the recommended 5 minutes. I have left chassis in the solution for up to 30 minutes.
**Remove ALL components from the chassis (motor and wheels) before dipping. Otherwise they will be ruined.
Ross S
[last name deleted for privacy by Editor]
- Travis AFB, California
---
June 14, 2017
A. Trust me on this : plain white vinegar will remove every bit of the blue/green corrosion from your sizzler copper battery, switch, charging port =>
I even submerge the entire small motor for about a 1/2 hour then rinse with hot water using a q-tip or toothpick to loosen any stubborn spots then pat dry with a paper towel and use canned air to gently blast out any remaining water. You can then use a emery board to polish up the copper.
Tim White
- Dade City, Florida USA
---
---
November 24, 2019
Q. We purchased a 2006 Hot Wheels Sizzler Juice Machine ReCharger for our grandson on
E-bay and the recharger does not work. The seller does and will not accept returns. My son (Electrician) and husband (Engineer) have tried all that they can think of but to no avail. Any ideas? ReCharger is 1/64 Mattel K4574.
Thank you for your response.
Jea Pulis
- Sebastopol, California USA
---
April 14, 2020
A. Sizzlers Juice Machine is relatively simple with the top contact in the battery box connecting to the small part of the Car plug and the bottom two connectors to the larger part of the car plug.
When testing the top (+) on the battery compartment is 0 Ohm resistance to the car plug where the bottom two (-) is a floating (suggesting a Capacitor / resister package) 0-1 Ohm resistance to the car plug.
Andrew Boden
- United Kingdom
finishing.com is possible thanks to our supporting advertisers, including this one: