World's #1 finishing resource since 1989
No login needed: Chime right in
topic 1044
How to Anodize Beryllium?
1998
I am looking for a method for anodizing beryllium. I have spoken with a beryllium specialist and the process they use (a trade secret) involves some rather nasty chemicals and extreme conditions. I have the equipment to do this, however I would prefer a "kinder and gentler" process. What we hope to achieve by anodizing is electrical insulation (hopefully greater than 600 V breakdown strength); cosmetics are of no concern. The beryllium alloys in question are: I40, S200F and I400. Any ideas? Thanks,
Keith Wicklund
, CEF-SE
avionics - Minneapolis, Minnesota
---
1997
I can't say if the following method is considered extreme by those who want to modify Beryllium to their own devices, but we always use the least nasty chemicals that still work. A method that is easier on equipment and environment would be very valuable.
I have never seen a case where cosmetics were of no concern; one person's cosmetics is another's inspection criteria. The anodizing varies from jet black to dark gray based on polish and coating thickness. You must account for the cosmetics.
Beryllium and chromic acid are both toxic, so safety concerns about any release or change of phase (solid, liquid, gas) into any environment requires careful study. What do you do with solutions containing Be? What are the requirements for the exhaust from chromic anodizing of Be?
1. conforming cathodes, 0-12 Volt DC
2. Chromic acid anodizing solution, 9-11% by weight, 65 to 70 Fahrenheit.
3. anodize at 150 amperes per square foot, 30 minutes.
4. hot air dry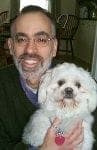 Tom Pullizzi
Falls Township, Pennsylvania
---
1998
Keith,
We demonstrated the ability to anodize a pure aluminum coating on a metal composite substrate for a Navy program. (IVD aluminum coatings cannot be anodized due to their columnar grain structure which allows fluids to penetrate down their vertically oriented grain boundaries. Coatings are thus undermined and substrates attacked). The aluminum coating is plated out of an organic bath in an enclosed oxygen and water exclusive environment. Grains are oriented parallel to the substrate surface. Often referred to as SIGAL, this process is commercially available.
One application for this process is to facilitate anodizing of metal substrates which are otherwise not readily anodizable for dielectric properties.
William De La Torre
---
1997
Keith,
Several years ago we performed beryllium anodizing as a production process and were very successful. We did not do it for electrical insulation reasons, so I cannot attest to the dielectric strength of the anodize layer, we never measured it. The process is fairly involved and the anodizing solution includes chromium trioxide and potassium dichromate. The fixturing and pretreatment steps are critical to the process also, so I cannot post the entire process here.
Bob Denney
avionics Tampa, Florida
---
1998
Keith,
Yes we have plated our high purity aluminum onto Be for some optics and thermal management applications. We can plate a fairly thick layer (1 - 6 mils depending on application needs) and anodize - either hardcoat or Type 2.
Thanks
F.A. Sandy Donaldson
, VP Marketing
- Minneapolis, Minnesota