World's #1 finishing resource since 1989
No login needed: Chime right in
topic 1034
Can't Reach .002" Thickness in Hardcoat Anodizing
1998
We are experiencing difficulty achieving a thickness of .002" on 6061T4 (QQ-A-250/11) aluminum panels in a Type III anodizing bath. The bath temperature is 32'F with the parts processed in both the "pulse" and "DC" modes. These parts are approximately 90 sq. in. and .062" thick.
The faces of these panels are heavily "grained". The current density has been varied from 2 amps/sq in to 4 amps/sq in. The maximum coating thickness we have been able to achieve is .0014" to .0016" per side. This thickness is reached at 40 to 42 volts. Any attempt to increase this thickness results in burning on the surface of the part, no burning at the contact points. We have no problem whatsoever achieving .004" or more on many other tempers of 6061. We have also varied our polarization time from 3 minutes to as long a 18 minutes with no attendant increase in yeild.
alan cooper
---
1997
My notes indicate that I used to anodize Type III Aluminum at 25 amperes/square foot for 80 minutes to build 0.002 inches, while you are at about 400 amperes for ? 3 to 18 ? minutes.
I never used pulse plating, and do not have an explanation as to why the temper would make a difference. Just as a test; can you anodize slower and get good results on the T4?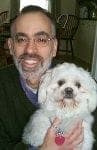 Tom Pullizzi
Falls Township, Pennsylvania