topic 0989
Tin-Zinc and Zinc-Nickel Plating as Cadmium Replacement
(1998)
I have been looking at cadmium replacements for just a short time. Could someone please tell me where I can find more research data on tin-zinc electroplating and zinc-nickel plating? I am particularly interested in fatigue data, real life applications of the coatings, and general shop process information.
Robert Kestler
- Cherry Point, North Carolina
---
(1997)
Most of the plating chemical supply companies sell at least one zinc alloy. A good place to start is the vendors listing at this site. Many are linked. Tin zinc has not found many manufacturers, which I do not understand, since it was supposed to have properties closer to cadmium than the others did.
James Watts
- Navarre, Florida
---
I was involved with the repair of Philadelphia's "William Penn" city hall tower, for which we plated acres of ironwork with tin-zinc prior to finish painting--a design which is intended to survive 100 years of outdoor exposure in an urban environment.
Tin-zinc is a great finish from many perspectives, but it's not without problems: it is a cyanide solution; the process requires anode filming; plus it is quite expensive because it is 78 percent tin; and it is not a decorative finish (looks more like a mechanical plated finish than a typical electroplated finish).
Ted Mooney, P.E.
finishing.com
Pine Beach, New Jersey
---
(1998)
Robert,
IonEdge Corporation [Fort Collins, CO] has developed a process for zinc or zinc/graphite plating which might satisfy your need. You might inquire if this process is adaptable to zinc-tin. I have pasted an abstract for a paper on the process which indicates the production processes are in a prototype stage. It is a dated paper which describes the process, however, the processes are now being applied to large volume part runs.
Electroplating of zinc and cadmium is conducted on a large scale in the defense and aerospace industry for corrosion protection of steels. Out of these, cadmium coatings are preferred because of their superior combination of properties such as lubricity and electrical conductivity in addition to the corrosion resistance especially in marine environments. However, cadmium is a known toxic metal and in addition, electroplating is known to generate large quantities of toxic solid and liquid waste. In order to address these issues, IonEdge Corporation has developed the Zero-Waste Dry Plating technology for plating zinc and cadmium. In this vacuum coating/deposition technique, the metal vapors are generated by conventional thermal methods. However,the vapor -source is shaped in such a way as to surround the parts from all directions creating a vapor-bath effect. As a result, this method does not require special mechanical fixtures to manipulate parts. The high vaporization rates and non-line-of-sight nature of the plating has made this method economical. The Dry Plating nearly eliminates environmental and occupational hazards in plating. A batch plating prototype apparatus has been developed and is currently in operation. Similarly, a continuous-belt plating prototype is under development. It has been demonstrated that the load-to-unload plating cycle is under 10 minutes and plating rates are in the range of a few microns per minute. Almost all the source material is consumed in plating leading to near-zero waste. Data indicates that the technology has the potential to compete with electroplating in cost and throughput. This presentation will describe the apparatus, and present data on important parameters as well as results.
William De La Torre
---
(1997)
Robert:
The automotive companies have chosen organic finishes as their replacement to cadmium. These finishes are applied in bulk and are an excellent choice for fasteners and materials that require high corrosion resistance. These finishes are also applied at approximately half the cost.
Edward Koneczny
- Birmingham, Michigan
---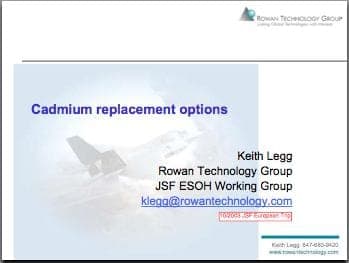 Hi Edward,
I would have worded it that "The automotive companies have chosen organic finishes as their replacement to cadmium in some applications". As you probably know, they've also chosen zinc-cobalt plating for some applications, zinc-nickel plating for many other applications, electroless nickel for a few, and they've chosen to stick with cadmium (for now) for some very critical small components such as in airbag deployment sensors.
We must be careful to not imply a universal replacement, because finishes must be chosen for how well their combination of properties meets the combination of requirements for a specific application. The industry has known for at least 40 years that you never specify cadmium just for corrosion resistance because you can always obtain equivalent corrosion performance from plain old zinc plating at a lower cost.
Everyone,
Sometimes you need conductivity, sometimes lubricity, sometimes malleability, sometimes galvanic compatibility with aluminum, sometimes freedom from gumminess in the corrosion products. Sometimes you need solderabiity. Sometimes you need a coating with biocide or algaecide properties, or rodent deterrent properties; sometimes you even need radiation shielding. Cadmium is a cumulative poison and we have to continuously reduce and eventually eliminate its use. But no material in the world matches ALL of cadmium's properties (or it would be cadmium), and every individual application has to be carefully evaluated for which of those properties of cadmium are essential for that particular application; there simply isn't a generic answer.


Ted Mooney, P.E.
finishing.com
Pine Beach, New Jersey


---
(1998)
For some years, we have been working with Defence Research Agency, Farnborough, UK, to develop alternatives to cadmium as corrosion protection for aircraft fasteners. We have developed Al-Mg alloys with excellent corrosion resistance and good tribological properties, using the technique of unbalanced magnetron sputtering. Details of the corrosion work can be found in
'Aluminium-Magnesium Corrosion-Resistant Coatings', K R Baldwin, R I Bates, R D Arnell, and C J E Smith, Corrosion Science, Vol 38, No. 1, pp155-170
Professor Derek Arnell
- Salford University, UK
---
(1999)
Boeing, St.Louis has issued a report. Report number 98X0003;
Roger Eybel
- Ajax, Ontario, Canada


This public forum has 60,000 threads. If you have a question in mind which seems off topic to this thread, you might prefer to Search the Site