60,000 Q&A topics -- Education, Aloha, & Fun
topic 0791
Removing chem-film from aluminum
A discussion started in 1997 but continuing through 2017
1997
Q. I'm looking for a process that will remove an Iridite (or chem film) coating from an aluminum piece (2024 and 6061) without etching the aluminum.
I would especially be interested in any easy process... using commonly found university lab equipment. Any information would be helpful.
Thanks,
Kathy Perkins
Harvard Univ. - Cambridge, Massachusetts
---
1997
A. Kathy,
My response may be disappointing, but I believe there is no such "easy" method: only very fresh (a few hours after deposition) may be softened in nitric acid (typically 50%). You'll have to wipe it off after such operation. Any old, and therefore sufficiently cured coating is only removable by caustic etch: approx. 100 -150 g/L of NaOH at 40 - 60 °C with subsequent desmut in 50% nitric acid.
I would like to add that properly performed, this operation is harmless even to precision machined parts: in 5-15 seconds (time usually sufficient to remove all chem. film) not more than .0001" of base material will be removed.
Max Stein
captive metal finisher - Montreal, Quebec
---
1997
A. If it is only one or a few pieces, Try common bicarb of soda in hot water. One lb/gal gives a pH of about 9. Will work slowly. You might try a very thin paste with a fine scotchbrite. This will avoid having to do the acid dip and have a lot less waste to get rid of. If you are going to do a lot of it, your lab exclusion might not satisfy EPA.
James Watts
- Navarre, Florida
---
---
To minimize search efforts and to offer multiple viewpoints, we combined previously separate threads onto this page. Please forgive any resultant repetition, failures of chronological order, or what may look like readers disrespecting previous responses -- those other responses may not have been on the page at the time :-)
---
---
Chemical Conversion Coating REMOVAL from Aluminum
2006
Q. Hi, I work in the defense industry. We manufactured a piece of aluminum that was originally going to be painted. We thus proceeded with chemical conversion coating of the piece. Once this has been done, we decided to go for hard anodizing of the part (for abrasion and wear properties).

Is there a standard procedure (military or not) for the removal of chemical conversion coating per Mil-C-5541 [link is to free spec at Defense Logistics Agency, dla.mil], class 1a, as I understand we cannot anodize a part that already has a chemical conversion coating?

Thank you.
Jean-Philippe Vachon
- Montreal, Quebec, Canada
---
2006
A. Chromate conversion coatings are easily stripped with a caustic etchant with minimal material loss.

Any reputable plater should be able to help you.
Bill Grayson
metal finishing - San Jose, California, USA
---
September 15, 2014
A. MIL-STD-871 [link is to spec at dla.mil / Defense Logistics Agency] provides instructions for "Electro-Chemical Stripping of Inorganic Finishes". In this document you will find process parameters and chemical solutions. Also specific instructions for removing MIL-C-5541 coating.
Stefan van den Berg
- Helmond, North Brabant, The Netherlands
---
---
How to strip chromate from aluminum casting
2007
We have large volume aluminum casting job we do yellow chromate on.

Occasionally we have some which are no good & will need to be redone.

Because they are castings we do not want to etch them to strip them.

We could send them out for a vibratory finish to remove the rejected chromate, but would prefer to do the stripping in house chemically.

Any ideas?
David A. Kraft
- Long Island City, New York
---
2007
A. You might try using a spent zincating solution.
James Watts
- Navarre, Florida
---
2007
A. You might try a mixture of sodium carbonate and sodium bicarbonate solutions, mixed such that the final pH is something like 9 - 9.5. It has to be high enough to dissolve the chromate film, but not high enough to dissolve any Al.

Castings can present a real problem in reworks. Once that surface "skin" is broken/etched away, exposed pits and consequent bleed out can make your life a misery.

Dave Wichern
Consultant - The Bronx, New York
---
---
Chemical stripping of Alodine 1200 from 7075 OR 2024 Aluminum?
May 26, 2009
Q. CAN ALODINE 1200 BE CHEMICALLY STRIPPED FROM 7075 OR 2024 ALUMINUM?
MARTIN VOGEL
ENGINEER - HORSEHEADS, New York
---
May 28, 2009
A. Fresh Alodine 1200 coatings can be stripped by immersion in 50% nitric acid for up to 5 minutes. This will not attack the base material.

Older coatings are harder to remove. I have successfully used a couple of the proprietary deoxidiser solutions, but it is very dependent on age of the coating. You can also use a quick dip in caustic. Be very careful with caustic dipping of aluminum as the solution will attack the base material aggressively.
Brian Terry
Aerospace - Yeovil, Somerset, UK
---
May 28, 2009
A. Yes, chemical conversion coatings can be removed - most commercial etches will do it fine. If it is an old coating, boiling the parts for 15-30 minutes will make it come off a little easier. The coating itself most likely contains hex-chrome, so make sure that you are either sending it to someone that knows how to handle this, or make sure you are capturing all waste products and treating them appropriately.

Also, you may get much more specific guidance by contacting Henkel - the manufacturer of the Alodine chemicals.

Good luck!
Jim Gorsich
Accurate Anodizing Inc.

Compton, California, USA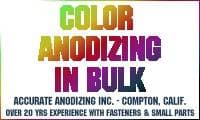 ---
How to Strip Alchromate from Aluminium
August 21, 2017
-- this entry appended to this thread by editor in lieu of spawning a duplicative thread
Q. I have a processor for the aerospace industry that is struggling to strip Alchromate.

Can this be stripped and how?
Anthony Gomme
Buyer - Kent, UK
---
August 2017
A. Hi Anthony. Alchromate seems to be a PMD tradename for chem-film/chromate conversion coating on aluminum. You might inquire of them if there is any reason the suggestions on this page might be inapplicable, but I doubt it. Good luck.
Regards,
Ted Mooney, P.E. RET
finishing.com - Pine Beach, New Jersey
Aloha -- an idea worth spreading