60,000 Q&A topics -- Education, Aloha, & Fun
topic 0779p3
Removing tarnish on brass, copper, bronze, p.3
---
< Prev. page (You're on the last page of the thread)
---
A discussion started in 1998 but continuing through 2020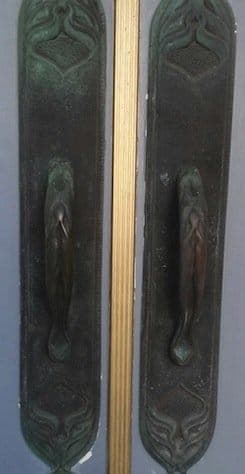 October 5, 2015
Q. Hi!
Do you have any suggestions for how to clean and polish 44 year old brass door handles that haven't ever been cleaned?
Thank you!
Mary
Mary Pass
- California USA
---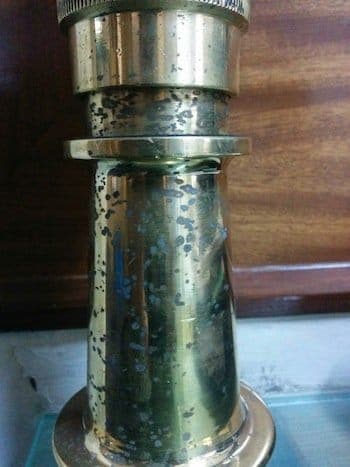 October 18, 2015
Q. We are getting Black marks on the Brass Nozzle after buffing (Polishing) and even after cleaning in acid and need help in removing these stain marks.
We have done vacuum impregnation on the finished castings to achieve 100% hydro leak proof but later on after buffing these parts, the black stain marks sometimes green are appearing after 48 hours and even after multiple trials, we have failed to solve the issue. Please guide us.
Ninad Sherawala
- Ahmedabad, India
---
---
November 13, 2015
I am trying to clean a large fireplace hood (17' x 15') made of copper. It was installed in the 1960's. I was told it had a chemical patina finish applied. The owners now want it brightened up , cleaned and sealed. Can chemical patinas be removed? How? I'd appreciate any ideas!
L. Campion
- Rockford, Illinois USA
---
---
January 17, 2016
Q. We recently purchased some bronze stamped door knobs from the 1890-1910 era. They have cleaned up fairly well using the lemon/baking soda/salt solution. To get out some more stubborn spots, is it safe to use steel or copper wool (fine)?
Nancy Ziegelmueller
- Chicago, Illinois USA
---
January 18, 2016
A. Nancy,
Personally I would stay clear of steel wool to avoid the possibility of introducing fragments of iron to the surface that may become rust later on. Copper wool ought to be fine, since bronze is part copper already.

Though of course the other thing to remember, while mild chemical cleaning doesn't muck up the surface much, abrasive cleaning will leave the surface marked up with scratches that may have to be further polished to restore the original surface appearance. If you actually start with a fine grit polish, that may be enough to remove your spots if they are not deep.

Ray Kremer
Stellar Solutions, Inc.

McHenry, Illinois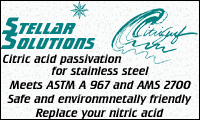 ---
January 19, 2016
A. Good day Nancy.

Ray has offered some good advice regarding abrasives and the use of steel wool. I have used the mainstream kitchen SOS pads (with a bit of salt, to supply the abrasive quality), and thoroughly washed/rinsed the items with dish soap to deal with the iron from the pads.
Guess what?
Try car wax as a regular application to buff/provide a protective surface coating to retard any oxidation/discolouration of the bronze=copper and tin.
Hope this helps.

Regards,
Eric Bogner
, Lab. Tech
Aerotek Mfg. Ltd. - Whitby, Ontario, Canada
---
January 19, 2016

Thank you so much! I will try those options.
Nancy Ziegelmueller
[returning]
- Chicago, Illinois USA
---
---
June 1, 2017
Q. I have just inherited a beautiful old BRONZE STATUE. I am frightened to try anything to clean it. Do you have any suggestions to safely clean this beautiful statue? This statue is probably over 100 years old so I'm sure there is no type of sealant on it but I'm afraid to just use a Brasso-type product since it is so old.
Nancy martin
- Washington, New Jersey, USA
---
June 2017
A. Hi Nancy. We certainly understand your concern, and many other readers have the same concern. Plus, what some readers might consider a nice cleaning, you or other readers might consider ruinous of a patina you had envisioned preserving. So, after 50+ postings on the subject just on this one page, your only realistic choices seem to be to either take it to a professional metal conservator (http://www.conservation-us.org/membership/find-a-conservator/guide-to-finding-a-conservator) if you can afford it and it's worth it, or to try something yourself based on what you've read.
You are not likely to get a reply like: "Do this, it cannot hurt your statue but will clean it" :-(
Sorry.
Regards,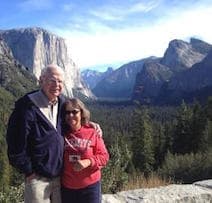 Ted Mooney, P.E. RET
finishing.com - Pine Beach, New Jersey
Aloha -- an idea worth spreading
---
June 14, 2017
A. It depends on what you mean by "clean".

If you just want to get the dust off, a wet rag will do fine, I'm sure.

If you want to remove the patina/tarnish and "restore" it to a new-ish shiny bronze appearance, then I would stay away from abrasives like Brasso and use a dilute solution of some mild acid like citric.

But if it's a "beautiful old bronze statue" it's probably better off keeping its natural tarnish that it has earned over the years.

Ray Kremer
Stellar Solutions, Inc.

McHenry, Illinois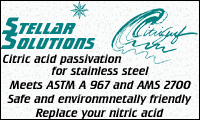 ---
June 20, 2017
Good conservation practice would be
1/ Soft brush to remove dust with a vacuum cleaner near but not touching the piece. This may be enough and go to 4
2/ Pure water. Hard water will leave drying stains
3/ But, again, only if you have to. Dilute soft soap and a slightly harder brush (toothbrush), again in pure water. Rinse and dry with warm air
4/ Possibly once a year a thin (THIN) application of museum grade wax. Also called Renaissance wax or micro-crystaline wax. Readily available on the internet.
Furniture polish will not do

Ban Brasso and other metal polishes from the house and never think of it again! You would totally destroy the age patina that is so valued by collectors and the value of your piece would be enormously reduced.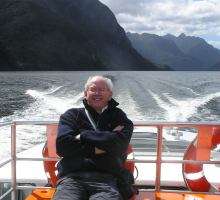 Geoff Smith
Hampshire, England
---
---
July 13, 2017
Q. I JUST BOUGHT A BALINESE BRASS STATUE WITH SOME DISCOLOURATION AND GREEN FEET AND STAND. Have tried baking soda with apple vinegar. Looked good when applied wet but when dried it appeared like a white light powder over it. Also tried the Worchester sauce -- no good. I got Brasso and it leaves this white light powder affect over it, leaving it very dull and not looking like brass. Have tried a light mesh and brush scrubbing it out and it has still got some white light like about it. I think maybe someone else before tried and just left it. I also tried hard rubbing with a soft brush and puffing it up but it will not shine it has a dull look about it with different looks of brass - not happy not sure how to bring it back to its original glory -- happy for advice.
al nesbitt
- newcastle nsw australia
---
July 20, 2017
Q. Hello - our newly installed (solid) bronze screening for our new screen porch (3 weeks ago) was unfortunately sprayed by concrete workers with a concrete cleaner, which contains phosphoric acid and sulphuric acid. Screening now has rust (brown), tarnish (blue) and mottling (whitish) marks - mild soap and water and extra rinsing with water will not remove the stains.

Tried the flour/salt/vinegar paste in small area, but I'm still seeing spray marks (not sure if recipe has correct ratio for the purpose - 1:2:3) Is there anything I can try that may remove, restore or even out the colour? Or do we have to replace all the screening? Any other suggestions to save our bronze screens?

Thanks for your help!
Elisabeth Foley
- Toronto, Ontario, Canada
---
February 9, 2018
A. I am a ham radio operator and rebuild old radios. I use a technique to clean corroded metal items from a video I subscribe to, "Talk Shop". Safe organic household items: table salt and white vinegar. Starts at 12:48


John Jewel
- Bemidji Minnesota USA
---
---
February 11, 2018
Q. I sprayed this statue with some kind of protectant a hardware store recommended and the result was ugly blue spots all over. How can I remove the protectant and get back to original finish.
Thank you
Merv
Mervyn Goldbas
Retired - Ft Lauderdale, Florida USA
---
February 2018
A. Hi Mervyn. "Some kind of protectant" doesn't tell us much about what you sprayed your statue with, and we also don't know anything about "this statue" ... and that's the Good news ...
The bad news is that I strongly doubt that the protectant itself was full of blue blobs. Rather, the protectant reacted with something on the surface of the statue, so whatever that something was has been altered; you'll never get it back to what it was before you sprayed the protectant on it. You may however be able to get to a clean metal surface (assuming the statue is metal) and start over.
Aircraft stripper is highly toxic, and must be used outside, working from upwind while wearing goggles and gloves as a minimum, but it will remove most any finish without damaging raw metal (which is not to say it will not change the color or patina). Good luck.
Regards,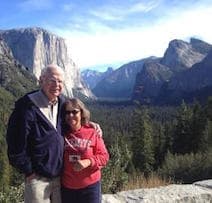 Ted Mooney, P.E. RET
finishing.com - Pine Beach, New Jersey
Aloha -- an idea worth spreading
---
---
March 31, 2018
Q. I have an old ship's wheel that belonged to my dad. He got it from a sinking ship in Japan when he was in the Coast Guard many years ago. He recently passed and I want to hang this in my room because it has such sentimental value to me. It has been stored away for many years and the brass is full of what I believe is verdigris based on what I've been reading. I started to clean it with Brasso to no avail.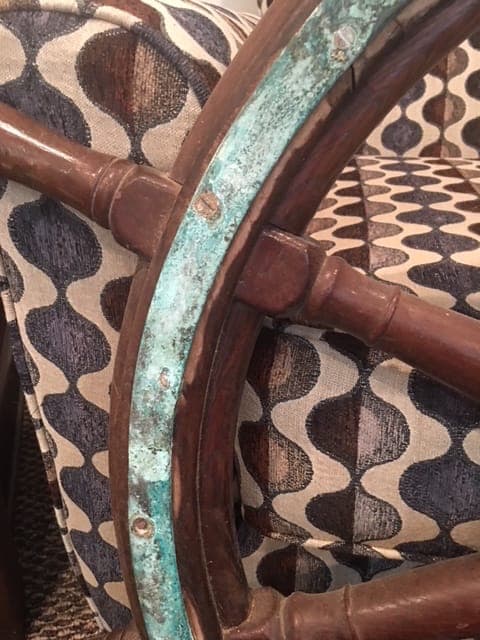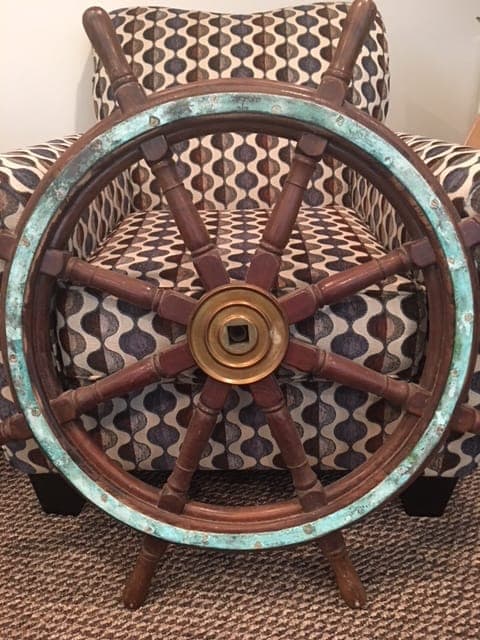 I'm attaching a picture for reference. Can someone advise the best way to restore the brass on this? Thanks!
Michelle Mobley
- Jacksonville Florida
---
March 2018
A. Hi Michelle. If you read a number of other threads here on patinating brass, many with pictures, you'll learn that few if any of those skilled and ambitious artists achieved as beautiful a verdigris patina as is on your wheel. I would not ruin it if I were you :-)
But if it looks/feels too rough, you could clearcoat it for more smoothness and shine.
Regards,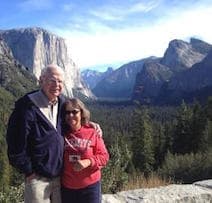 Ted Mooney, P.E. RET
finishing.com - Pine Beach, New Jersey
Aloha -- an idea worth spreading
---
---
March 9, 2018
Q. I am working with a client to ready her home for sale.
She has brass bathroom hardware that has heavy verdigris on them. A lot of verdigris, possibly even erosion.
Is it possible to remove this, and restore the fixtures?

Or are we having to junk them and buy new?
I'd love to save them, seems a shame.

Btw, seeing such awesome answers here!
Jill Spady
- Valencia, California
---
April 2018
A. Hi Jill. When you say 'fixtures', I'm not sure if you are referring only to faucets or also something like towel racks, etc. The first thing to do is get a magnet and see if it's attracted to those items; if it is, they are brass plated steel and probably not restorable. Solid brass items, however, should probably be restored if possible.
But it's difficult to suggest a best first step for the general case. If the verdigris won't budge with vinegar and salt, you could try buffing with something like Mother's Mag & Aluminum Polish [affil. link to product info on Amazon] and a buffing wheel attachment mounted in a battery operated drill.
Regards,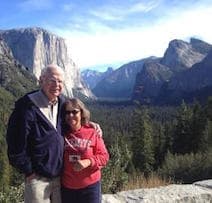 Ted Mooney, P.E. RET
finishing.com - Pine Beach, New Jersey
Aloha -- an idea worth spreading
---
---
Copper Patina Stain on hand
September 2, 2018
Q. Sir
I made a household copper cleaning powder by mixing acids ... it brightens copper perfectly but copper tarnish stains hands, and hands turn black due to this copper tarnish. Please suggest any chemical which I can add in my formulation so that hands don't get black due to this patina.
My English is not good ... sorry about that
akash sharma
hobbyist - ajmer rajasthan india
---
September 2018
A. Hi Akash. The copper oxides are dissolved in the acid, so I don't think there is a good way to keep them from staining things. You could add a little dish detergent and see if the problem gets better or worse, but I think the right answer is to wear rubber gloves.
Regards,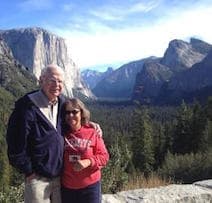 Ted Mooney, P.E. RET
finishing.com - Pine Beach, New Jersey
Aloha -- an idea worth spreading
---
September 27, 2019
A. Hello, I am Charles from the west coast of the US. As for the issue with cleaning brass I might suggest, as others did, the use of Brasso. But please be advised that the Brasso available in the United States today (2019) is not the same Brasso as was available as recently as 2008. For those of us who spent our military existence polishing brass buckles, buttons, emblems, etc. in the 1960's (Vietnam era) the Brasso we used was more potent and thus our experience would not be applicable today. The formulation for Brasso was altered in about 2008 in order to comply with United States regulations regarding VOC's (Volatile Organic Compounds). Brasso had been introduced in 1905 in Britain.
Brasso is still a great product for keeping brass clean and polished but it is not as potent as an initial cleaner as it had been previously.
Charles Tilton
- Washington, United States
Clean up corrosion/patina on old Spanish chandeliers
April 1, 2020
Q. I happened upon this site and I'm hoping one of you can help with what is likely a basic/silly question ... I have some antique chandeliers (likely made in Spain), that I believe are brass or copper (I tried magnet test and magnet didn't stick).

I don't want the chandeliers super shiny necessarily, but after years of storage they do need to be cleaned up some and one has developed in places a green patina that just doesn't look right for my decorative purposes. How do I clean these up without hurting the finish? (Should I be considering they may be made of other material which would change the cleaning solution to not harm it)?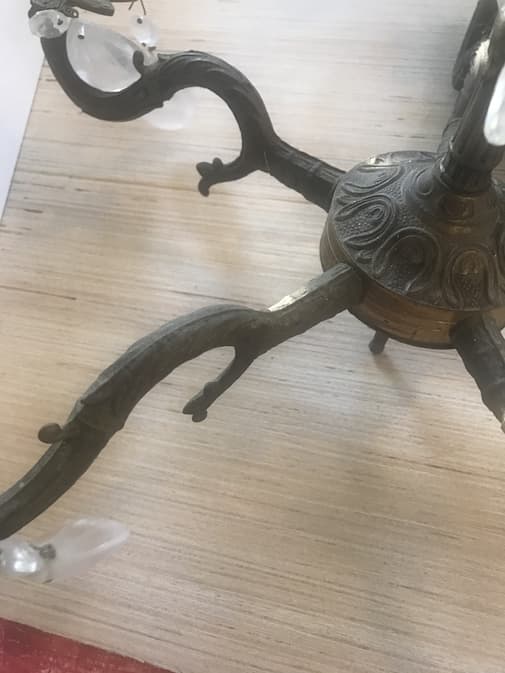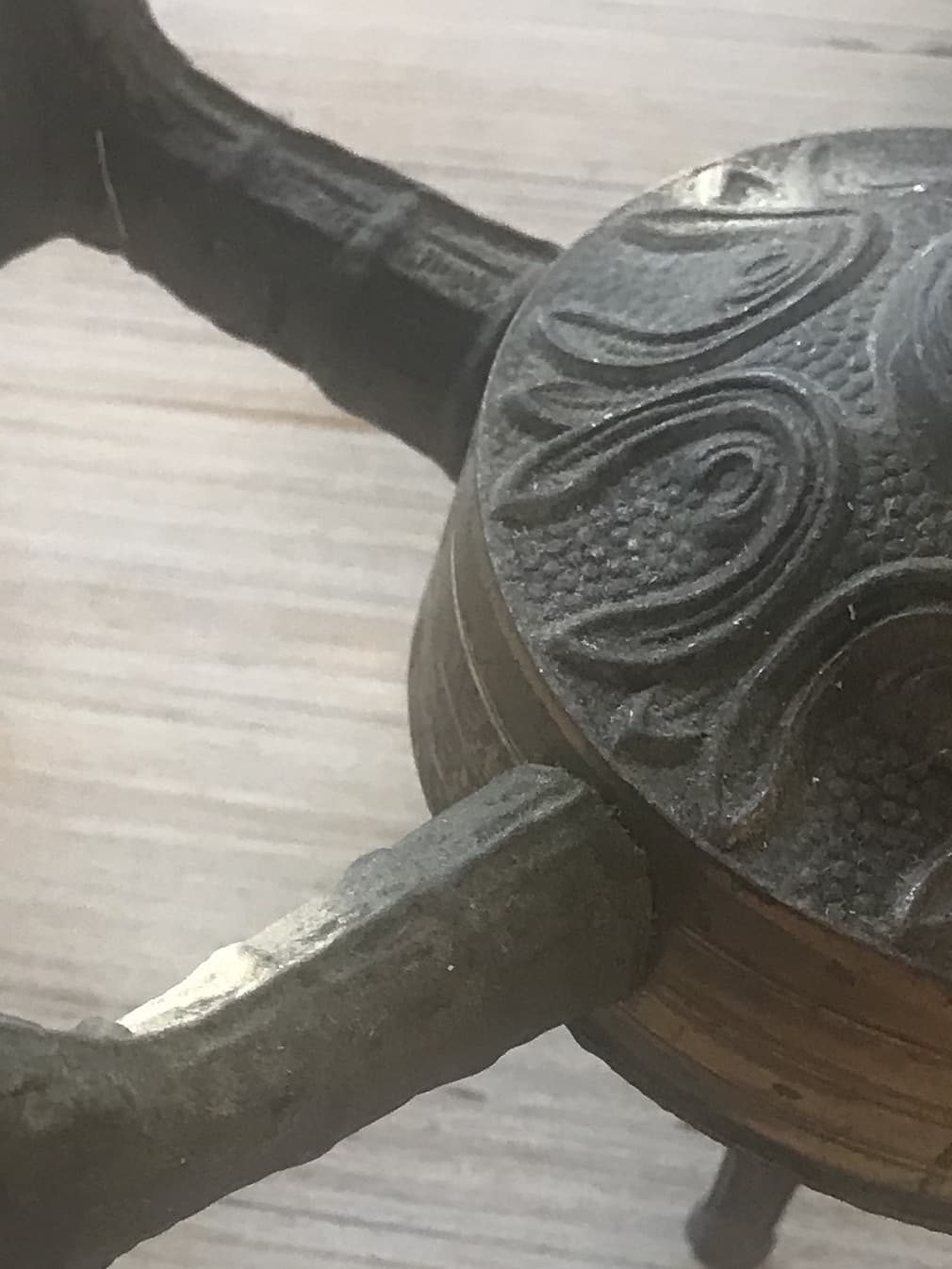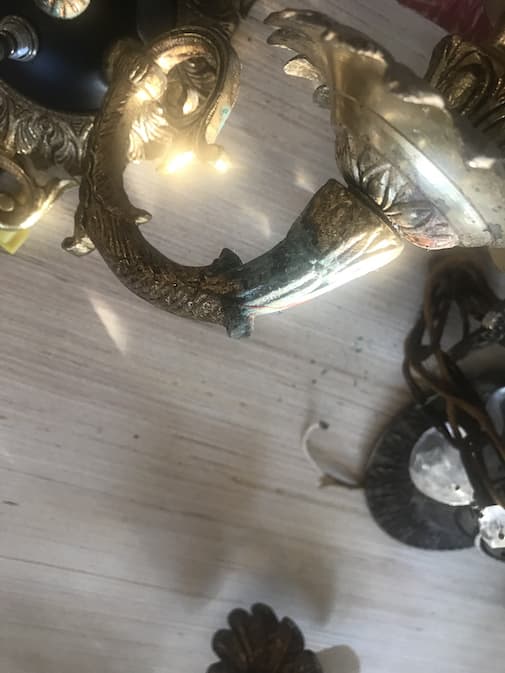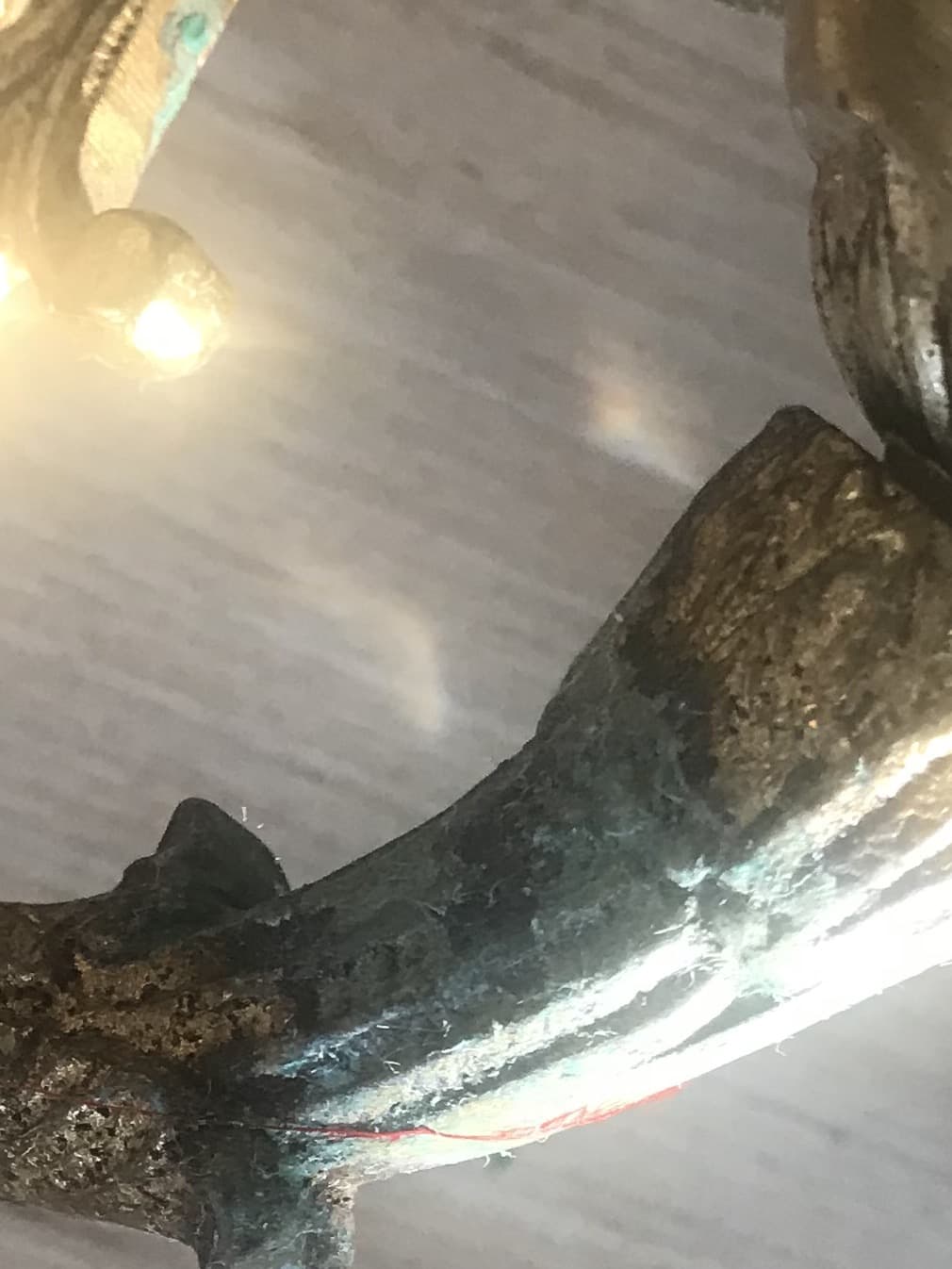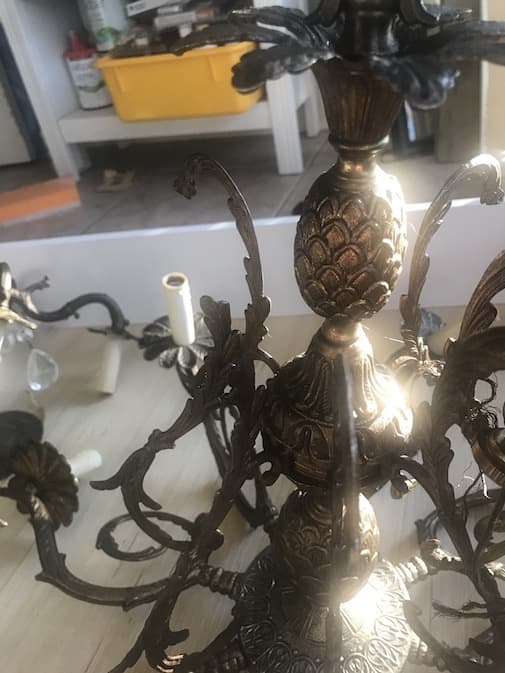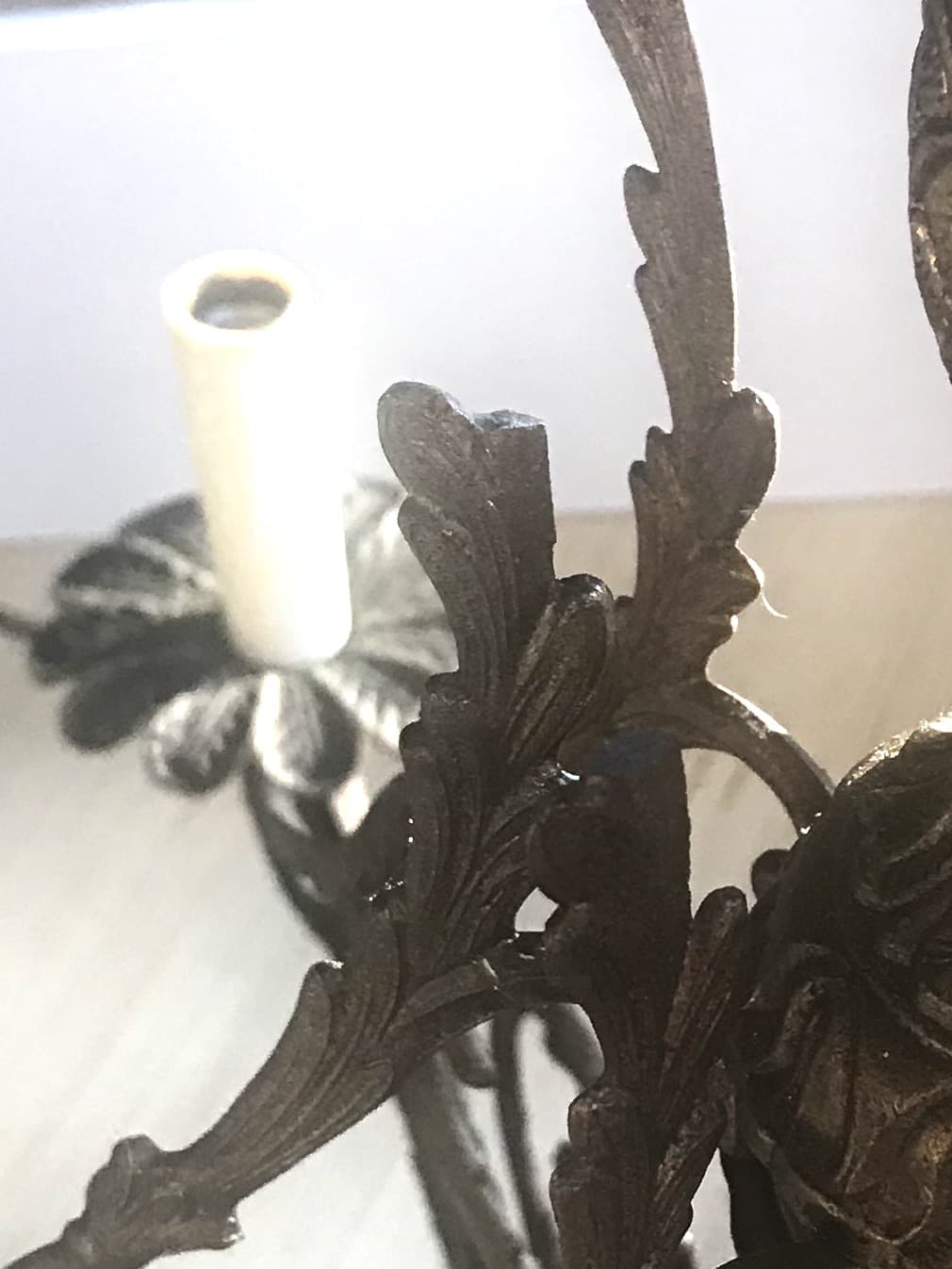 The first pic and detail pic show the general grime on one chandelier.
The third pic and detail pic show the patina/corrosion on another (actually a sconce).
The fifth pic and detail pic show the 2 broken scroll areas on another chandelier.

Also, I'm not sure this is a question for this forum, but on one of the chandeliers a small part of the scroll works has broken off in 2 places. I have the left over piece for one of them and need to
a. Figure out how to get a replica made so I can also fix the second one? and
b. Reattach the broken piece. (Assuming soldering is the solution for #2?)
Any ideas are appreciated.
Lucy Armistead
- Owensboro, Kentucky
---
April 2020
A. Hi Lucy.

These items do appear old and cast which (to my limited knowledge) means that they are either solid cast brass or they are painted or plated cast iron. If you have checked all of the items with a magnet, I would say they are not cast iron. That means the replacement piece will have to be cast from brass by a brass foundry.
Although soldering would be best, my own experience is that epoxy can do an amazingly strong job and is much easier (I had an outdoor brass faucet that cracked from freezing; my skill set led to unsuccessful soldering but a watertight epoxy job that lasted years outside in the weather).
Some people rave that ketchup is a great brass cleaner. If you can't get Brasso to work, you might try it.
Regards,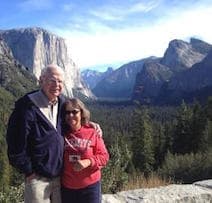 Ted Mooney, P.E. RET
finishing.com - Pine Beach, New Jersey
Aloha -- an idea worth spreading
---
April 2, 2020
Q. THANK YOU SO MUCH! Now how do I find a brass foundry to make a replica of the broken piece that I do have one of? Sorry, but I'm wayyy outside my element on this! lol! Will get Brasso today! Also, I tried an epoxy (gorilla glue supposed to work on metal including brass) and my husband tried some crazy strong epoxy and it wouldn't work, but I think part of the issue is I'm not wanting to take it all apart bc I'm afraid I won't be able to put it back together... If I take it apart surely the epoxy would work?? Any particular brand you recommend? (But I guess I need to get the brass foundry found first before taking anything apart with President time in between to forget how to put it back together... THANK YOU AGAIN FOR YOIR HELP!! I'm so grateful!
Lucy Armistead
[returning]
- Owensboro, Kentucky, USA
---
April 2020
A. Hi Lucy. I didn't say it would be easy :-)

You can google for 'brass foundry'. If you call a couple and they don't serve the public on onesy-twosies they may know the name of one that does. Simplifying slightly, they'll take your existing one and pack sand around it, remove it from the sand and then pour molten brass or bronze into the sand mold to duplicate it.


Epoxy should work. A brand I have used is J B Weld. Lightly sand the surfaces first with fine sandpaper to remove corrosion products, then wipe them with acetone or at least nail polisher remover, and don't touch them. Then apply the epoxy; it's not instant like crazy glue, but should be left untouched for 24 hours. You don't want a big gap but you don't want to squeeze all the epoxy out like you might do with crazy glue; in other words, you can lightly touch the two pieces together after you've put the epoxy on them, but don't squeeze them together.
You didn't mention how you came by these items yet. If they were inexpensive and of no sentimental value they may not be worth the effort; if precious and very expensive, then you should have the work done by a metals conservator rather than playing around with it. D-I-Y is for the midrange: family heirlooms you'd like to preserve if you can, but not worth a professional's time, for example. Good luck.
Regards,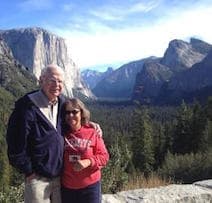 Ted Mooney, P.E. RET
finishing.com - Pine Beach, New Jersey
Aloha -- an idea worth spreading
---
April 4, 2020

Hi Ted! You are a wealth of knowledge! Thank you!!! I picked up the chandeliers from a friend who dealt in antiques - I traded some professional services for her and when my credit got to a good spot I would get things I liked :-) - I can't imagine that the chandeliers are worth much, although when I see similar at antique stores they are so expensive! I used them in a home we built 20 years ago. When we moved I had the majority of them replaced so I could keep these. (They were gorgeous with their crystals!) Anyway, several moves later I'm finally in a home where I can see these becoming jewels again. I cleaned up one of the small chandeliers (that wasm't so bad) and added it to a birdcage and it looks amazing in my foyer. Can send you a pic!
Lucy Armistead
[returning]
- Owensboro, Kentucky, USA