topic 0746
Nitriding and carbonitriding
(1998)
I'm interested in nitriding and carbonitriding. It is possible to add oxygen in ion nitriding process? After nitriding stainless steel lost their thin oxide film, due to this it appear a weak corrosion resistance.It is possible to rebuild this thin layer?
Thanks,
Holanyi Alpar
---
(1997)
oxygen can be added at the conclusion of the nitride process. the process is commercially known as oxy nitride and is used to enhance the surface corrosion characteristics of the steel being treated.
David Pye
- Meadville, Pennsylvania
---
(1998)
WOULD LOVE TO KNOW IF YOU RECEIVED ANY CONTACTS OR GOOD INFORMATION. WE HOPE TO PROVIDE THIS TO OUR CUSTOMERS SOON.
THANKS!
CHERYL COTTINGHAM
plating shop - Gastonia, North Carolina
---
(1998)
I am interested in knowing about resources in the field of Nitriding services and nitriding technology, particularly the controlled gas nitriding technology. Please correspond with me directly in case of any information.
MIHIR P
[last name deleted for privacy by Editor]
McGill University, MBA Program - Montreal, Quebec, Canada
----
No, gentle readers, please post it here. A long-standing Netiquette rule is that questions asked in public should be answered in public. . . because it is rude to post a public question and pique the curiosity of the readers and then deny them access to the responses.
---
(1998)
Let me correct a misunderstanding. Nitride will not prevent steel corrosion but may enhance it like a noble metal if it is conductive. It will seal steel from corrosion only until there is a pin-hole. The purpose of nitride is only to provide hardness to the surface.
As far as ion-nitriding, CVD, PVD, arc-dep, etc., several companies provide such services. Contact www.svc.org, they have more information.
Mandar Sunthankar
- Fort Collins, Colorado
---
(1998)
I want to apply oxygen gas when ion nitriding process finish. But I'm not sure which gas mixture is suitable to enhance corrosion resistance. And color of the parts is important for me, at the same time. I need black color. If you have any idea, please let me know.
Soydan Kene
heat treatment - Istanbul, Turkey
---
(1999)
Please can any one tell me the process for nitriding a ceramic and what is the hardest and most heat resistant ceramic available today.? Thank you.
Thomas Vasold
ceramic turbine research
---
(1999)
HELLO, WE NITRITE AND POST QUENCH IN AN OXIDIZING SALT AT A LOWER TEMP (AROUND 600 DEG F) THIS GIVES US A HARD COMPOUND ZONE AND OXIDE LAYER WHICH IS POROUS ( will hold oil and be dry to the touch) STANDARD SALT SPRAY RESULTS GO UP TO 210 HOURS FOR LOW CARBON STEEL.
MICHAEL MCMILLEN
- ARKANSAS
---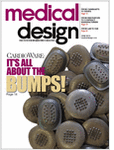 Provides design and manufacturing professionals in the Medical Device Industry with cutting edge technical and market information they need to develop, manufacture, and bring to market finished devices in today's fast paced and cost conscious medical device market.
Subscribe FREE
(USA & Canada)
(1999)
I am interested in the plasma nitriding behavior of AISI316L stainless steel.We have a plasma furnace in our university and I have finished my experiments. Does anybody tell me, is that be possible in this steel with continuous 1800HV Surface Microhardness about 1 mm. And is it good or bad for a biomedical material. I should shared my data with anybody who interested in plasma or ion nitriding.
Hakan Gunay
Dokuz Eylul University - Izmir, TURKEY
---
(1999)
I read contradictory information about nitriding and corrosion resistance. Does any one know of a source of literature that could be cited that addresses this topic? I tend to think nitriding does not enhance corrosion resistance as my efforts to locate literature have been unsuccessful so far. Thanks in advance.
Rob Gray
- Seattle, Washington
---
(1999)
While I have learned a lot from Mr. Sunthanker's outstanding responses to many letters here, I do not agree with him on this one. There are numerous coatings that protect only as a barrier layer, rather than by offering sacrificial protection. Among them are nickel plating, electroless nickel plating, and gold plating. The fact that they are more noble than the substrate does not render them useless. To the contrary, electroless nickel, for example, is used on everything from aluminum automobile wheels to steel down-hole machinery.
Kolene Corp. has a paper on-line here which addresses the corrosion protection value of salt bath nitriding.
Ted Mooney, P.E.
finishing.com
Pine Beach, New Jersey
---
(1999)
We're interested in understanding the effects oxides have on the gas Nitride process to include oxides from the stress relief as well as residual oxides from air exposure.
Mike Heiny
- Schofield, Wisconsin
---
(2000)
I want the phase diagrams of Fe-Ni-Cr-N , Fe-Ni-Cr-N-C,Al-N and Al-N-C as you can
Dr.fayez el hossary
faculty of science - Sohage, Egypt
---
(2000)
Sir, I want to know about nitriding process ( gas as well as plasma ) for Draw dies .Material is SPGGCrMov.What is the maximum thickness of nitrided layer possible ? What is the maximum hardness of nitrided layer possible?Pl.explain.
A.P.Kannal
- Pune, India
---
(2001)
Hi, HOW are you!
Can you tell me development of ion-nitriding? I want to know the process of rapid and deep-case ion nitriding.
Please tell me the medium of ion-oxidizing.
Thank you.
Zhongwei Li
- Zhenzhuo City, China


This public forum has 60,000 threads. If you have a question in mind which seems off topic to this thread, you might prefer to Search the Site