topic 0155
Wiping medical implants after passivation
A discussion started in 1996.
Add your Q. or A. to restore it to the "Current Topics" discussions.
(1996)
Hello, I am currently working for a company that designs and manufactures medical bone implants made of 316 Stainless Steel. The implants are buffed, electropolished, measured, passivated and inspected.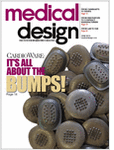 Provides design and manufacturing professionals in the Medical Device Industry with cutting edge technical and market information they need to develop, manufacture, and bring to market finished devices in today's fast paced and cost conscious medical device market.
Subscribe FREE
(USA & Canada)
As part of the Q.A. department, I am interested in the "cloth" that we should be using to properly wipe these parts after passivating, so as not to scratch them. We are currently using "paper towel" which I believe to be detrimental to these plates. Any suggestions would be greatly appreciated. Thank you, Teal Renals
Allen King
---
adv.
---
(1996)
I don't think you need to worry about damaging the "plating" on stainless steel devices. Electropolishing and passivating do not leave a coating, rather they can be considered to be cleaning and/or metal removal processes. By the way, if the parts have been electropolished they probably do not even need the passivating.
Bill Vins in sunny Mesa (what a place-a) Arizona
Bill Vins
microwave & cable assemblies
Mesa (what a place-a), Arizona


This public forum has 60,000 threads. If you have a question in mind which seems off topic to this thread, you might prefer to Search the Site