topic 0142
Whiskers Problems with zinc plating
A discussion started in 1995 and continuing through 2009.
Add your Q. or A. to restore it to the "Current Topics" discussions.
(1995)
What type of plating process is an equal alternative to zinc plating over low carbon steel?
The alternative process must be equal to zinc plating's electrical conductivity, corrosion resistance and similar in cost to process.
Any alternate plating process suggestions would be appreciated.
Thanks,
Peter S
[last name deleted for privacy by Editor]
- Tucson, Arizona
---
There are none, Peter :-(
Zinc is the least expensive plating there is, and the only single metal plating -- except for toxic cadmium -- that offers galvanic corrosion protection. Alloys of zinc such as zinc-iron, zinc-cobalt, zinc-nickel, and tin-zinc will be more expensive, but perhaps not unreasonably so.
What is it about the zinc that you find less than satisfactory?
Ted Mooney, P.E.
finishing.com
Pine Beach, New Jersey
---
Ted, Thanks for the response.
The zinc whisker phenomenon is my reason for being dissatisfied with zinc plating. These microscopic zinc whiskers can cause unexpected failures in low voltage electronic applications.
I could change the surface finishing process from zinc plating to conductive paint, but I think I'll pay a higher cost. What do you think or recommend?
I've read that zinc whisker growth is due to compressive stresses being set up in the plating during the zinc plating process and that stress relieving, heating the part to an elevated temperature after plating has been completed, will relieve the compressive stresses. In your opinion is it true that zinc whisker growth is due to the zinc plating process and that performing a heat treatment to the plated part, after plating is complete, will prevent the whisker growth? If performing a heat treat will prevent the whisker growth, what time and temperature should be used? The base metal is 1 mm to 2 mm thick low carbon steel that is formed to be used as enclosures for AC and DC power supplies.
Also - If the plating process is the cause of whisker growth, what process controls or steps, other than heat treatment, can be put into place to prevent the whisker growth occurrence?
Thanks again!
Peter S
[last name deleted for privacy by Editor]
- Tucson, Arizona
---
I don't know if you caught the response to topic 20, but you might find it helpful. I had never heard of zinc whiskers until August '94 when I read the article referenced in topic 20; few people had.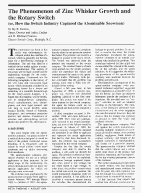 I believe that internal stresses provide the energy for this whisker recrystallization, due to the presumed parallel with tin whiskers.
I'm even reluctant to reply about conductive paint or other plating's because I don't want to imply that they would not suffer from this same pest when I really don't know.
If there's anybody out there who is knowledgeable on this, give us a hand.
Ted Mooney, P.E.
finishing.com
Pine Beach, New Jersey
---
(1999)
Hello, We all know the causes for metal (zinc) whiskers stresses and temperature but I have yet to see someone providing any experimental results on zinc whisker.
I am hoping to do some experiments on the causes, rate of growth and methods for eliminating zinc whiskers in new parts and maybe reducing existing parts from this monster.
If any have failed parts please let me know. Thank you.
NS
N.Satar
- Toronto, Ontario, Canada
---
hello, I have a problem with tin whiskers. It is sure that mechanical treatment or heating treatment diminish the occurrence of whiskers growing. In some case, organic coatings used for PCB protection are not enough to prevent that problem. There is an internet site about tin whiskers on NASA Goddard space with experiments on-going.
Christophe Parsis
matra marconi space - France
---
(2000)
Hi Christophe
Heat Treatment is just one way to reduce the whiskers but one must be careful it does not alter the properties of the base metal.
N.Satar
- Toronto, Canada
---
(2002)
Zinc Plating. My research has shown that the most likely cause of zinc whisker growth is a result of stress build-up during the plating process. Our company has eliminated zinc plated parts on a global scale, and replaced them with nickel plated mild steel, stainless steel or chromate-conversion (Alodine) aluminium.
Tin-lead vs Tin plating with heat treatment. As the whisker problem seems to be related to heat treatment (stress relief), and tin-lead plating of copper is supposed to reduce the whisker growth, does anyone know what the result is if the tin-lead is also heat treated?
Kevin E
[last name deleted for privacy by Editor]
- Mulgrave, Victoria, Australia
---
You didn't say what your product line is, Kevin, so I'll bite my tongue instead of saying: "That was an overreaction!". Remember that chromate conversion coated aluminum has a very limited future, and both nickel plating and some stainless steels cause allergic skin reactions.
Ted Mooney, P.E.
finishing.com
Pine Beach, New Jersey
---
Ted,
Our product line is electronic switching equipment in the telecommunications industry. The change from zinc-plated to stainless steel, nickel plated steel, or chromated aluminium was introduced when some of our older products developed a problem with zinc whiskers causing short circuits on printed circuit boards. The zinc whiskers were being dislodged from surrounding metalwork by cooling fans. I understand that most of the allergy problems that you refer to are mainly associated with the jewelry industry, and I have seen statements that stainless does not leach in the same way as nickel. I would be interested in your comments on this, and the statement about a limited future for chromate conversion of aluminium.
Kevin E
[last name deleted for privacy by Editor]
- Mulgrave, Victoria, Australia
---
(2002)
Nickel has been proscribed from jewelry in Europe; but it's probably fine for switch gear. I don't think I agree about the stainless, on the general principal that people with nickel itch often find that they can't wear a wristwatch with a stainless back.
Beginning in Europe again, there are already strict standards on recycling of automobiles that have forced the elimination of hexavalent chromium compounds on cars. This has been extended to the U.S. more recently and there will be no hexavalent chromate on U.S. autos beginning in 2003 I believe. The elimination of hexavalent chromium has been a continuing effort for decades.
I have heard the premise, but am not in a position to test it, that alloy zinc platings resist whiskering in the same way that tin-lead resists whiskering.
Ted Mooney, P.E.
finishing.com
Pine Beach, New Jersey
---
March 2, 2009
The heat needed is between 135 and 145 degrees. this seems to help but not alleviate the problem
Howie Evans
- Baldwin, Wisconsin


This public forum has 60,000 threads. If you have a question in mind which seems off topic to this thread, you might prefer to Search the Site