60,000 Q&A topics -- Education, Aloha, & Fun
topic 0080
Bleedout problem from pits in anodized fishing reels
A discussion started in 1995 but continuing through 2020
1995
Q. I own a company called REEL COLORS. We take Penn International fishing reels from around the world. Strip the existing gold anodize. Machine the scratches and pitting on our lathes and re-anodize them to match their color sample. My problem is sometimes I can't get to the bottom of a pit (pitting from salt water). Even though it is so small you can't see it without a magnifying glass, there is a good chance I'll get a bleed mark. Is there any way to prevent this? My anodizer does their best but it is a big problem. Now I'm telling my customers with badly pitted reels that they should consider going with black. I don't seem to have this problem with black. Thank you very much for your time .
Tom Testa
- Deep River, Connecticut
---
---
Anodize bleed out from blibnd holes
2004
Q. How to eliminate bleed out of blind holes during anodizing of colors.
Tim Palmatier
supervisor of a job shop - Binghamton, New York
---
---
Anodizing Assemblies - minimize/ void bleedout
December 9, 2008
Q. We are having some ongoing issues with anodizing of assembled aluminum pulleys.

We do lots of pulleys in various finishes.

Most of these parts run problem free, BUT, when we get assembled pulleys for either Clear or Black Anodize we inevitably get lots of bleeding. The bleeding appears white. It cleans off with lots of labor using q-tips, but is very time consuming.

We do extensive rinsing between each step & also use a nitric dip after anodize, before dye step.

Any suggestions would be greatly appreciated.
David Kraft
Plating shop employee - Long Island City, New York, USA
---
---
MIL-A-8625 type II, black dye bleed out
September 29, 2009
Q. I am a engineer working in a machine shop in Massachusetts and we are having a problem with our customer complaining about the black dye rubbing off the part onto your hands. This part has been made since the 1980's and they tell me that they haven't seen this problem before. The part is 24"x15"x17", it's a sand casting made from aluminum AMS 4219 (A357 T6). Our shop sends it out for anodize to two different platers per MIL-A-8625 type II, class 2, color black, seal with nickel acetate. We get about the same results from both of our platers. I have talk to the customer about paragraph 3.6 statement "Cast alloys may exhibit dye bleed-out or lack of color (or color uniformity) associated with the inherent porosity of the sand casting." but they do not want the dye to rub off.

Question: Is the dye coming off this easy common? Can this part be sealed differently so less dye will bleed out or should another type of anodize specification be use so the black dye will not bleed?
Rich Von Deck
Process Engineer - Westfield, Massachusetts, USA
---
---
Black Anodize Issues: pitting, bleedout, purple haze
March 6, 2020
-- this entry appended to this thread by editor in lieu of spawning a duplicative thread
Q. Having an issue with some aluminum parts that were recently black anodized by a finishing company. The parts normally come back with a matte black finish. This time the parts have some slight pitting/purplish specks in the finish.
What could most likely cause this to happen?
Also I was curious to what causes bleed out on tapped holes?
I went ahead and attached some photos.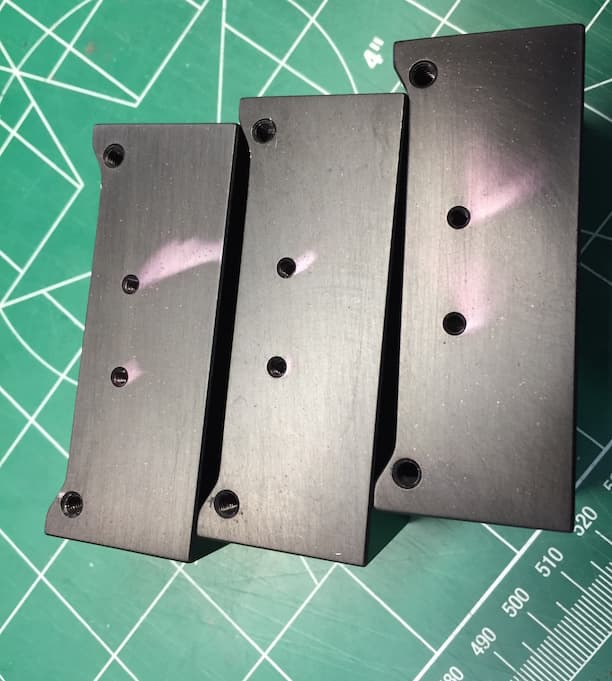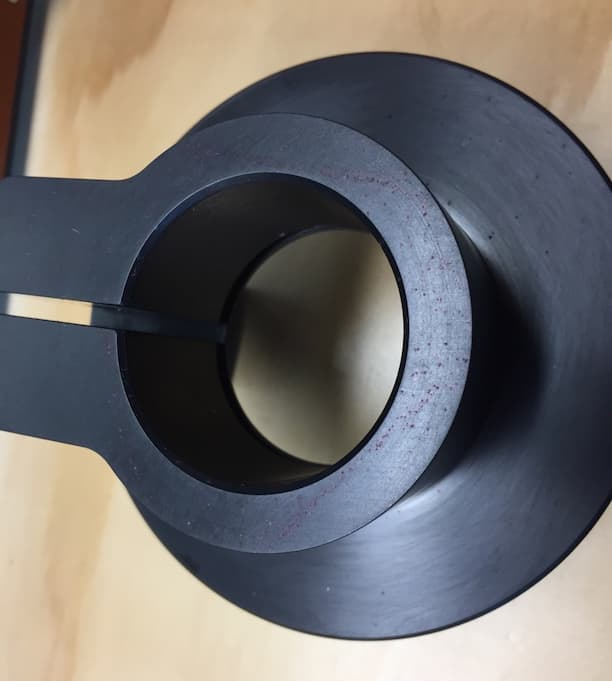 Zach Nevels
shop employee - Dayton, Ohio, United States