World's #1 finishing resource since 1989
Installation and Maintenance in Electroplating Shops
by Eric A. Ollard
| | | | |
| --- | --- | --- | --- |
| ISBN | Pub. year | Authors | Publisher |
| ‍0852180217 | 1967 | Eric A. Ollard | Robert Draper Ltd. |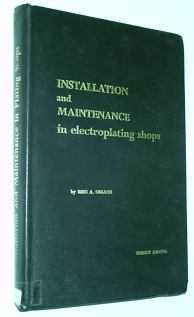 A Review by Ted Mooney:
1967, hardcover, 191 pages (plus 17 pages of ads).
The title just about says it all--except that you can colour the author British, so we on this side of the Atlantic find some of the terms like 'Wee meggar', 'blue brick' and 'ceramic candles' unfamiliar. (Ted's full-page review of this title appeared in his "Fully Equipped" column in Plating & Surface Finishing)
This treatment is getting dated 50 years later, but on the other hand where will you find a replacement for its treatment of the subject?
These links attempt to go directly to the book in question:
"Available" or "Sorry!" note is based on a recent finishing.com search and is not an official position of the bookstore.
Inventory at book dealers varies, and these links might redirect if the volume is out of stock, so please check that the offered book/edition is what we illustrate/discuss here and that you want. If a link doesn't work or points to the wrong book, the dealer may be out of stock; please try another source. Disclosure: finishing.com may receive a commission if you buy after following these links. As an Amazon Associate I earn from qualifying purchases.