World's #1 finishing resource since 1989
Electroplating: Fundamentals of Surface Finishing
by Frederick A. Lowenheim
| | | | |
| --- | --- | --- | --- |
| ISBN | Pub. year | Editors | Publisher |
| ‍0070388369 | 1978 | Frederick A. Lowenheim | McGraw-Hill |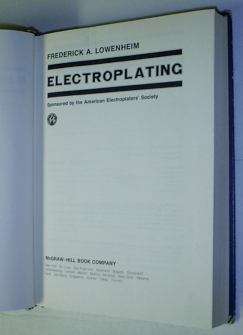 A Review by Ted Mooney:
1978, hardcover, 594 pages.
The tutorial "classic" about electroplating, sponsored by the American Electroplaters Society. Covers electroplating principles and practice from the "what and why" through preparation and plating. Also includes coverage of electroless plating, immersion plating, plating of non conductors, electroforming, conversion coatings, and anodizing of aluminum. Approximately 100 pages devoted to specifications, testing, control & analysis, waste treatment / recovery, QA, and references.
If you cannot afford a hands-on course in electroplating, this book is about the next best thing. Although slightly old (1978), the subjects it addresses have not changed much.


These links attempt to go directly to the book in question:
"Available" or "Sorry!" note is based on a recent finishing.com search and is not an official position of the bookstore.
Inventory at book dealers varies, and these links might redirect if the volume is out of stock, so please check that the offered book/edition is what we illustrate/discuss here and that you want. If a link doesn't work or points to the wrong book, the dealer may be out of stock; please try another source. Disclosure: finishing.com may receive a commission if you buy after following these links. As an Amazon Associate I earn from qualifying purchases.