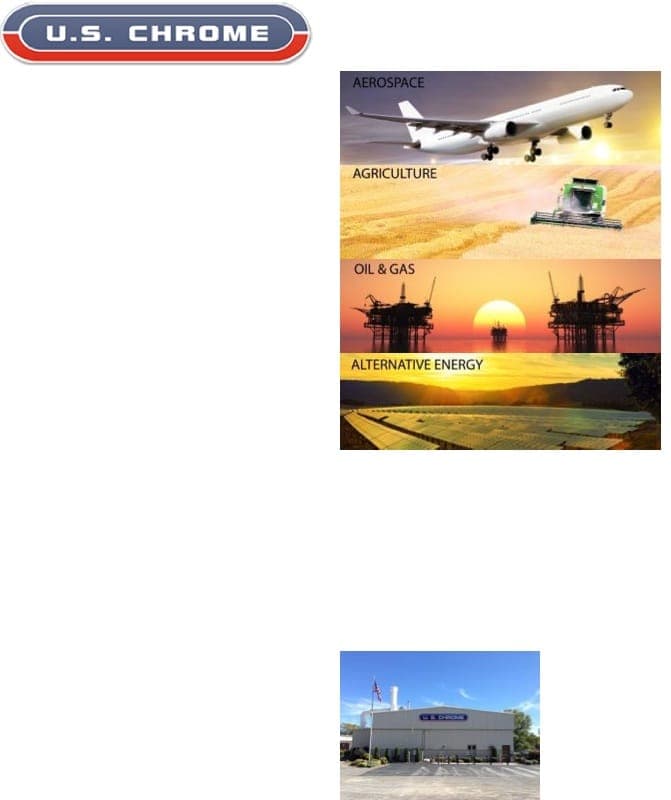 Plating Specialties
•Hard Chrome (>.001")
•Flash Chrome (<.001")
•Thin Dense Chrome
Production Capabilities
•Length Capacity (Chrome) - 12'
•Weight Capacity (Chrome) - 3 tons
•Specialties
•Production Jobs
•Job Shop (One-off's)
•Prototype Development
U.S. Chrome New York
Other Services
•Welding
•Polishing
•Turn Key product
U.S. Chrome New York serves industries such as Aerospace, Agriculture, Construction, Firearms, Food, Manufacturing, Medical, Military, Mining, and Motorsports just to name a few.
Over the last 53 years, U.S. Chrome of New York's claim to fame has been plating difficult jobs.
Our engineered fixtures allow our customers to enjoy quick turn-around times as well as a quality product. Our facility operates 24 hours daily, and rush service is always available.
Our facility has the capability for high volume production jobs, as well as job shop work and prototypes.
Contact Info
Address Info
US Chrome Corp. of New York
31 Swan Street
Batavia, NY 14020
Plant Manager: Mike Klotzbach
Sales Manager: Jonathan Miller
P: 1-888-674-8256, F: 585-344-4016 jmiller@uschrome.com
Call 1-888-674-8256 or email