finishing.com
Hotline Postings by Topic
---


All I know is what I Heard on the Hotline

Before the World Wide Web was invented, the predecessor of www.finishing.com was the Finishing Technology Hotline, a BBS run by Ted Mooney.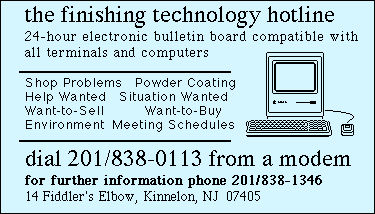 Thousands of messages were posted over the seven years it was on line, and we have compiled some of them here by topic. Clicking on one of the topics below will bring you to a page containing a bunch of messages which had concerned themselves with that topic. 'Stream of consciousness'
might best describe how some of these pages turned out.

It might be worth the effort to see what others have discovered about these subjects; and you just might find the answer you need outright. Let us know, please, if you find them useful.
---


Back to finishing.com Home Page