---
The home page of the finishing industry®
| | |
| --- | --- |
| | This is one of a series. We welcome news or editorial content from our readers, and will revise this page each afternoon that we receive input. |
---
Don't throw away 2004 Metal Finishing Guide Book
Robert Teichmann
Towaco, New Jersey
I just received the 2005 Metal Finishing Guide Book today and was thoroughly disappointed. There were many sections dropped. The "Chemical Surface Preparation" index was all messed up with some articles "Electrocleaning Zaki" listed but not even present and others like "Rinsing - Mooney" and "Surface Preparation - Rudy" not listed but in the guide anyway.

The only bright side to the guide book, other than presumably updated advertisements, is a section on Iron Plating. This growing US industry, I m sure, will provide all the competitive advantage that the North American surface finishers will need since the obsolete areas such as zinc alloy plating have all migrated to other parts of the world

This book is definitely not a "keeper" (except for the iron plating chapter)! -- Robert Teichmann
Yes, throw the 2004 away, too!
Ted Mooney, finishing.com
The 2005 table of contents page is indeed a total mess, Robert -- full of missing chapters, wrong page numbers, etc. But the only article actually missing is the Zaki one, which appears to be supplanted by two articles by Rudy. The iron plating article actually isn't new -- it was just missed (or perhaps deliberately omitted) in the 2004 issue.

The 2002 version is the keeper, Robert! It has all the articles including the Iron Plating one, plus a correct table of contents page, and -- most importantly -- an index.

Neither 2004 nor 2005 even has an index; that to me is the real shame and obviously a decision made by a bean counter who doesn't actually use the book himself. A technical book without an index simply isn't worth the ink wasted on it. For that reason I still keep the 2002 on my desk and dumped the 2004 and 2005 into a storage box somewhere. Companies who advertised in the 2002 edition are getting way more than their money's worth, and those who advertised in later editions way less :-)
---
Where to get a copy?
by Luis J. Caballero - Malaga Spain
I'm looking for a second hand copy of the 2002 edition (or later) of the guidebook directory metal finishing. But it is really difficult to find a actual copy of the book. Do you know where can I find a copy of this edition?
Thank you very much for your help.
---
Find a Copy Here
A copy of the Guidebook comes with a subscription to Metal Finishing magazine, Luis. But follow the link to some sources for used copies of the Guidebook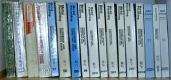 ---
Dear Reader: please choose what you want to do--

I want to reply to or follow-up on this subject.
I want to start a new news item or editorial thread on a different subject.
I want to view the previous editorials and news items.
Back to finishing.com Home Page