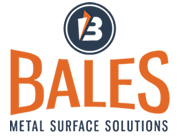 Bales Metal Surface Solutions
2824 Hitchcock Avenue
Downers Grove, IL 60515
USA
Contact: Stacey Bales
Phone: 630-852-4665
Fax: 630-852-4687
E-mail
Services:
Founded in 1978, Bales Metal Surface Solutions provides quality engineered coatings and finishes to the precision tooling industry.
Services provided include:
Electroless Nickel
Electrolytic Nickel
Hard Chrome
Diamond Chrome
Diamond Polishing to all SPI Finishes
Passivation
Micro T.I.G. Welding
Our exclusive coatings include:
NIBORETM - A unique composite of electroless nickel and boron nitride particles that provides ultimate lubricity along with superior abrasion resistance of 67 RC.
NICKLON® - Electroless Nickel Teflon coating that provides excellent lubricity.
Bales Metal Surface Solutions is ISO 9001:2000 certified & ATF licensed with services available 24 hours a day.
---
---


Back to finishing.com Home Page