Readers: For years now, these 5 smiling faces have reminded me every day how a website host ought behave.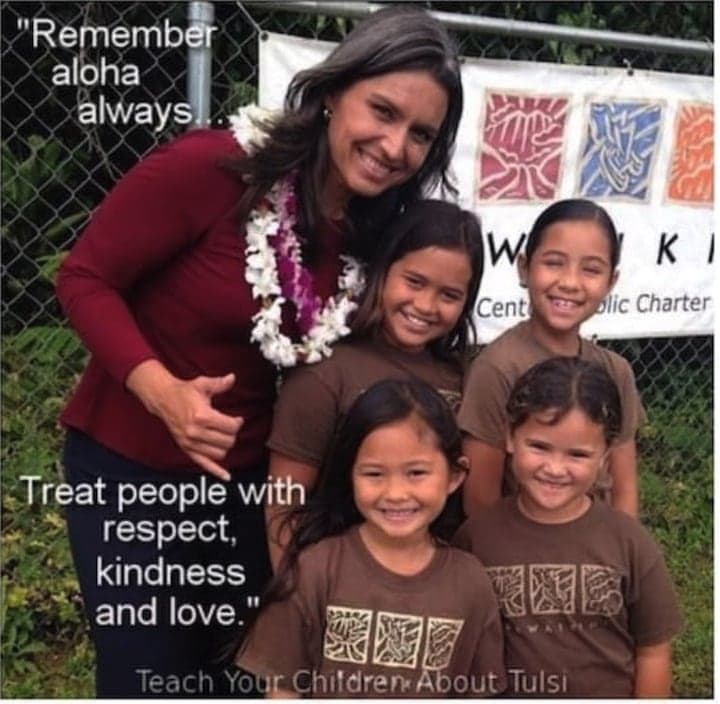 If it worked, if you found this site friendly & helpful, do me an easy but huge favor:

I'm NOT asking you to vote Democratic, NOR to vote for Tulsi Gabbard !

But in such divisive times, please keep the Aloha spirit alive with a $1 donation at tulsi2020.com. So many candidates are seeking the U.S. Presidential nomination that failing to show the grass roots support of 130,000 different people means exclusion from the September debates. Tulsi needs 26,164 more at last count, and I hate to think that the Aloha reminder I've found so important for so long will be swept off America's debate stage at this crucial time. Just $1 and a minute or two of your time, pretty please.-- Ted Mooney


"Aloha friends,
When we listen to each other with a clear mind and an open heart, we will heal the divide and build a majority coalition around our common values of service above self, freedom, justice, love for country, prosperity and peace. When we act out of compassion for each other and love for our country and the earth, we will rediscover the joy of serving a higher purpose, together.
Join me in building a movement of love and service to unite our country." -- Tulsi Gabbard



(Non-USA readers can't donate, but can share their Aloha by sending that dollar to St. Jude Children's Research hospital).



If you do it, please tell me: Comment about this 'aloha' page?