The home page of the finishing industry ®
---
Through a Finisher's Eyes -- a series of photo essays.
Patinated Copper by the Acre
Many hotline-Letters talk about patinated copper or green verdigris on copper. Without a panoramic camera I wasn't able to capture the full grandeur of the Lackawanna Railroad/Ferry Terminal in Hoboken, New Jersey. The patinated copper sheathing actually extends off to the right as well as to the left.
But the entire face of this building, with all the detail work which resembles chiseled stone in its ornateness, is actually formed copper sheeting.
It's well worth the trip to visit this treasure of an earlier time -- Ted Mooney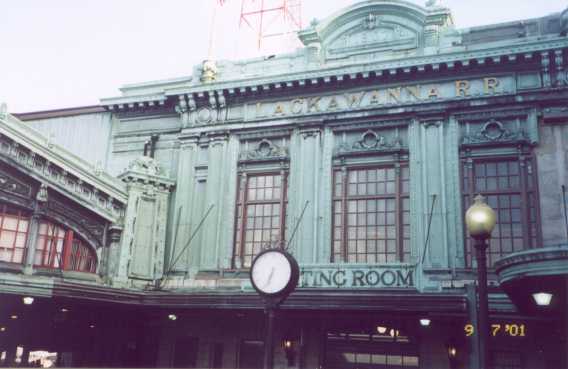 ---
©2001 finishing.com, inc.
---

Our readers' Suggestions are always welcome! Please comment on this photo essay, or submit your own.
Back to finishing.com Home Page