Nitinol: laser-cut and wire-braided stents, spool wire: oxide removal, electropolishing, passivation.
Titanium electropolishing: additive manufacturing (3d-printed), spool wire, other implants; dull or mirror finish.
Surgical steel, hastelloy, carbon steel, copper, brass, aluminum, nickel, niobium electropolishing dull or mirror finish: spool, barrel processing of needles or other small parts, welded areas local electropolishing, acid-free electrolyte for electropolishing ss with imbedded glass or ceramic.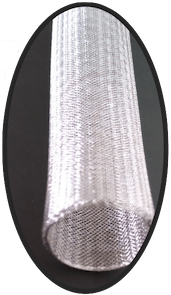 Bio-compatible color coding of surgical instruments.
Hydrophilic surface anodizing, dielectric surface anodizing.
Corundum-like durable anodizing of aluminum, titanium. AMS 2488 bio titanium spark anodizing.
Cobalt Chrome coronary stents electropolishing.
Make your own descaling gels for SS, carbon steel, titanium.
Titanium black anodizing, gray anodizing, Fur-free anodizing, color anodizing.